Creating Life Through The Art Of Sculpting – Lorenzo Quinn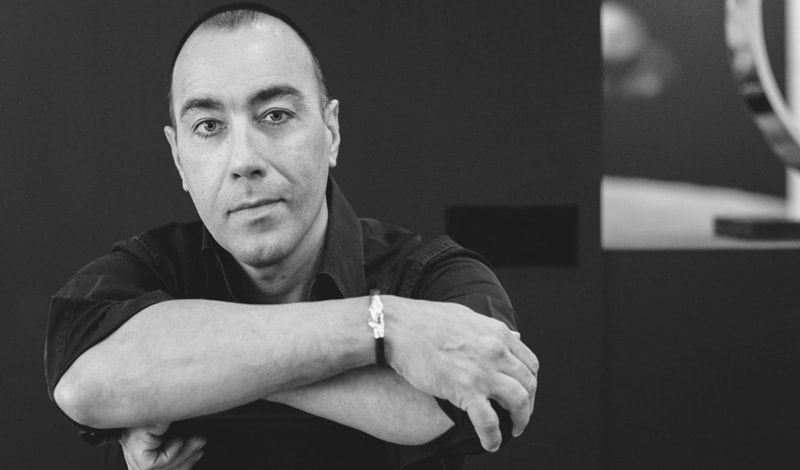 Lorenzo Quinn's sculptures are living testaments to his belief in the force, power, eternal values and worth of each and every one of us.
For Lorenzo Quinn, sculptor, poet and jewelry artisan, actualizing the person one sees reflected in the mirror is definitive of his philosophical take on life, art, family and the responsibilities of being a citizen of the world. "My general motto is 'Give and receive'; in fact, the circle is the symbol I use for my jewelry brand. The more you give, the more you receive. If you give love, you will receive love back; if you give hate, you receive hate back," Quinn says.
A dedicated family man, Quinn's persona as an artist and a man are one and the same. Both are inspired by passion and emotion. "Unlike a lot of men, I am unafraid to connect with my emotions. My intention is to carry positive messages through my art; all of my sculptures carry a message. The same questions I ask myself in my life, I ask myself in my art. With so much in the world worth talking about, why talk nonsense? Instead, why don't we talk about things that are meaningful?"
The love and commitment that Quinn has for his family − his wife Giovanna (to whom he has been married for 31 years) and sons Christopher, 25, Nicholas, 23, and Anthony, 13 — resonate throughout our conversation. "Everything I do, in one way or another, is inspired by my family," Quinn says. "Their well-being is the one constant in my life. My nature themes are tied to my children's future; my theme of love is tied to my relationship with Giovanna."
Quinn is the fifth son of two-time Academy Award–winning actor Anthony Quinn, who was the star of such epic movies as Lawrence of Arabia, Zorba the Greek and La Strada, as well as a Mexican-American whose family moved to California when he was quite young. "My father was an incredible character," Quinn says. "He was from a different age. I was always aware that I was in the presence of someone who had incredible willpower and incredible talent. Dad lost his father when he was 11 and had to become the man of the house, supporting his mother, sister and grandmother. He was a man who had been very, very hungry — he often had no food; he was very poor. But my father managed to make his dreams come true by working, working, working. He always said that you had to believe in yourself, that if you worked hard, success would follow."
Following in his father's footsteps, Quinn tried his hand at acting in the late 1980s, appearing in the 1989 movie Stradivari. He played the young Stradivari, the Italian violin maker, while Anthony played the adult Stradivari. Quinn also starred as Salvador Dali in the movie Dalí, for which he won the best new actor award at the Biarritz Film Festival. Acting was not Quinn's dream, however, so he took up painting, a discipline that he found too flat for his creativity. In awe of women's incredible gift of giving life, Quinn found that creating sculptures was his way of giving birth — of bringing something to life. "My sculptures are my little babies," he says with a laugh.
Living in Italy, Quinn was inspired by the works of Michelangelo and Bernini. But, he says, "while I was in awe, at the same time I was very depressed, because I was looking at these masters and thinking their level of perfection was unreachable for me. Then I realized I was not in competition with them. Instead, I had to find my own niche."
The greatest creative challenge Quinn encounters when sculpting is identifying the initial idea and concept of the work, because with everything he creates, a message must be imparted. "My sculptures are not meant to be decorative objects," he says.
"I believe in an energy and I speak to the energy quite often; I am connected to it"
Each sculpture's process begins with identifying the subject matter, followed by the title. Quinn then writes an inspirational poem that is key to creating the sculpture. "It is a complicated process, one that can take anywhere from 12 to 18 months for the larger pieces, which can be 50 feet tall," Quinn says. "Also, with the public installations, there is a lot of planning, which requires proper engineering for safety; as such, we employ a full-time engineer."
Nature, relationships, love and climate change, as well as ineffective and misinformed political leadership, are important thematic causes and reasons for Quinn to take a creative stand. One of his many emblamatic pieces, The Force of Nature, was inspired by the 2004 tsunami in Southeast Asia. Hundreds of thousands of people lost their lives, and with that in mind, Quinn created his seminal piece, which profoundly captures nature's wrath. "We think we are all-powerful, but there is a force above us that we have to respect, and we are not doing that," Quinn says. "I believe in an energy and I speak to the energy quite often; I am connected to it." Another resonant Quinn sculpture is Hand of God, inspired by the transcendent poem "Footprints in the Sand."
A little over 20 years ago, Quinn, who has lived in Los Angeles, New York, London, Rome and Barcelona, Spain, felt that as an artist, it was extremely important for him to work in London. And so, he left New York, moved to London and joined the Halcyon Gallery. "It was a dream come true," Quinn says. "The gallery believes in me and my work. They support my crazy ideas. Not a lot of galleries do that. When I asked for a T-72 Russian tank for the sculpture This Is Not a Game, they made it happen. When I asked them to approach Andrea Bocelli to sing at the unveiling of Building Bridges, they made it happen."
An outsized, expressive recreation of six hands, which represent friendship, faith, love, hope, help and wisdom, the Building Bridges sculpture was unveiled at the 58th Venice Biennale this past May. "It had always been a dream of mine to have Andrea Bocelli sing at one of my sculpture unveilings," Quinn says. "For the past decade, I have been sculpting [while] listening to his beautiful voice and songs. I asked the Halcyon Gallery to make it happen, and once again, they were able to execute another of my crazy ideas. Andrea sang, with my sculpture of the six hands as the backdrop. How could anything be better than that? It was the most wonderful moment in my entire career. I was very, very close to tears."
In return, Quinn is attending the Andrea Bocelli Foundation's charity dinner this July, and is donating one of his sculptures for the event.
Coming full circle, Quinn's jewelry line, imagined in both silver and gold, is inspired by his sculptures, yet another creative endeavour that is definitive of the richness and depth of his artistic spirit. But even with his poems, his take-your-breath-away, larger-than-life sculptures and his resonant pieces of fine jewelry, Quinn says he still has a lot more to give, a lot more to achieve.
"I have so many unfulfilled dreams. The question now is, will I be able to fulfill them?" Quinn says with a gentle laugh. As a nod to President John F. Kennedy's famous soliloquy, "Ask not what your country can do for you," Quinn is passionate in his belief that, "we should all be asking what we can do for humanity, not what humanity can do for us. We all need to work together."
While Quinn is touted as an acclaimed sculptor, a creator of monumental and expressive works, it is his viewpoint and actualization of eternal values, his delightful humility and gentleness, that are refreshingly endearing. Quinn's personality, humble, genuine and gracious, is in and of itself a reflection in the mirror that needs no polishing.
Follow Quinn's next imaginings on Instagram: @lorenzoquinnartist