Faces and Places: Q&As with Canadian Celebrities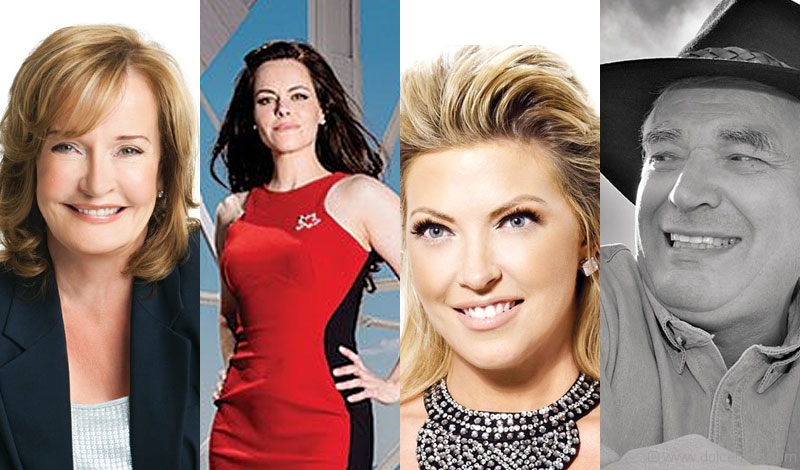 Marilyn Denis
Host of CTV's The Marilyn Denis Show
Which emerging Canadian designer has recently caught your eye?
Toronto's very own Queen Street designer Jeremy Laing. His designs have been called "clean," "modern" and "minimalist" — but I just call them gorgeous.  
Where will we spot you wining and dining on a Saturday night?  
The Combine Eatery at 162 Danforth Ave. (in Greektown). It serves amazing southwestern American food. Some of its menu highlights are the twice-baked taquitos and vegetable fritters.  
What are your goals for 2013?
Staying healthy and keeping a life–work balance (with a wonderful new man in my life). Also continuing to have fun on CHUM FM and The Marilyn Denis Show.
Which Toronto fundraiser is closest to your heart?
The CP24 CHUM Christmas Wish — an incredible way to help more than 300,000 kids who otherwise wouldn't have much of a reason to smile over the holidays.
Who's the nicest celebrity you've ever interviewed?
There are so many to choose from! Lionel Richie was fantastic. He was friendly to the entire staff. He also told great stories and we shared a real connection. Stevie Nicks and I have actually become friends since we chatted about 10 years ago. Bradley Cooper was handsome, funny and self-deprecating.
---
Emily Hampshire
Actress, Cosmopolis and My Awkward Sexual Adventure
Describe the last piece of art you bought.
The Bin Bin by John Brauer and Hans Falleboe. It's a wastepaper basket made to look like the crumpled-up paper that you'd throw in it. I like functional-verging-on-literal art.  
If you had 24 hours to spend in Toronto, what would your itinerary look like?
1. Hit Tim Hortons before baggage claim at YYZ for an extra-large coffee with three creams.
2. Pick up a stack of Canadian fashion magazines/publications/newspapers and head over to Soho House to sit and read for a few hours.
3. Hit Shoppers Drug Mart to stock up on my favourite Canadian products that I can't get in L.A. (dermaglow, Indeed Labs, etc.).
4. Hang out with my friends in their backyard in Little Italy.
5. Have dinner at BUCA restaurant (mainly so I can cut up the pizza for everyone with giant scissors).
6. Finally, I would probably head back to Soho House for a nightcap.
Which designer do you depend on for red carpet events?
Greta Constantine and Stella McCartney.
What is the last book you read that really made you think?
I'm reading Jian Ghomeshi's book 1982 right now. It's making me think about things I didn't expect to be thinking about. 
What is your drink of choice and where are you sipping it?
A glass of Riesling at the Drake Hotel's Sky Yard rooftop patio.  
---
James K. Bartleman
Author and former lieutenant-governor of Ontario
Which Canadian artist has left the biggest impression on you?
Some 30 years ago, my wife gave me as birthday presents paintings by Roy Thomas and Josh Kakegamic, and I have been hooked on Woodland art ever since. Of the two, my favourite is the Wolf by Kakegamic, which reflects the culture and indomitable spirit of the Native people of northern Ontario.
What book is by your bedside right now?
Over the summer I read 104 non-fiction books as part of my duties as a jury member for the Hilary Weston Writers' Trust Prize for Nonfiction. To relax, I have been dipping into an old favourite: Enderby, by the late Anthony Burgess, one of the greatest postwar British novelists.
What is the most influential piece of architecture in Toronto?  
My first memory of Toronto is as a boy of four arriving at Union Station accompanied by my grandfather. It was the spring of 1944, and although neither I nor any of the crowds of uniformed servicemen and women thronging the great hall knew it at the time, the Allied assault on the beaches of Normandy would soon begin. I am now a frequent visitor to Union Station since I travel for business and family reasons to Toronto by train from our retirement home in Perth. And, each time, I think of the hundreds of thousands of other people from elsewhere in Canada and abroad whose first impression of Toronto over the years came from their encounter with the grand old railway station.
What are your goals for 2013?
Following my retirement as lieutenant-governor in 2007, I took up writing. My first novel, As Long as the Rivers Flow, dealing with the intergenerational impact of residential schools, was released by Knopf last year and is now in its third printing. My next novel, The Redemption of Oscar Wolf, will be released by Dundurn in June 2013. It is a saga of Native life in the mid-20th century and a mixture of tragedy, farce, existential angst and humour. I will be spending much of the year at writers' festivals and speaking at book clubs, high schools, colleges and universities and service organizations.
---
Cheryl Hickey
Host of Global's ET Canada
What is your favourite street to stroll in Toronto?
My favourite street to stroll down is Yorkville. I used to live there and I love all the little shops and yummy places to eat. A few of my personal standouts include Pusateri's, which was a frequent stop for my husband and me, great for grabbing meals for the two of us or entertaining a crowd; One's patio at the Hazelton Hotel, perfect for food and drink, but also people watching! And, of course, Over the Rainbow for their huge selection of comfy, stylish clothes — I bought my son's Canada Goose coat there recently.
Which restaurant served you the most memorable meal of your life? 
The combination of great food and company is the basis of every memorable meal I've ever had — and fortunately I have a lot to choose from! Café Nervosa has been a great spot for these gatherings, and an honourable mention goes to 7 West because I got engaged right outside of that restaurant, and so this venue will always be special to me.
Which designer takes up the most space in your closet? 
I am a firm believer that every designer has something fantastic to offer, and my closet definitely reflects that! Everything from awesome Smythe jackets, Diesel jeans and luxurious Theory T-shirts to glamorous gowns from Greta Constantine, Ines de Santos and Rodney Philpott, to name a few, have been a part of my personal and growing collection.
Who would you choose to interview again and again?
I love to laugh, so anyone who has made that happen tops my list for repeat interviews. To date, some of my most witty subjects have been George Clooney, Casey Affleck, Oprah and Michael Bublé … they have all made me howl!
What is your New Year's resolution? 
I really don't make New Year's resolutions, just life resolutions. I'm working on being more in the moment each day and appreciating every second with my family and friends. In the hustle and bustle of every day, it can be easy to forget our true priorities.
Photos By The Merilyn Denis Show/Ian Gavan/Andrew Stawicki/Matt Barnes