Dolce Dinner party with Chef Massimo Bruno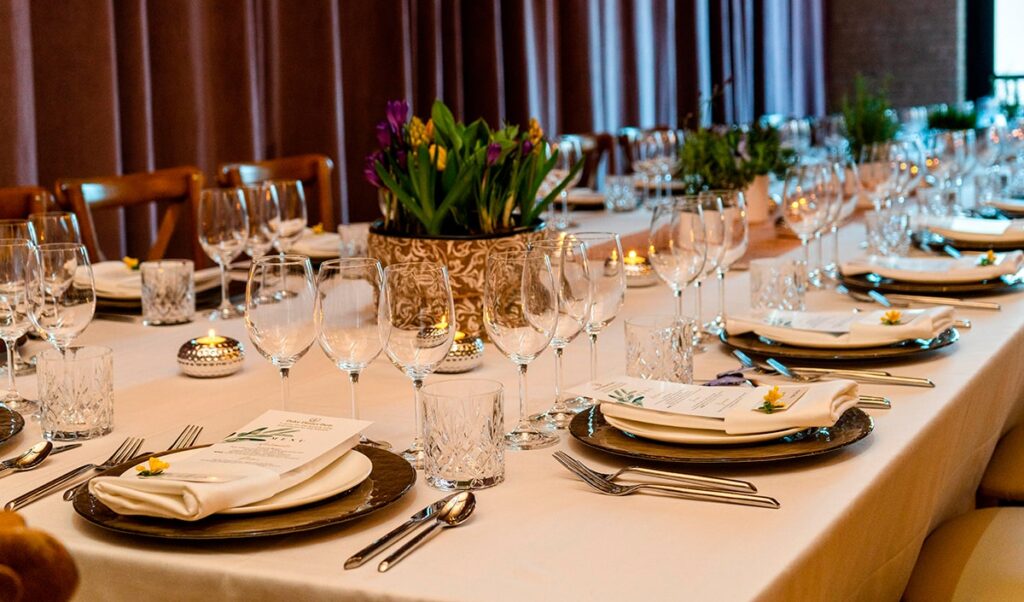 A traditional Italian dinner party is all about sharing food, wine and conversation around the table, with family and friends. On April 12, Dolce hosted the first of a series of intimate dinners in the spirit of this Italian tradition, inviting guests to "come for the food and stay for the friends".
Chef Massimo Bruno, host of Toronto's longest-running Italian supper club, delighted guests with a four-course dinner that highlighted the exceptional quality, flavour and versatility of Zerillo Premium Extra Virgin Olive Oil. Chef Bruno's exquisitely curated menu celebrated the diverse regions and dishes of Italy with many Italian classics. Dishes were simple, yet intensely flavourful, a testament to the importance of the use of premium-quality ingredients in a meal. And, since no Italian dinner is complete without good wine, Connoisseur Wine Imports joined forces with Dolce, curating a sommelier-led wine pairing and hosting the event in their luxurious and intimate event space, 87 Wade.
Antipasti included focaccia Barese and fava bean purée with rapini, a traditional cucina povera dish from Puglia. Also served was octopus carpaccio and burratine with sautéed tomatoes and EVOO. Antipasti was paired with a soft and elegant 2020 Sauvignon Collio DOC, the first vintage of this new addition to the legendary collection of winemaker Mario Schiopetto in Friuli-Venezia. Guests indulged in two primi dishes — olive oil risotto and homemade cavatelli with pomodorini, basilico and EVOO. Primi was paired with a 2018 Zuc di Volpe Pinot Grigio with complex flavour and aroma sensations due the exceptional growing conditions of the vineyard, which is located in the mountainous cross-border region of Austria and Slovenia. For secondi, the king of steaks, Bistecca alla Fiorentina, was perfectly grilled and served alongside a whole sea-salt-encrusted Branzino. To pair, both a luxurious 2014 Montepulciano DOC Gabriel and a bright and aromatic 2021 Pecorino Volo Vignavolando were chosen to work interchangeably with both the meat and the fish. Finally, for dessert, guests enjoyed traditional Sicilian cannoli, deconstructed for a fun twist, as well as a simple olive oil gelato.
Quality ingredients are what bring out the best in any dish, allowing it to shine and achieve its full flavour potential. Extra virgin olive oil is an indispensable ingredient in any kitchen, and Zerillo Premium Extra Virgin Olive Oil, which was used throughout Chef Bruno's menu, is an optimal choice. The production of Zerillo Premium Extra Virgin Olive Oil continues today in the hands of Nicola and Giovanni, the third generation of the Zerillo family olive growers, who work with passion and dedication to the craft and to the land and offer a guarantee of exceptional provenance and high standards of production. Olives are harvested from centuries-old olive groves in Puglia, known as one of the best olive-oil producing regions in the world. They are strictly picked by hand, at the optimal time, milled within 48 hours and processed free of heat and chemicals. All of this is to avoid oxidation and fermentation and to ensure that the taste and quality of the resulting oil is not compromised. In addition, the oil retains high levels of polyphenols, the plant compounds that have been proven to provide numerous health benefits. The resulting oil is versatile enough to be used in a variety of ways and in a variety of dishes, from antipasti to dessert, enhancing and imparting excellent flavour. Chef Bruno's menu was testament to that.
A vibrant and exciting guest list attended Dolce's first collaborative dinner party, helping to make it a great success, with each guest infusing their own unique spirit into the event. The evening was enlivened with the chatter of new friends made, memories created, never-ending laughter and song and dance, with Chef Bruno proving not only to be a talented chef but a talented entertainer as well, singing with his makeshift soup ladle microphone. The Italian word for bread, pane, comes from the Latin panem, which forms the root of the word "companionship". Throughout history, breaking bread has become synonymous with forming connections with others. At Dolce, these connections extend beyond immediate family and friends and into the community. To this end, a portion of the sale of each ticket for Dolce dinner parties will go to The Stop Community Food Centre, one of Canada's first food banks that was founded in the 1980s. The Stop strives to increase access to healthy food in a manner that maintains dignity, builds health and community and challenges inequality. Dolce is proud to support this initiative and is preparing to welcome guests to the second iteration of its dinner-party series later this month to break bread and highlight the beauty and importance of community and collaboration.
www.massimobruno.com
www.zerillo.ca
www.shopdolce.ca
www.con-nois-seur.ca
www.thestop.org