Hope Chicago: Learn This Book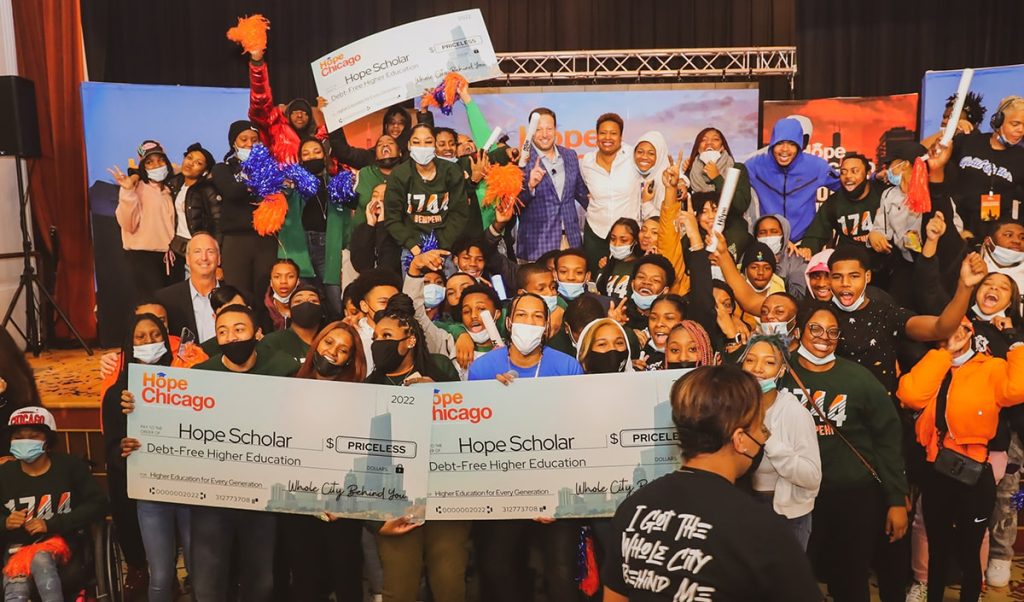 This fall, Hope Chicago will send about 4,000 students to college debt-free. That's a big deal, but that's not all: In a multi-generational educational opportunity, the foundation will also send a parent back to school. With plans to raise $1 billion over the next 10 years, it's exclusive, disruptive and ambitiously next-level — a scholarship model like no other.
If education is the best vehicle to disrupt cycles of generational poverty, then Hope Chicago is driving the school bus. For students who don't have the funds to attend college or university, post-secondary studies are just a dream that dissipates. And it's not just finances; there are other barriers, too, like GPA requirements. "My passion is to provide opportunity to people where it doesn't exist or where it's hard to access," says Janice K. Jackson, CEO of Hope Chicago. "We're going to meet you where you are, and that's everything that Hope Chicago is about."
Actually, Jackson spent more than 20 years working in Chicago public schools, and she had never even heard of the foundation. When she decided to step down, she heard from Pete Kadens, the co-founder and co-chair of the organization. "Janice is the real deal," says Kadens. "She could have taken a lot of jobs [after] running the third-largest school system in America, almost any job paying far more, but she took this one because she believes in this community."
In the United States, education is mainly a state and local responsibility, unlike in Canada. Here, different provinces regulate education, but the federal government also contributes to post-secondary education. "The biggest challenge we have [in the States] is making sure that there's access to higher education and that it's affordable," says Jackson.
And that is really the goal of Hope Chicago, a non-profit, first-of-its-kind organization that's funding post-secondary scholarships for Chicago public school graduates — and an adult family member who wants to return to school, too. The organization will cover the full cost of attendance at participating institutions. It's a multi-generational scholarship program that covers tuition, room and board, books, fees and surcharges.
"It's A Life-changing Opportunity, One That The Organization Hopes Will Reverberate Throughout Future Generations, Setting A New Standard For Success"
Co-founded by businessman Ted Koenig and Kadens, the organization is modelled after a scholarship program that Kadens pioneered in his hometown of Toledo, Ohio. This past fall, the organization used information, including census data, college enrolment and completion data, to help identify neighbourhoods and schools that could use a boost, launching in partnership with five Chicago public high schools. The first cohort of Hope Chicago students will begin this September, and the scholars can use their scholarships at one of Hope Chicago's 20 partner colleges, universities or other educational programs across Illinois, including four-year colleges, two-year City Colleges of Chicago and some private colleges, as well as trade and professional schools.
It's a life-changing opportunity, one that the organization hopes will reverberate throughout future generations. At one school announcement, the students were gathered in the auditorium, and the room went silent. The announcement was repeated, and that is when everyone exploded. Many cheers — and tears — ensued. For Jackson, it was an incredible experience to deliver this kind of good news to students. In one instance, she explains, the principal came onto the stage to reinforce that even undocumented students had access to the program, too. "In America, undocumented students, many of whom migrate from Mexico, don't have access to federal aid," Jackson says. That means the gap for these kids to go to college is even bigger. If they don't get a scholarship, education is really off the table because they don't have federal funds to support it, she adds. "And just for them to see that those barriers have been removed, something that is a huge barrier for a lot of our undocumented students … that one is going to sit with me for a long time."
The organization has already raised more than $40 million with funding partners, including corporations, financial institutions and private family foundations. And, with investments totalling more than $20 million by The Kadens Family Foundation and Koenig, the organization's operational and administrative costs are fully funded for the next three years, so that every dollar raised will go directly toward supporting students and their parents with scholarships and other services.
This two-generational model has proven to increase the likelihood of completion, setting a new standard of success for the entire higher-education sector and creating lasting economic impact for families. Another hurdle that doesn't need to be overcome is that eligibility isn't dependent on GPA or test scores. Participants are only required to have the desire to pursue their post-secondary goals.
Their long-term goal is to raise $1 billion in the next 10 years to cover both tuition and non-tuition expenses, with plans to add additional partner high schools to the program each year, prioritizing communities where post-secondary success can make the most impact. It's an ambitious goal, but it is necessary to think big. But that's not all. Hope Chicago is also committed to breaking down other invisible barriers, like loneliness and psychological stress, which prevent students from completing their post-secondary education. By forging partnerships with community organizations and outreach programs, the organization can reach an additional 71,000 high-school graduates with support services, including mentoring, guidance and counselling.
Kadens thinks big and he dreams big, too, and he inspires the people he works with to do the same. "I just feel like anything is possible with Pete, and that's what I like about working with him: the optimism and the belief that anything is possible," says Jackson. "I think we need that in education."
As for Kadens, he is grateful now. "About four years ago, I woke up one day, very, very rich in the traditional sense of money in the bank, but very relationship-poor, and that wasn't happy," he says. "So, for me, the sweet life is about happiness and fulfillment, and doing things that make me and my family happy."
www.hopechicago.org
@hopechicagoedu
Interview by Estelle Zentil