Chanel's Camélia Collection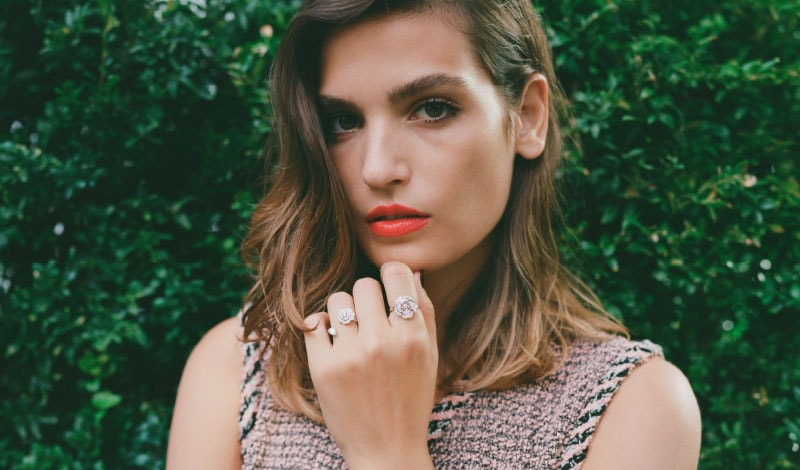 Chanel introduces Camélia, the newest line in its perennial jewellery collection.
Chanel has launched the Camélia collection, a line of fine jewellery for Spring/Summer 2018. The campaign features Alma Jodorowsky, French actress, singer and fashion model.
The camellia, also known as the Chinese rose, represents love and devotion. But to Chanel, it's more than just an object of prettiness. The company has attempted to redefine the camellia as a symbol of independence, boldness and irreverence with the slogan, "Not a flower."
Now an iconic floral shape, the camellia embodies the bold spirit of Chanel. Originally a flower worn in men's buttonholes, it was borrowed from men's fashion by Gabrielle Chanel. The collection symbolizes women's freedom from hindrance.
In white or black ceramic, white or yellow gold, stripped bare or encrusted with diamonds, the lines and motion of the camellia are a declaration of love for a style governed by only one rule: freedom. The Camélia collection is made up of rings, bracelets, necklaces, earrings and brooches.
The height of beauty and simplicity, the camellia transcends fashion and bestows infinite elegance upon its wearer. Moreover, Chanel's Camélia is a style, instantly recognizable, eternally desirable and truly timeless.
As part of the marketing campaign, Chanel has released a series of photos and videos featuring Alma Jodorowsky in situations that capture the spirit of the camellia, including trimming hedges with a chainsaw, getting pulled over by a police officer, and sitting in a pool fully clothed, all while wearing stunning items from the luxury collection.
Jodorowsky's relationship with Chanel began with the Karl Lagerfeld exhibition project "The Little Black Jacket." Afterward, she went on to become an official Chanel ambassador.
photo courtesy of chanel