Haute Conversation – David Dixon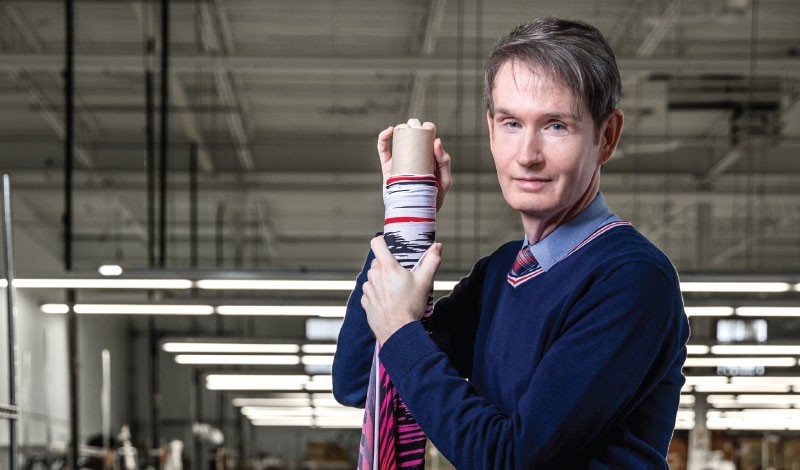 Toronto designer David Dixon is two decades into a career that keeps giving — to the fashion industry and beyond.
It's been a whirlwind start to 2017 for Toronto-based fashion designer David Dixon. In April, Dixon was honoured with the Fashion Impact Award at this year's Canadian Arts & Fashion Awards (CAFA). "Being recognized this year by CAFA and my peers was truly a surprise, as well as an honour that went far beyond my work professionally, just as a designer," says Dixon. "I was overwhelmed by the support."
His award-winning Gene Collection was conceived in late 2015 to spark conversation about the role genetics plays in screening for ovarian cancer. The Gene Collection, which debuted in 2016, featured denim and encouraged women and their families to talk to their health-care providers about their family genetic history and potential risk for the disease. "Ovarian Cancer Canada gave me the incentive to create a vision that went far beyond what I felt was a collection for a season, to become a conversation for a lifetime for many."
The designer's nine-minute presentation video of the collection garnered a jaw-dropping 40 million impressions and lit up the trending topics across social media platforms.
Dixon says that the inspiration for a collection often reflects where he finds himself in a given moment. "It could be inspired by a place I visited, a person who left an impression, history, visions of the future or sometimes the most common, day-to-day actions that we participate in." The last person to truly inspire him was his sister, Susan Dixon, who passed suddenly in 2015.
The CAFA award was a notable feat for the homegrown gown designer, but Dixon says he's more than happy to take the lows that come with the highs. "In my career, any highlight for me is a moment where I feel a change has happened and a lesson [was] learned for the better."
"I found that through fashion I was able to use design and clothing as my voice"
Dixon's humbleness is far from a front; it's his true nature as a giver, a lover and a creator. "My parents taught me and my siblings that it is easier to give than to ask, and I hold that with tremendous responsibility," says Dixon. "If I feel I have the voice or the platform to bring attention to something that I feel strongly about, through fashion or personally, I will be involved."
Appropriately, Dixon chooses to spread messages of awareness through fashion. He believes it to be a medium of communication all its own. "I found that through fashion I was able to use design and clothing as my voice," says Dixon. "Being tremendously introverted and shy, this allowed me to 'speak' and express myself."
Dixon praises the language of couture as one of the most commonly used non-verbal methods of communicating outside of touch. "Having designed for over 20 years, the one thing that remains constant is that voice within me to communicate through the work that I do. The passion for what I do is something I cannot seem to turn off."
Whether it is designing a collection, mentoring at the postsecondary level or raising awareness for initiatives he feels strongly about, Dixon says we can anticipate his continuation of a story and dialogue he hopes will make people feel great, look great and do great things.
Dixon's advice to emerging designers and other people who want to enter the world of fashion is that you have to really love it. "It is a difficult business, and there will be many no's along the way," he says. "Surround yourself with people who believe in you, have a strong point of view, listen and really cultivate what your voice will be and how it will be heard." It's advice that Dixon gets as good as he gives. "I want to keep evolving and doing what I love to do — God willing."
www.daviddixon.ca
www.twitter.com/daviddixoninc
Photo By Robin Gartner