Fearless Femme Fatales – Bold New Looks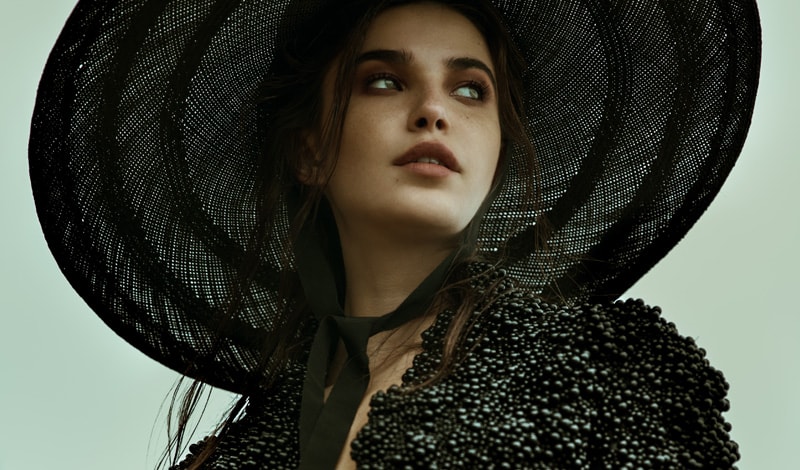 The whimsical and mysterious allure of this refreshingly innovative collection is playful, stunning and elegant.
Look 1: Beaded black bolero, paired with flower cut-out pants, is accentuated by a dramatic Scarlett O'Hara hat.
Pants: Amen Couture
Cropped Jacket: IH NOM UH NIT
Hat: Gladys Tamez Millinery
---
Look 2: The mystery and magic of mermaids are captured in this whimsical sea-grey, silver-trimmed skirt.
Skirt: Afffair
Earrings: Jude Benhalim Jewelry via tata-la.com
---
Look 3: An oversized beige sombrero adds a saucy feel to the star-stamped cut-away blouse and matching star-threaded skirt.
Dress: Vitor Zerbinato
Hat: Gladys Tamez Millinery
---
Look 4: Satin bows add a playful touch to this elegant, shimmery satin pantsuit.
Blazer: Yezael by Angelo Cruciani
Pants: Yezael by Angelo Cruciani
Shoes: Enrico Cuini
---
Look 5: Elegance redefined by furls of pearls and dramatic silver statement earrings.
Dress: Vitor Zerbinato
Earrings: Natia Khutsishvili via tata-la.com
---
Model: Charlotte D'Alessio
Agency: Elite LA
Stylist: Oretta Corbelli
Makeup: Allison Giroday
Hairstylist: Virginie Pineda
---
Photography by Thomas Louvagny
Videography by Ludovic Nortier
Text by Cece M. Scott