Refining Masculinity – Joseph Abboud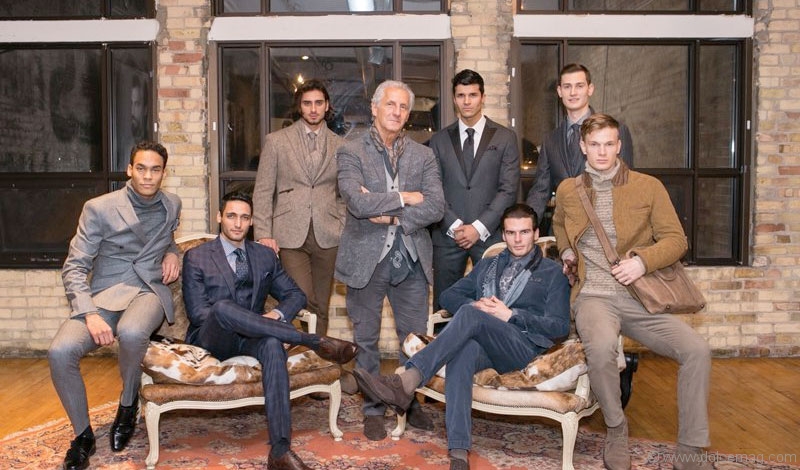 When men's fashion designer Joseph Abboud stopped by the Burroughes Building in Toronto's Queen West to debut his latest collections — a spiffy limited-edition e-commerce line and a made-in-Canada collection now available exclusively at Moores Clothing for Men — he also brought along the latest expressions of the new modern man. His aspirational quality suits, outerwear, fitted blazers, comfy sweaters and crisp dress shirts bring a zap of style and energy to the young man yearning for affordable tailored pieces to incorporate in the everyday, all the while driven by much-needed dimension, quality and refined masculinity. "Throughout my whole career, I've tried to make boys dress like men, not men like boys," says Abboud, who first launched his eponymous label in 1987 before receiving two Menswear Designer of the Year awards from the Council of Fashion Designers of America. "There's a regenerated excitement in menswear today, especially with young men who are coming out with their own personal styles. I say wear a suit on the weekend, throw it on with a turtleneck and a scarf, and all of a sudden you're James Bond."
Joseph Abboud's Must-Haves for the Every man's Closet
▷ Every young guy needs to get a great-fitting suit. Even if he has just one — a grey flannel or worsted suit or a dark navy suit — just make sure it fits well. You're better off having one great-fitting suit than three mediocre ones. That's my first rule.
▷ Then make sure you have the perfect blazer. So you start to establish your wardrobe with a suit, a blazer, the perfect white shirt, and if you're trim and you're lean, get a leaner-fitting shirt for a fresh look. Nothing looks better on a guy — especially if he's meeting his girlfriend's parents for the first time — than a navy blazer, a white shirt and a pair of dark blue jeans. It's fresh, it's clean looking, very masculine, it's very American, but when done in a leaner silhouette, it's very cool.
▷ Add a great leather jacket that isn't styled or fashion-y; it should be a little more classic because you'll have that forever. With the right kind of leather, the older it gets, the better it looks, so there's heritage to it.