The Joie De Vivre Of Jewelry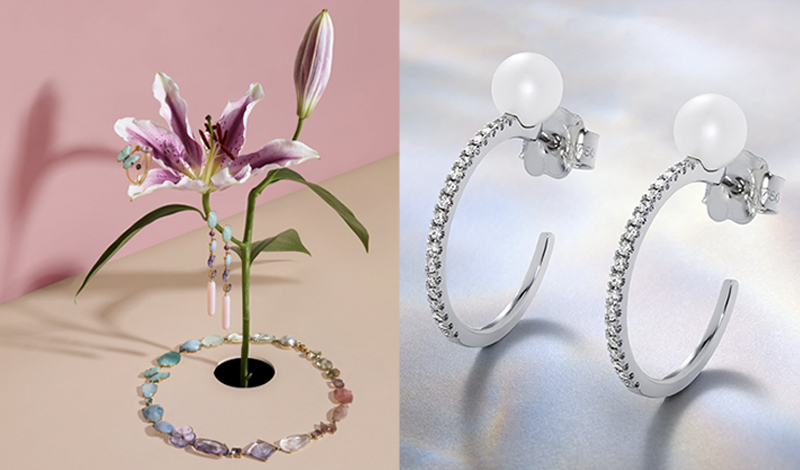 The synergy of the Carrera y Carrera and Tous brands makes for original and inspired jewelry collections under the Joie Jewelry umbrella.
Symbols are — and have always been — an important part of our history and culture. Historically, jewelry in particular has been rich with meaning and emotion. Cleopatra, queen of Egypt, adorned herself in precious jewels not only as a means of accessorizing her colourful togas, but also as amulets to ward off evil spirits. In fact, the infamous queen even took baths while wearing her jewels, giving a whole new meaning to sparkling clean.
In modern culture, jewelry has come to represent loving connections — visible and distinctive symbols that indicate the person wearing the piece is loved, valued and admired by others. The exchange of jewelry between two people, whether it is friends or lovers, symbolizes a deep expression of caring and connection for all the world to see. Jewelry is also timeless and represents a deeper and more meaningful expression of devotion than do either flowers or the most exquisite chocolate. "Jewelry is all about happiness and joy," says Natalia Lisochkina, owner of the newly amalgamated Joie Jewelry, located in Toronto's Yorkville neighbourhood. Formerly known as Carrera y Carrera, this renowned Spanish jewelry brand was joined with another beloved Spanish jeweler, Tous Jewelry, in July 2019. The end goal was that of creating stunning and original collections of jewelry under the jubilant new name, Joie Jewelry. "The Tous brand is very different; it is a strong complement to the Carrera brand," Lisochkina says. "We've positioned ourselves as a boutique selling only Spanish brands, which makes us a rare treasure."
Recognizing that the giving and receiving of jewelry is most often tied to happy occasions, Lisochkina wanted the name of the store's new collaboration between Carrera and Tous to be one that reflects a spirit of joy, literally a joie de vivre approach. "Jewelry is joyful," she says. "It brings happiness. We buy it for happy occasions, celebratory occasions. So that is why we decided to take this happy name for our jewelry store. Incorporating the two brands under Joie Jewelry has brought double happiness to our customers."
An icon of Spanish craftsmanship, Carrera y Carrera's roots date back to 1885, when Saturio Estevan Carrera opened his first jewelry store in the so-called Barrio de las Letras, the same avantgarde neighbourhood where the first edition of Don Quixote was printed. Tous also has solid roots in history, with Salvador Tous Blavi and his wife, Teresa Ponsa Mas, opening a small watch repair shop in 1920. In 1965, Tous's son, Salvador Tous Ponsa, and his wife, Rosa Oriol Porta, transformed the brand into modern, easy-to-wear collections that appealed to the new generation.
Although Tous has an extensive and diverse portfolio of products, including accessories, bags, watches, fragrances and eyewear, Joie Jewelry's focus is centred specifically on jewelry. "We are a boutique selling jewelry, not accessories," Lisochkina says. "A lot of jewelry brands copy each other, but Tous and Carrera's designs are one-of-a-kind, influenced by Spanish and European culture. The sculptured designs are what set us apart."
The Barcelona, Spain-based Tous, a huge brand that creates 30 jewelry collections a year, was specifically chosen because its collections complement Carrera's on a variety of platforms, especially around price points. Positioning itself as affordable luxury, Tous's pieces start at $100, as opposed to Carrera, whose prices begin at $3,000.
"We've Positioned Ourselves As A Boutique Selling Only Spanish Brands, Which Makes Us A Rare Treasure" – Natalia Lisochkina
"It gives us options for customers who come in to the store looking to buy something special for gifts and family keepsakes for generations to come," Lisochkina says. "Tous offers more affordable options and a wide range of products for our customers, who are happy because they now have the option to choose from two different, highly unique, colourful and joyful jewelry brands."
In an interview with Lisochkina in 2018, she shared her desire to create and design her own jewelry. Now, that dream has come to fruition. "After I find things that inspire me, I buy stones that speak directly to me, to my emotions," she says. "I explain my ideas to one of Joie's five designers, who then creates them professionally under the Joie brand. Altogether, Joie's employees, including gemologists, have over 50 years of jewelry experience."
Which jewelry pieces that were gifted to you best represent the love, caring and joie de vivre connections that are special to you, the ones that you now wear as outward symbols of your reciprocal love for family and friends?
---
138 Cumberland St., Unit 6, Toronto
416-927-8181