Q&A With Luxury Interior Designer Celia Sawyer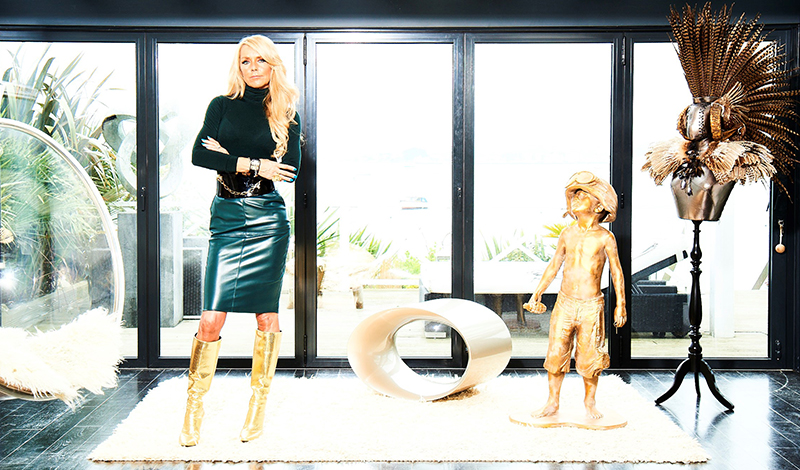 We spoke with the multi-talented businesswoman about her successful design career and her definition of beauty.
Q. What is your definition of luxury and beauty?
A. My definition of luxury and beauty is high quality, uniqueness, sophistication and glamour.
Q. How did you come to be a celebrated interior designer?
A. It all came from reputation. It wasn't overnight. I have been working in this industry for over 20 years and started on small projects; however, over a period of years and many recommendations later, my career gradually took a turn. I started working with royalty from overseas, famous movie stars and singers, high-net-worth people, and it seemed to nudge me to the level I am at now. I am very lucky, as I get to work on very exciting projects such as aviation, beautiful homes all over the world and some nice commercial work, too.
Q. What are some things you would do differently in your career if you had the chance?
A. I would have worked with a really good yacht/ boat designer who I could've learned from and then gone into superyacht design more. This is something I haven't worked on much. In fact, this industry is really dominated by male designers. I was asked to do a talk in Kitzbühel, Austria, a few years ago at the Superyacht Design Symposium, and I was talking to Terence Disdale (a great superyacht designer) who did just that — learned from a great boat designer and then went on to have his own practice, which is hugely successful.
"People Are Sometimes A Little Afraid To Be Honest About What They Really Like. Once I Get Into Their Psyche … Then I Can Design Something For Them That They Will Love"
Q. Can you tell us a bit about your journey, and how you became so successful in your field?
A. I started small, working on refurbishments in London mainly, modernizing apartments and homes for people and working with a lot of property developers, helping them design the interiors of new builds, so the interiors were functional and the layouts were good. My work started to catch the eye of the agents selling property around the central London area, and they started to recommend me to clients, and it really escalated from there. I pride myself on the fact that I deliver on time and on budget a quality product, and this has got me to where I am now.
Q. Do you recall when you knew you were doing something you loved and had found your calling?
A. I have always been creative. At school, I loved art and also loved to go and look at people's homes when I was young. My mum took me to see a show home, and I absolutely loved looking around it, seeing the continuity of the design and what a difference it made to the inside of a home. I have always been very observant, so this is really where the love for the job came from, way back when I was young. I love designing an interior space, get very excited when a project comes in and I have to think up the interior from scratch. It really pushes me mentally and tests out my creativity.
Q. Describe your favourite place to go to when you want to feel inspired.
A. There are so many places I like to go to feel inspired. It also really depends on the type of project I may be working on. For instance, if it is a city home for someone, then I enjoy going into a city. Whether it is New York or London, there are buildings, shapes, architecture that inspire me. However, if I am designing for a countryside home or a beachside home, then I enjoy going to those places for inspiration from nature itself.
Q. What are this year's top interior design trends?
A. A lot of bold colours are trending at the moment — whether it is in fabrics, wall coverings, furniture or rugs — mixing them up together to make a bold statement.
Q. What is the one thing you include in your projects that is a bit of your signature in your design work?
A. It has to be mirrors and/or mirrored furniture. I always use a lot of mirrors, as they are key to opening up a space, but also to make a space brighter and more glamorous. I don't think there is one project (except aviation) that I haven't used a lot of mirrors in.
Q. Do you have any preference as to when you like to get involved in a project?
A. Yes, I prefer to be involved right at the beginning of a project. That way, I don't have to spend time trying to rectify a badly thought-out interior space.
Q. What are some things you have learned about people over the years as a designer?
A. People are sometimes a little afraid to be honest about what they really like. Once I get into their psyche and get them to start really thinking about what makes them happy, calm or angry, then I can design something for them that they will love. On the other hand, some clients are very clear as to their likes and dislikes, which makes the process fairly simple.
Q. Tell us a bit about your personal life and family.
A. I've always been a working mum and have two children: Jack is 17, and Lili is coming up to 21. They are both great children, and Lili is now at university studying fashion in London, whilst Jack has his A levels next summer. I enjoy being with my children. I never had a nanny to look after them, as I felt it was more important to spend time with them as my husband is away a lot with his business (he is a director making TV ads), so I wanted them to have stability with me. I must admit, though, when I have been very busy and the children were young, it was tricky. However, we managed it. In my personal time, I go running (almost every day) and go to the gym, as I like weight training and keeping fit; it helps me to keep clear mentally. I also work with a lot of charities. I am a patron for the Women's Refuge, the Children's Liver Disease Foundation, an ambassador for the Prince's Trust and the British Heart Foundation. And I just got awarded a Global Goodwill Ambassador for humanitarian work, so I keep very busy with a lot of this work. I enjoy mentoring young people, too, to encourage them to fulfil their dreams. And I often do talks at schools or offer work experience, which is fun.
Q. Who has been your biggest influencer?
A. Probably David Collins, who was a British designer. He worked on some amazing hotels and bars, but many designers influence me all over the world for various reasons. It could be their use of colour, textures or just a style I really like. There are so many talented designers worldwide.
Q. What do people most admire about you?
A. My honesty, I think. I say it as it is, as I feel you need to be straight with people, which certainly makes them trust you.
Q. Define your design style in three words.
A. Sophisticated, glamorous and cool.
Q. Do you have a special quote or saying you would like to share with us?
A. "There is no elevator to success – you need to take the stairs!"
---
INTERVIEW BY MICHELLE ZERILLO-SOSA