Cognac: From The Nectar Of The Gods To The Nectar Of The Spirits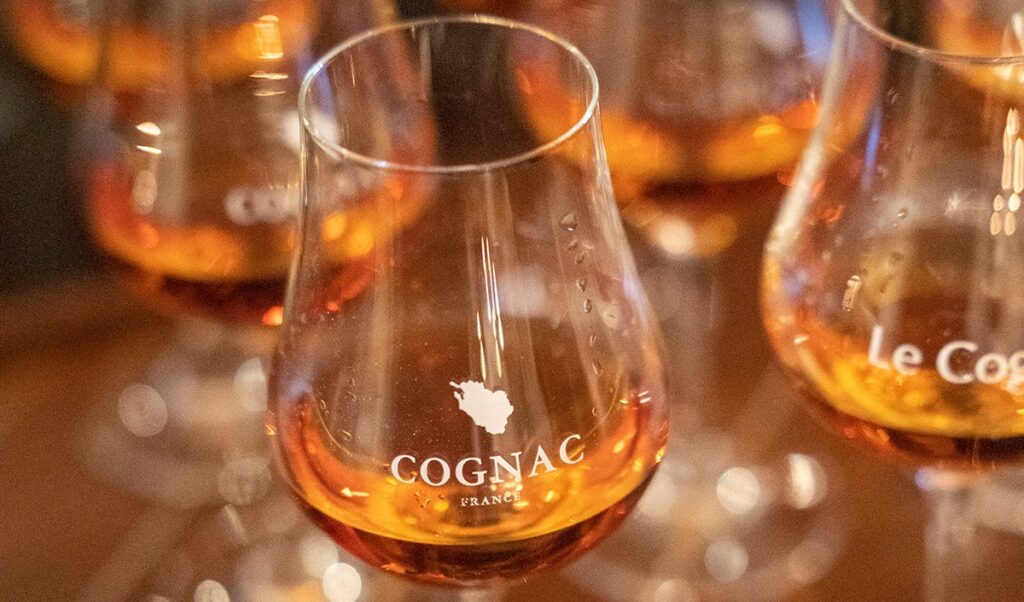 While it's more common to think about pairing food with wine, recent interest in pairing food with spirits has brought Cognac into the limelight.
The idea of combining food with wine to enhance the dining experience is not a new concept. We know that the ancient Greeks dipped their bread in wine, and that the ancient Romans drank wine with every meal. But there is no evidence to suggest that the reasons were anything other than practical. Dipping hard bread in wine made it softer and tastier, and wine was cleaner and safer to drink than water. Over time, as viticulture spread with Roman expansion, the roots of wine pairing were planted. Wine was the most common drink in the ancient Mediterranean because the cultivation of grapes was well-suited to the climate. The climate dictated the varieties of fruits and vegetables that could be grown, the livestock that could be raised, and, in turn, the types of cheese that could be made. Although there is no known exact date of origin for wine pairing as we know it today, the practice likely developed from the merging of the type of wine produced and the food available in each region. "What grows together, goes together," as it is said. The red wines of Bordeaux are a classic match for lamb, a meat that was part of local cuisine. The Pinot noirs of Burgundy have long been paired with game that is hunted in the same region. In the early 19th century, the rise of restaurants in France that offered a choice of dishes from a menu laid the foundations for more deliberate food and wine pairings — red wine with meat, white wine with fish. These traditions were codified over generations, mainly through European perspectives. By the middle of the 20th century, wine pairing as an art emerged in Europe, and later in America, due to advancements in technology and increased trade and communication. As people gained access to products and information, their tastes and interests evolved, and they became more aware of the different ways that the flavours of foods and wines combine.
Over the past decade, many of the traditional rules of wine pairing have been debunked by wine experts and are no longer considered gospel. Experts tell us that food pairing, which encompasses other types of beverages as well, should be based on intensity and weight, not on colour. And, we are told, there is no one perfect pairing for any given food or dish. Culinary experts also cite aromatic matching as an important principle in food pairing, an idea that was first presented in 2002 by chef Heston Blumenthal, proprietor of several Michelin-starred restaurants in the U.K. Knowing that salt helps to bring out the flavour of many desserts, Blumenthal was experimenting with finding a replacement for salt on white chocolate. To his surprise, he found that salty caviar and white chocolate work very well together. Determined to find out why, he contacted a scientist from Firmenich, a flavourings and perfumes company based in Geneva, who analyzed the flavour profiles of both foods and concluded that both chocolate and caviar contain high levels of the same flavour compounds. Inspired, Blumenthal created a hypothesis: the more aromatic compounds two foods have in common, the better they taste together. By analyzing the flavour compounds in hundreds of different foods and combinations of foods, he believed that he proved his theory right, and so the Food Pairing Theory was born.
The Food Pairing Theory is based on the fact that 80 per cent of our flavour experience is determined by our sense of smell; so, in fact, when we say that something tastes good, what we are really saying is that it smells good. The remaining 20 per cent is determined by taste — the ability of our taste receptors to perceive sweet, sour, bitter, salty and umami — and mouthfeel — buttery, crunchy, chewy, etc. Tastes also play an important role in pairings. They are mirrored or contrasted to add depth and dimension. Simply put, a successful pairing uses similar aromas for a more harmonious flavour experience, similar weight and intensity so that neither element dominates the other, and similar or contrasting tastes to add depth and dimension. It's important to note, however, that these strategies are not written in stone and that the most important guiding principle when it comes to what we eat and drink is personal preference. French chef Éric Ripert, of the three-Michelin- starred New York restaurant Le Bernardin, famously said that he could drink red Bordeaux with every meal because even if it doesn't make a perfect pairing with the food, it makes him happy.
When we think about pairing food and drink, we immediately think of wine. But in recent years there has been a growing interest in pairing food with spirits, and mixologists are becoming more innovative, pairing food with cocktails. Many spirits are too aggressive to pair with foods and are better suited for enjoying alone or after a meal. But that is not the case with Cognac, a spirit that is often misunderstood. Should it be sipped neat or enjoyed on the rocks? Is it an apéritif or an after-dinner drink? Can it be enjoyed with a meal? Is it a cocktail ingredient? The answer is "all of the above."
"Cognac's lengthy aging creates a flavour profile that is extremely rich and complex, with a myriad of aromas and tastes, and this is precisely what gives it an inherent ability to be paired with food."
Cognac is a type of brandy, but to qualify as a Cognac, the brandy must be made according to specific guidelines and from specific white wine grape varieties, mainly Ugni Blanc, grown in the Cognac Appellation d'Origine Contrôlée in southwestern France. The grapes are turned into wine, then double-distilled in copper pot stills and aged at least two years in French oak barrels. Cognac designations — VS (Very Special), VSOP (Very Superior Old Pale) and XO (Extra Old) — are a guarantee of how long a Cognac has been aged — at least two years, at least four years, and at least six years respectively. Cognac's lengthy aging creates a flavour profile that is extremely rich and complex, with a myriad of aromas and tastes, and this is precisely what gives it an inherent ability to be paired with food. Every Cognac has a unique personality that expresses itself on the nose and on the palate. There are 63 aromas found in Cognac; the older the Cognac, the more its aromas develop and become more intense and refined, a characteristic known as "Rancio Charentais." Fruity aromas change from fresh peach and plum to more intense ones of dried apricot and fig. Oak develops into more complex notes of sandalwood and cedar. Light floral aromas mature into those of jasmine and hyacinth. And in Cognacs that have been aged for over 15 years, aromas include licorice, toffee, vanilla, spices, nuts and tobacco. These olfactory notes are revealed when the glass is first raised to the nose. Then, as the Cognac comes into contact with the tongue, its many flavours stimulate the taste buds, revealing even more of its character. Cognac houses have begun to take an interest in food pairing. Rémy Martin, one of the oldest and most respected Cognac houses in France, collaborates with a new generation of chefs and sommeliers. Understanding that the appetite for Cognac has been evolving, and aiming to quash the stereotype that the spirit is an after-dinner drink that is only sipped by wealthy middle-aged men, they created a series of innovative pairings that highlight the versatility of their Cognacs. Their pairings are widely varied and aimed at a younger and more experimental customer, promising an elevated culinary experience.
And while Cognac has a reputation as a spirit that is sipped neat, few are aware that it has been the foundation of countless cocktails since the beginning of the 19th century. Pioneering mixologist Jerry Thomas's 1862 Bartenders Guide, a resource that defined the American school of drinking for 150 years, included French brandy in a third of the recipes. By the early 1900s, Cognac-based cocktails were the preferred after- dinner drinks in major cities across America, including New York and New Orleans. In the 1920s, Prohibition sent top American bartenders to Europe, where they practised their trade in grand hotels. The most iconic Cognac cocktail, the sidecar, was invented at the Ritz Paris by head bartender Frank Meier in 1923. It is named for one of his best customers, who always arrived at the hotel in a motorcycle sidecar. Smooth, fresh and gently sweet, Cognac is a perfect cocktail ingredient. And because Cognac is typically a blend of different vintages across different vineyards and crus, mixers, citrus fruits and fresh herbs will highlight its flavours. Many Cognac brands have even started producing lines specifically intended, and priced, for mixing in cocktails. Cognac boasts all the complexity needed to elevate the flavour experience when paired with food. These are just a few of the many possibilities for what to eat when you drink Cognac …
CHEESE
Younger, fruit-forward Cognacs pair well with creamy, bloomy rind cheeses like Brie and Camembert, balancing out their earthy richness; their smooth textures also work beautifully together. Older Cognacs, with more complex aromas of nuts, spices and dried fruits, pair well with Parmigiano- Reggiano, which develops similar spicy, full-bodied aromas as it ages. Aged Parmigiano-Reggiano is naturally high in glutamate, the amino acid that produces the umami taste, giving it an ability to reveal the earthy, robust, umami flavours that only the finest of aged Cognacs can achieve. A fine XO Cognac with highly developed flavours of smoke, spice and wood pairs well with a pungent blue cheese like Roquefort, which has the aromatic strength — rich and earthy — to match. Notes of honey, vanilla and sweet spices in an XO Cognac balance out the saltiness in the cheese.
CHARCUTERIE
Cognac and air-cured hams, such as Bayonne and prosciutto, provide for a truly umami sensation. As ham ages, it develops an intensely savoury aroma with hazelnut notes that are matched in Cognac, coming from French oak barrels that impart a similar aroma. Cognac has a natural affinity with proteins and fats. Cognac has tannin, which comes from the grapes, as well as from the oak barrels that it is aged in. Tannins produce a bitter and drying sensation in the mouth, but when fat is introduced, their astringency is reduced, and the dryness is offset. Cognac also has acidity, which softens on the palate as it ages in oak barrels. VSOP Cognac has enough acidity to work well with pâtés and cured meats, as it is able to cut through their rich fattiness, rounding out the flavours of both.
WILD MUSHROOMS
Aged Cognacs, nutty and rich in umami, bring out the earthy, meaty umami notes of wild mushrooms. Think mushroom bruschetta, mushroom risotto or mushroom wild rice. For an explosion of flavour on the palate, pair aged Cognac with grilled shiitake mushrooms; grilling further enhances the meaty, umami taste already abundant in the mushrooms.
DUCK
Aged Cognac can stand up to the rich, bold, fatty flavours of duck. Particularly excellent with Cognac are Asian dishes like Peking duck, whose complex sweet-and-sour flavour profile complements the similarly highly developed and complex flavour profile of aged Cognac. Umami and tannin also contribute to the success of this pairing.
SEAFOOD
Cognac doesn't overpower the delicate notes of fresh seafood. Caviar's subtle ocean notes allow every aromatic expression of Cognac to shine without being outshone. Cognac is unquestionably influenced by the ocean, with part of the Cognac growing region sitting along the Atlantic and including two islands. Cognacs with mineral depth pair well with scallops and high-salinity oysters, while floral and fruity notes in Cognac can offset their brininess. In cocktail pairings, it's all about balance. A French 75 cocktail has all the ingredients — VSOP Cognac, fresh lemon juice and champagne — to make it a perfect match for sushi. The acidity and carbonation help cut the richness of fatty fish like salmon, and the smooth texture of Cognac and buttery texture of raw fish add depth to the pairing.
DESSERT
Pairing Cognac with desserts that incorporate vanilla, almonds, apricots, apples, red berries or oranges, aromas commonly found in Cognacs — creates a delicious harmony of flavours. Try Cognac with raspberry or apple tart, almond cake, crêpes Suzette or crème caramel. Cognac with more acidic or sweet notes can help cut the richness of desserts made with butter or cream. Chocolate desserts are always a safe bet with Cognac. The older the Cognac, the darker the chocolate should be, because the highly developed and complex notes of an aged Cognac counterbalance the bitter intensity of the dark chocolate.
@cognacpassion
@rubas_dish
@michaeltphotography1
@matthewwaxcatering