Be dazzled by Bochìc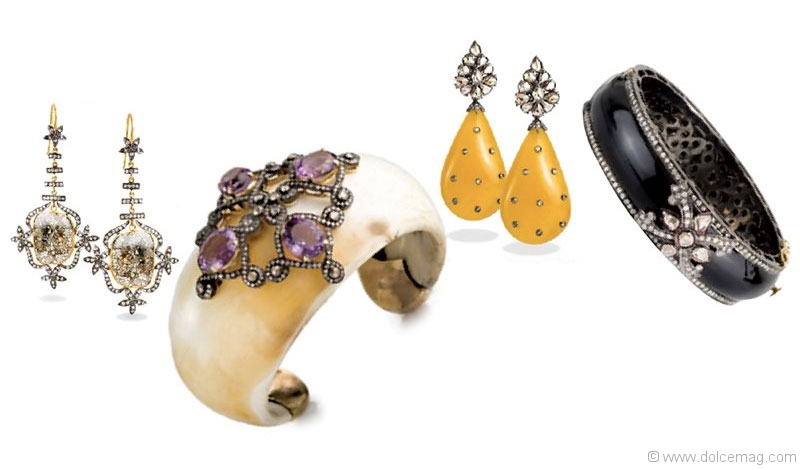 As jewelry that embodies today's effervescent woman, every Bochìc creation stands out, taking on a life of its own. Designed by husband-and-wife team David Aaron Joseph and Miriam Salat, each piece is a tiny work of art, inspired by far-away cultures and boasting worldly charm.
Using rare gems from countries around the globe – including India and South America – the couple's iconic line shies away from the image of overdone bling and instead creates an air of sophisticated finesse. "Our designs are quite unique in that they don't follow a specific pattern or trend," says Salat. "Although we use precious materials like diamonds and gemstones, we do it in a way that isn't ostentatious, but kind of understated," adds Joseph.
Perhaps what makes the eclectic collection so popular is its ability to appeal to such a wide range of tastes. Salat attributes this to the couple's effort to keep an open mind when designing. "We try to remember that everyone is different, and if you stick to designing for your own particular style then it limits who will be attracted to the line," she explains. To keep their design ideas fresh and innovative, the pair often travels the world, perusing museums and checking out the nightlife to gain some artistic perspective.
So it's appropriate that the inspiration for the line came from one of the couple's many trips to Italy. On a ferry ride from Positano to Capri, Joseph and Salat's vision became a reality when they met their muse – one who possesses all the qualities of the Bochìc woman. "This woman came on board and was just a natural beauty, like a modern-day, Bohemian Grace Kelly," explains Salat. "She was dressed in white linen with a big hat and had on very exotic jewellery. Talking to her, we learned that she was a marine biologist who loved adventurous travel, but at the same time, still knew where the best hotels and restaurants were." Joseph and Salat merged these concepts of a chic yet Bohemian woman who is able to combine elegance and adventure to create the now coveted Bochìc brand.
As the creators of one of the hottest jewellery empires, this haute couple undoubtedly knows a thing or two about style. "I think the style of an individual is something that you create for yourself. You have to know yourself and recognize your good points, then claim that style as your own," says Joseph.
Born in London, Joseph applies the skills he acquired from his former career in jewelry to bring the most out of the creations he designs. "It's amazing to design a piece and then see it on someone, whether it's on the red carpet or on a client walking out of the showroom, because it takes on a new life," he says. "You see your work from a different perspective and that's very gratifying."
Salat, who left behind a successful career as a civil engineer, says that her switch was the right choice. "It's a big risk to leave what you've been trained to do and try something new, but I've learned that if you put yourself out there and try, you will be rewarded." The jewelry goddess is quite busy these days; working on her own line – a subcategory of Bochìc – appropriately titled Miriam Salat.
Together, the two make an unstoppable team. And although working with a spouse might seem daunting to some, Joseph and Salat have it down to an art. "The good news is that we have a pretty similar aesthetic, our tastes are quite similar and we have the same vision, so that is very helpful," Salat says.
Accomplished entrepreneurs, avid travellers, and parents to their young daughters, Rachel and Zoe, Joseph and Salat are already living their dolce vita. "Being surrounded by good friends and family and finding purpose is what it's all about," says Joseph. "One needs to be productive, one needs to be a good person, and to be good to other people," adds Salat.   www.bochic.com, 212.632.1700