Valérie Messika: Queen Of Diamonds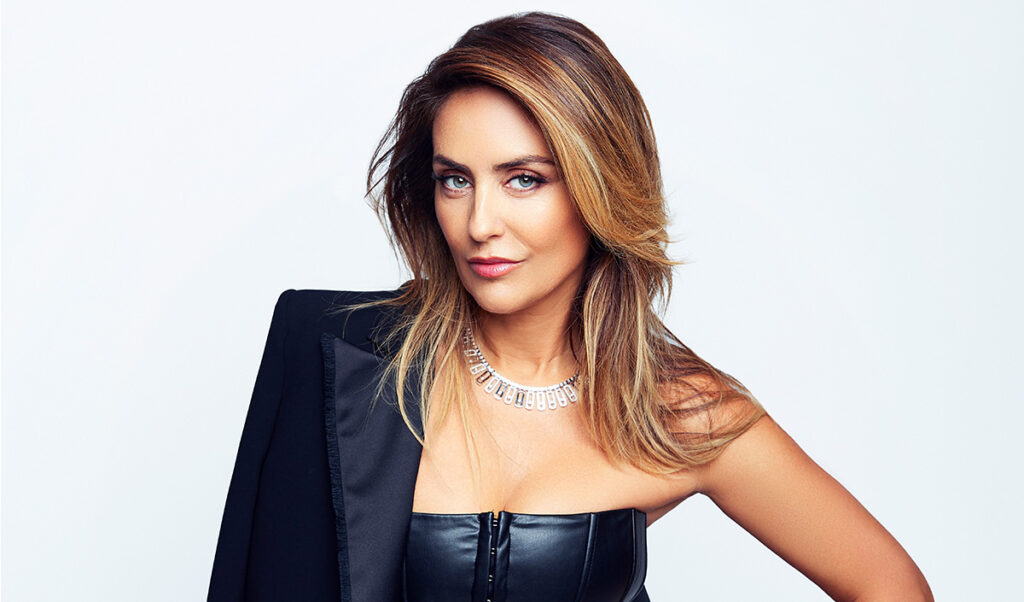 Valérie Messika's dramatic new jewelry collection is a tribute to ancient Egypt and continues to give the "bright" to women of all ages and all styles.
It's a scientific fact that, like snowflakes, no two diamonds are exactly alike. It may be almost imperceptible to the human eye, but subtle variances in the cut or clarity of a stone make each piece distinctive unto itself and, therefore, even more treasured by its owner. That has never been truer than with diamonds that come from Valérie Messika, who launched her own jewelry brand in Paris in 2005 and continues to push the boundaries of design creativity and opulent beauty to this day, as evidenced by her latest collection, which she recently unveiled in New York to rave reviews.
Messika has become world-renowned for fine jewelry, specializing in white diamonds set in modern, fluid designs that play off and marry the worlds of jewelry and high fashion. Her dramatic collection takes its cue from ancient Egypt because of an idea Messika had — and like so many of those special creative abilities — she expanded upon in her own special and very recognizable way.
"I chose the theme very spontaneously one day when I woke up, and I had this obsession with a wonderful and powerful woman, like Cleopatra," says Messika, in a recent interview with Dolce. "I also saw the fashion trend back to yellow gold, and I also wanted to speak to men as I got the point that back in that civilization, men were very powerful and equal to powerful women. The way they both wore jewelry, there were no genders — they could both wear big pieces. And I was obsessed by those kinds of images, so I challenged myself to journey back into that beautiful civilization, but I wanted to go a little bit further in creating iconic pieces."
The new collection is pure Messika — beautiful, bold and sparkling. Traditional, yes, but at the same time challenging convention — a mantra that she has lived by her entire career. She artfully picked up on our common mental image of Cleopatra, instilled in us either through drawings, images on pottery or coinage, stone carvings or Hollywood films. Who doesn't think of this figure from history without conjuring up the image of Elizabeth Taylor wearing that collar necklace in the classic 1963 film Cleopatra opposite both Rex Harrison and Richard Burton? Perhaps it was this image that Messika, the Queen of Diamonds, had when she woke up that day, thought of the Queen of the Nile and used it when creating her favourite piece from this collection.
"It's a necklace that is the same size all around the neck, almost like a collar," she says. "It is very flexible, and I love the fact that it is stretchable, from very small to expanding to a huge vibration. It's like a second skin. When I create my jewelry, I am always challenging myself in that the wearer doesn't feel the jewels, but, instead, they feel very natural, and it's like you are wearing diamonds like a tattoo."
While "diamonds," "feminine" and "modern" are the three words Messika uses to explain her newest collection, she places the emphasis very much on diamonds. Her father was the famous diamond merchant André Messika, so this Queen of Diamonds has been surrounded by rare gems all her life and for her, diamonds are deeply personal and a way of honouring her family name, its roots and traditions, and her father.
"Messika is 100 per cent diamond jewelry, and I respect that commitment I made to my father, because this brand is also a tribute to the work of my father as a diamond dealer," says Messika proudly. "As I grew up with diamonds and I decided to launch the brand, I committed myself to him, and that I would always focus Messika on diamonds because this is our expertise, our roots, and, by becoming pure with just one product, people understand you are a specialist."
Having become globally acclaimed for her expertise in diamonds and her stunning designs, Messika never loses sight of the customer when crafting her creations. She understands the marketplace, which is why she also describes this new collection as feminine and modern.
WHEN I CREATE MY JEWELRY I AM ALWAYS CHALLENGING MYSELF, IN THAT THE WEARER DOESN'T FEEL THE JEWELS, BUT INSTEAD THEY FEEL VERY NATURAL"
"Messika is also a very feminine brand in that we are super-comfortable and stylish, and our creations give a touch of light to the woman and her outfit because when I see women wearing my jewelry, this is what they say to me," says Messika. "This collection is also very modern. We are a brand only 18 years in existence in a very traditional world, but what we have succeeded in launching was this modernity of trends, which speaks to all of these new generations who were not supposed to wear jewelry or want to buy jewelry when you're young. And I am super-proud to see that we have reached them because our designs are super-cool and super-edgy, yet simple and not heavy or stiff."
Messika's jewelry is for all women, all ages, all styles and all geographies. This versatility explained its global popularity, and Messika never forgets that her designs only add to the inner light of those who wear her creations. "We are giving the 'bright' to so many different types of women," she says. "I'm not putting a logo on them as they all have their own femininity, their own style, and with my pieces it is very powerful for me to see that."