Behind The Curtain – Camal Pirbhai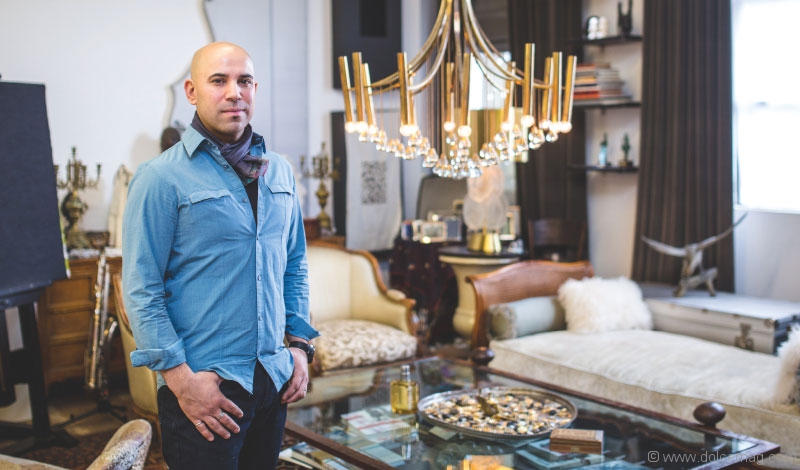 Meet Camal Pirbhai, the Canadian-born Swiss-raised textile artist behind the most beautiful, bespoke soft-furnishing work in the country. Through his brand, Studio La Beauté, Pirbhai has been producing haute handmade drapery for high-end North American and European clients for more than 20 years.
Step foot into Studio La Beauté's chic downtown workshop and you will swear you've fallen down the rabbit hole. There isn't a corner or crevice in the workspace that isn't occupied by eclectic worldly treasures, trinkets and textiles — and everything has a story. At its centre, two large sewing tables and a team of seamstresses are hard at work on Pirbhai's latest drapery commissions from high-profile clients.
Sprawled across the tables next to the projects are Pirbhai's hand-sketched designs "I purposely [draft] by hand. It has to be imperfect. There's something human about it," he says. This is the idea behind a simple concept that has kept the artisan in business for more than 20 years.
Pirbhai's creative journey began when he was 18, after a brief stint in university proved to be a constricting path for an inventive mind. "I did a year of fine arts and philosophy and realized I needed to learn to do something. My uncles are all bakers and carpenters; I grew up thinking people made things," says Pirbhai, who spent most of his formative years growing up in Switzerland before returning to Toronto as a teen.
His unusual path led him back to a plane bound for Switzerland, ready to take the reigns of his uncle's bakery. It was a blessing that there were no direct flights to Geneva. Pirbhai's trip began with a layover in London, England, and ended in an impromptu year-long apprenticeship with a local curtain maker.
The incredible luck of that layover might lead one to believe that there are, in fact, no coincidences and that Pirbhai was meant to pursue the path he's on.
Although he credits European artisans for preserving the ancient method of handsewn drapery, the young seamster couldn't get past the urge to try things his way. "The rebellious side of me wanted to do different things that I wasn't going to be able to do [in London] without getting into a fight," jokes Pirbhai.
He eventually decided to return to Toronto to pursue his "out-of-the-box" method, slowly landing jobs with designers who were willing to push the envelope. "We're lucky we live in a country where we get to choose what we do, and I am proud of that," says Pirbhai.
Tassels, beading, patterns, metals, silks, pleats — he brought it all. What's more, he folded those novel techniques into a business model that stood alone in North America at the time: a high-end custom-order drapery service that would change tastes in a market accustomed to factory-made furnishings. His goal was, and still is, to put Canada on the map as 'the place' to look to for high-quality, handmade soft furnishings.
The artisan lives for the challenge of taking the bleak and boring and exceeding expectations — finding elegance in simplicity. "The genius is taking ugly, small windows and making them beautiful, that to me is way more interesting than making things shiny and pretty," shares Pirbhai.
Pirbhai dances between artisanry and artistry as his vision spans way beyond the seams of the soft furnishings work he's commissioned to produce by high-profile designers and architects. Even though most of the time Pirbhai is sworn to secrecy while working on client projects, he is zealous when it comes to his personal artistic endeavours and collaborations.
He's spending the spring, for example, gearing up for the Canada 150 exhibit at the Art Gallery of Ontario called Every. Now. Then: Reframing Nationhood, curated by Andrew Hunter. Pirbhai is collaborating on the project with fellow artist and friend Camille Turner, to mesh his love of design with the exhibition's theme of "addressing the mistakes of the past, rewriting and reclaiming history, and moving into the future with new insight."
Pirbhai's life as an artist perfectly complements his work as a true artisan, as one fire fuels the other and the two worlds coexist in perfect harmony. In other words, it's a good thing he didn't catch that connecting flight. Otherwise, the Canadian designscape wouldn't have been the same.
"Maybe a flight delay or a different ticket, I would've been a baker."
www.studiolabeaute.com
www.instagram.com/studiolabeaute
photos by Geoff Fitzgerald / Christina Sideris, Elements Photography