Lorena Azizeh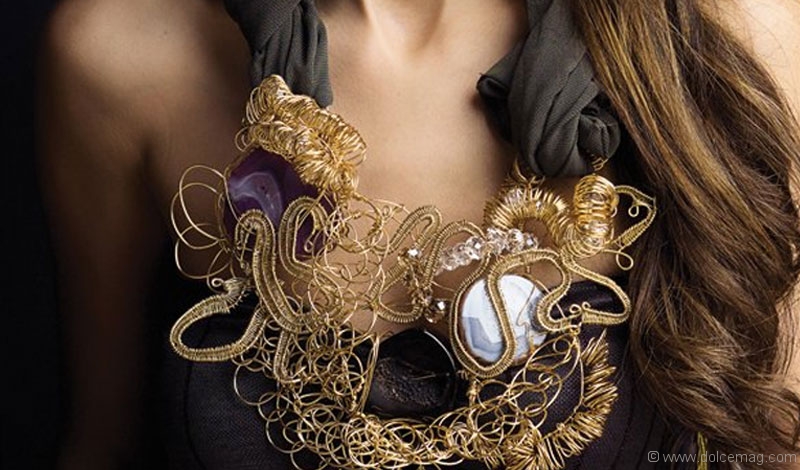 There once was a little girl named Lorena. For her, looking down was the key to success. At five years old, she rummaged around the floors of Saks Fifth Avenue and Neiman Marcus while her mother browsed through the beautiful racks of clothes. Fallen beads from dresses filled her palms and gave her a small glimpse of the future.
"The first piece of jewelry I created was a necklace made from those found beads," says Lorena Azizeh Abuabara, now 24. "My mom helped me make it and I do still have it." Years later, her hobby turned into an eponymous jewelry business. Effortless style and revolutionary designs propelled her career, and friends quickly took notice of Abuabara's
rare pieces.
"My jewelry is designed for fashion-forward, daring women who are confident and not afraid to show it [by] wearing extravagant pieces." For those looking for glamour, everything in the Lorena Azizeh collection is exclusive and makes a bold statement. Ethnic prints, patterns and unique colour combinations all inspire a red carpet-worthy collection.
A big stamp of approval was given when international socialite Lynn Wyatt wore a beautiful Lorena Azizeh necklace to the 2011 Oscars. "[She] is the epitome of style and fashion and it was truly an honour for her to wear my designs," says Abuabara. Wyatt, who has appeared in Vogue and W magazines, is a regular on best-dressed lists and an undeniable style icon. At 70, she is a testament that Lorena Azizeh can be worn by all women. "I don't target a specific age group – it's more about personality."
Less is definitely not more for this daring designer. "Since I was very young I remember layering on bracelets half way up my arm and rings on nearly every finger," says the fashionista, who has never gone a day without being perfectly accessorized. She may be a thriving business owner, but the little girl who loved to doll-up in jewelry remains. Going through security at the airport is always fun," she jokes.Diving into the cultures of her travels, Abuabara says people in Italy have the best eye for fashion. "They manage to wear what in other parts of the world would be considered outrageous yet look impeccable." Favouring this fearless European mentality, she takes risks and insists "everything can be fashionable as long as you know how to wear it." Abuabara's designs never follow the latest trends. Deviating from the mainstream look is the essence of her jewelry's appeal.
Lorena Azizeh is the perfect marriage between fashion and art. Moved by her culture-injected life, the collection masters a look that is unique without trying too hard. This jewelry and fashion princess inhales inspiration and exhales creativity. With an upcoming clothing line, the world has only been given a small taste of Lorena Azizeh. www.azizeh.com