Monica Pedersen: Make it Beautiful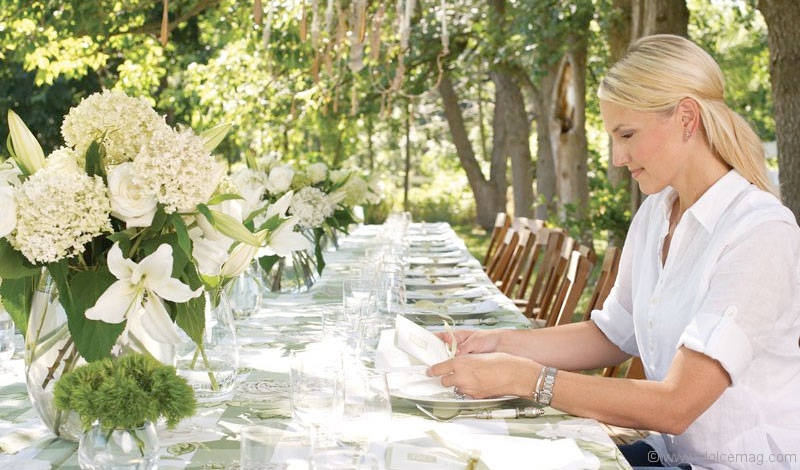 The golf party was the last shoot I did for Monica Pedersen Make It Beautiful, and one I had been thinking about doing for a long time. I have been married 15 years and one of the best pieces of advice I received before I got married was from my father. He said, "Kid, find a hobby together so that 30 years from now you don't wake up on a Saturday morning and not have anything to do together." I took his advice and took up golf with my already golf-obsessed husband.
And here is where the party comes in. If you are a golfer or have tried the sport, you'll understand how difficult learning golf can be. It's definitely a sport to take on while you are in the blissful newlywed phase of marriage, because it can be tough. During that early learning phase, I remembered the last few holes were always the toughest as I would completely run out of steam. When I would get to the 18th hole, I usually wanted to sit down and enjoy the view rather than finish the round. (Interestingly, the 18th hole on any golf course is usually the most beautiful, as golf clubs like to really show off their designs and leave the golfer with the desire to come back for more.) I also repeatedly told my husband that there should be a table and chairs set up on the 18th hole as a reward for a five-hour round of golf. My book gave me a reason to bring this idea to life. With a location to die for — Whistling Straits in Wisconsin is a world-renowned golf course owned by the Kohler Company, for whom I am a spokesperson — I put my plan into action.
The shoot took place on an unforgettable day and my husband says he will never forget being on the golf course and seeing plaid wingback armchairs drive by in the back of a golf cart. As a designer, for me this was just another day on the job …
---
THE INTERIOR DESIGN OF MONICA'S MIND
WHAT I LOVE MOST ABOUT MY CAREER
is the design aspect of my job. I think about design 24 hours a day.
IF I COULD CHANGE SOMETHING ABOUT FUNDRAISERS,
it would be that they are budget-friendly so that more money can go to charity. People put too much pressure on themselves for everything to be perfect for social gatherings. Lighten up! It's about making the effort to be together. 
THE TRAITS OF TRUE STYLE
are timeless looks, great quality and a great sense of humour.
MY DEFINITION OF A STYLISH PARTY
includes simple design, fresh flowers, candlelight and fabulous guests.
LA DOLCE VITA
is about having a smile on your face and bringing joy to others.
MY FAVOURITE BOOK RIGHT NOW
has got to be Is Everyone Hanging Out Without Me? (And Other Concerns) by Mindy Kaling. Hilarious. 
AT THE MOMENT,
Jennifer Lawrence is the hottest actress around.
SHADES OF …
white. I'd choose this hue over black any day.
---
Monica Pedersen
Guest Design Editor
Monica Pedersen is an American interior design expert whose work has been featured in top publications. As the host of HGTV's Designed to Sell, Pedersen also lends her expertise with guest appearances on Bang for Your Buck, Showdown and Dream Home. In 2012, the party planner extraordinaire shared her secrets and DIY enthusiasm on innovative parties anyone can achieve with her book, Monica Pedersen Make It Beautiful (Agate Midway).
Photography by Peter Rosenbaum