Howie Mandel: I hate jokes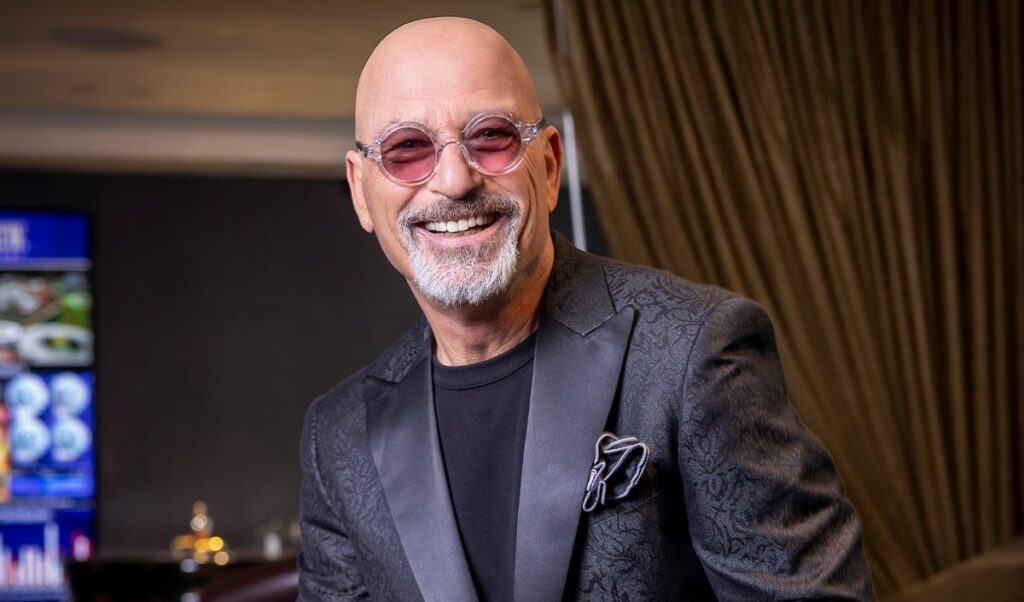 If you think you've got a hilarious "Two men walk into a bar" joke for Howie Mandel, one of the world's funniest entertainers, he would prefer you keep it to yourself.
You wouldn't expect one of the world's funniest comedians to state that he hates jokes, but Howie Mandel hates jokes. In fact, this man, one of the most successful and busy funnymen in show business, is probably as far away from classic Catskills stand- up as you can possibly get.
"I hate jokes," Mandel loudly proclaims in a recent interview with Dolce from Niagara Falls, Ontario, where is he shooting Season Two as a returning judge on Canada's Got Talent. "My inspiration for comedy is when I was a kid I watched a hidden-camera show called Candid Camera with Allen Funt, because it's real and relatable, and you don't have to get the joke. When somebody tells me "Two guys walk into a bar …" it doesn't even make me laugh — because they didn't. You're just making up an outrageous story. I like very real and relatable comedy, so I really don't like jokes."
Mandel's fondness for observational comedy about everyday life has been his foundation ever since the fateful evening of Apr. 19, 1977, when he accepted the dare from his friends to go up on stage during the open-mic segment at Yuk Yuk's comedy club in his hometown of Toronto. By September 1978, he had a week-long booking there as a featured performer and, buoyed by his success, he took a trip to Los Angeles, was spotted doing a set at The Comedy Store and was hired as a regular performer, which led to opening for David Letterman during the summer of 1979. He was off and running, leading to a six-year run on the Emmy Award-winning show St. Elsewhere.
Not bad for a kid who was fired from almost every job he had and was expelled from three high schools. Despite this, he never lost the encouragement of his parents. "I got my confidence from my parents, who have always been incredibly supportive, regardless what was happening in my life — they were always my biggest fans," recalls Mandel. "Because, ultimately, there was a story that came along with each failure. Everything was ever in trouble for, got expelled for, got fired for — seems to be what I can get paid for today."
"I like very real and relatable comedy."
As a performer, stand-up, actor and executive producer, an argument could be made that Howie Mandel is the busiest man in entertainment. In addition to his work on Canada's Got Talent, he has also served as a judge for 13 seasons on NBC's America's Got Talent and also hosts the Netflix series Bullsh*t the Game Show. Other recent projects include his documentary Howie Mandel: But Enough About Me, currently streaming on Peacock, his annual CW special, Howie Mandel & Friends: Don't Sneeze on Me, now streaming on FuboTV, NBC's America's Got Talent: The Champions, and in 2019, he released his first solo special in 20 years, Howie Mandel Presents: Howie Mandel at the Howie Mandel Comedy Club.
He and his wife of 43 years, Terry, have three children. He co-hosts a podcast, Howie Mandel Does Stuff, with daughter Jackelyn Shultz and co-hosts National Geographic Wild's Animals Doing Things with his son, Alex. His third child, daughter Riley, is a personal trainer who keeps him in shape for his many appearances, which include more than 200 stand-up shows a year across Canada and the United States, never straying far from his first love.
"As soon as I found stand-up comedy, it was the first time I was accepted, and I just needed to do that," recalls Mandel. "Regardless of everything else I may do, I just need that because stand-up comedy is my home base. That's the primal scream at the end of the day for everything else I do."
A seminal moment of Mandel's career came in 2005 when, at the urging of his wife after turning down the offer three times, he accepted the host role on NBC's Deal or No Deal, which ran for seven seasons. Mandel's genuine empathy for the contestants and the decisions they had to make — financial decisions that could change their lives — made the show an immediate smash hit.
"The day after the first airing," he told Alex Trebek several years ago in Trebek's documentary Game Changers, "I was walking through the airport, and people were literally running up to me and screaming 'DEAL OR NO DEAL!' and I thought to myself, 'My God, I've got a catchphrase!'"
Mandel became an author in 2009 with his memoir, Here's the Deal: Don't Touch Me, in which he is very open about his mental health issues — he has suffered from depression, anxiety and deals with OCD and ADHD. That focus remains a big part of his life today as he serves as an ambassador for Bell Media's Let's Talk, an initiative to raise funds for mental health research and to reduce the stigma of the illness. He has some sage first-hand advice for the younger generation who may be struggling with life's complexities.
"You must reach out, talk about it, talk to a caregiver and look for help," says Mandel. "And don't give up until you find the answer to whatever your coping skill is. Whatever that is, just keep reaching out. If you don't reach out, it's kind of like drowning — if you don't surface for a moment and yell help, nobody is going to throw you a life- preserver. You need to keep yelling help."
That concern is a window into the man. No pun intended, but he is the real deal. Howie Mandel is friendly, affable, authentic, brilliant, empathetic and genuine. Just don't try to tell him a joke.
LOCATION: FALLSVIEW CASINO RESORT HOTEL, NIAGARA FALLS
PHOTOGRAPHER: JESSE MILNS
VIDEOGRAPHER: PRASHANNA JAYASEELAN
MOODBOARD STYLIST: ALEXANDRA AULICINO
WARDROBE: PER LUI
INTERVIEW BY ESTELLE ZENTIL