BlueBlood: Casa Loma's Classic Steakhouse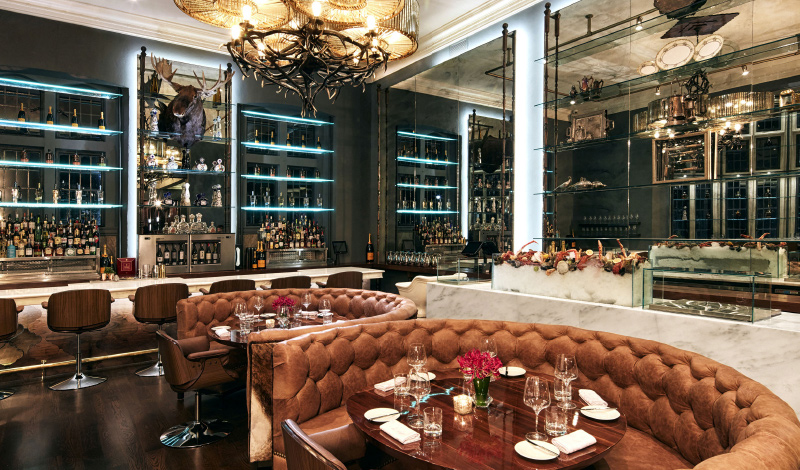 The city is buzzing! Toronto's lavish new steakhouse just opened, and the legendary concept is the brainchild of none other than seasoned restaurateur Nick Di Donato, president and CEO of Liberty Entertainment Group.
A rite of passage in elementary school was the field trip, the treasured day outside the confines of the classroom touring some local landmark — treasured, that is, until you had to write your report about it the next day. If you attended elementary school in the Greater Toronto Area, those landmarks invariably included Niagara Falls, the Toronto Islands or Casa Loma. In the case of Casa Loma, you may not have had a reason to return after that Grade 7 trip.
Well, now there is a very good reason to return: BlueBlood, a modern twist on the classic steakhouse, by Liberty Entertainment Group, who also brought us the acclaimed Rosewater and Cibo Wine Bar.
"The real purpose of the restaurant is to engage Torontonians," says Nick Di Donato, president and CEO of Liberty Entertainment Group. "Typically Casa Loma has been a tourist attraction. Torontonians who may have toured through in school didn't have a reason to come back. But with an iconic restaurant in an iconic building, people will be able to come here regularly, and that was always a part of our focus and vision when we took over three years ago: to give Torontonians a reason to visit Casa Loma. This is the last component in our overall vision for development of the property."
One might expect a century-old midtown castle to be home to the fussy kind of dining you'd see in Upstairs, Downstairs, but in Di Donato's mind, the building was a perfect fit for what Liberty Entertainment Group was planning.
"The steakhouse concept fit really well with the Casa Loma feel, which is a heritage building with the décor and all the elements of a castle," says Nick. "BlueBlood encompasses two rooms on the western side of the main floor of the castle: the more traditional Oak Room, which is done all in original oak, and the Billiard Room, originally the recreation space of the castle, which makes for a perfect lounge and bar area. We also felt there had been a change in steakhouses from casual to very fine steakhouses, which is what we've developed with BlueBlood."
BlueBlood is the very definition of fine cuisine and fine dining and sources its product from around the world. The finest-quality meats come in from across Canada, the United States, Japan and Australia. Its menu features such appetizers as prime steak tartare with cured duck egg, Wagyu beef carpaccio, beet-cured salmon, tuna tartare, oysters and king crab, with entrées featuring lobster, scallops and, of course, the finest in aged prime fillets, striploins, rib-eyes and porterhouse steaks, all matched with creative side dishes.
"Every dish has to work together with the quality of the meats we bring in," says Nick. "While you start with hiring a superb grill-master, because colour is so important with steaks, we also have a chef de cuisine, because we put so much attention on our appetizers and side dishes, which are such well-thought-out, thorough, quality culinary creations."
"When people come here they can appreciate the artwork, the history of Casa Loma and of course, the culinary experience" — Nick Di Donato
BlueBlood has a very palatable vibe about it, as well as a special sense of occasion magnified not only by its menu, décor and magically historical location, but also by its impressive wine list, put together over time and with great consideration.
"This was a unique circumstance in that we had three years of focus time to select our wines, as Casa Loma already had a liquor licence, which is not always the case when you're opening a new restaurant," says Nick. "So we had the time to create one of the most spectacular wine lists in the city. Our wine cellar is $1.5-million deep at the moment and located in the castle's original 1,700-bottle wine cellar, which our crews stumbled upon by accident during renovations, so it was a special advantage to us to have had that time to put together such a deep and impressive wine list."
The creative design, look and feel of BlueBlood was put in the capable hands of Nick's wife, Nadia Di Donato, creative director for all the venues of the Liberty Entertainment Group for more than 20 years. At Casa Loma, BlueBlood presented her keen eye with a very special opportunity.
"I worked with the historical board regarding the historical aspects of the space; I really wanted to play that up because it's such a special location in the city, so all of the design elements had to reflect that," says Nadia. "The restaurant features genuine leathers, real Canadian cowhide and 100 per cent walnut wood tables. Everything is true Canadiana, with classical elements with a modern twist."
One of the most striking features of BlueBlood is its impressive artwork, which for Nick and Nadia was one of the best parts of the experience of creating the concept behind the restaurant. These partners have always believed they are much better as a team and have a deep mutual respect for each other's individual strengths and complementary skill sets.
"We curated all of the artwork for the restaurant," says Nick. "We commissioned special paintings by the world-renowned Mr. Brainwash, who has toured the space, and have some original works from Salvador Dali, original contemporary art from Andy Warhol, and we've put on display some original artifacts from the castle's earliest days. When people come here, they can appreciate the artwork, the history of Casa Loma and of course, the culinary experience."
For Nadia and her creative flair, the history and stories behind the castle pushed her to create a unique and special place. "It's very important in restaurant design to create a space that will reflect the food and how you want the patron to feel," says Nadia. "The design must reflect the overall experience, and because BlueBlood had to adhere to the historical nature of the space, most of the primary design elements are reflected in the furnishings and artwork."
BlueBlood continues Liberty Entertainment Group's string of venues, culinary and experiential successes throughout the city and over the last two decades, which, Nick explains, is as much about expertise and paying attention to details as it is about paying attention to the not-so-obvious in addressing Toronto's ever-changing food industry.
"You have to have your finger on the pulse, understanding where the food market is going and where the food culture is also going," says Nick. "BlueBlood is a perfect example of that. We've determined that Toronto is ready for a renaissance — from the high-end of the 1980s to the casual fine dining of today, with only 20 to 30 seats. We feel there is now a trend back to glamour and fine dining and an all-encompassing type of experience. Not just the food on your plate, but the food, the delivery of your food, the beverage list and the delivery of the overall experience in terms of service and esthetics in the room."
"BlueBlood will encompass all of those things and be that very special place," continues Nick. "Here it will not be about a 'scene,' but delivering a premier premium product throughout the overall experience."
There is passion in Nick's voice as he speaks about BlueBlood, a proud reflection of what the Di Donatos have created at Casa Loma and a joy for the sweet life.
"I think BlueBlood personifies la dolce vita," says Nick. "Building something like this has been a passion and a labour of love with the artwork and the food. La dolce vita is about being happy in what you're doing all the time, and BlueBlood has certainly provided me with that."
Nick and Nadia Di Donato are happy to share that sweet life for their customers at BlueBlood Steakhouse in Casa Loma to experience and savour.
interview by sarah kanbar