Holiday Party Planning Guide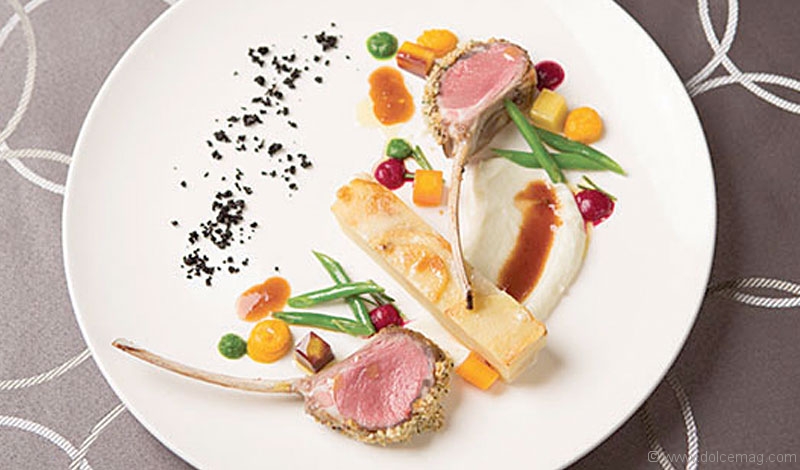 Know your guests.
Is it a formal or casual event? A party for family, friends or staff? From this you can gauge what kind of evening to plan. A sit-down meal that can be plated for groups of 10 or fewer people works great for colleagues, clients or friends you want to impress. For family meals, buffet-style is always the best way to go — lots of leftovers! A cocktail gathering with passed appetizers is a perfect style for friends or staff parties. This will promote social interaction and team building. Knowing your space is equally important. If you have a smaller residence and would like to host a dinner party of eight to 10 guests, a sit-down, plated meal is an option to consider. Another possibility that will maximize space and promote mingling is a passed appetizers arrangement that doesn't require too many chairs and tables.

Know your kitchen well.
What size is it? Is there a lot of counter space available to plate dishes? Should you buy a prep table? In a small kitchen, a folding four-foot-by-30-inch plastic table will do wonders as it can double up as a finishing or plating table just before serving. It also can work as a prep station. Make a list of the equipment you have and build a menu around that. For example, if you're using a small oven with six burners, plan a menu around the stovetop. Set the oven at 93 C (200 F), and use it as a warmer for odds and ends such as side vegetables, or set it at 176 C (350 F) for reheating a dish that was cooked earlier, such as osso buco or beef short rib.
Make a menu and write it down. Base it on all of the above!
Shop based on your menu and take your fridge and freezer space into account. Leave room for the unexpected — for example, don't wait till Christmas Eve to shop for Christmas Day. You'll be busy! Stores are crazy and you'll get frustrated. Instead, if your menu is done two weeks in advance, you can buy what you need when you need it and prepare accordingly. This is the safest way to defrost. By writing it down, then breaking down the menu into a list you can manage, you will save time and money and reduce your stress.
Prep like a caterer.
You can peel onions or garlic up to two to three days before. You can make a stock and freeze it one week in advance. You can make a tomato sauce the day before and reheat it. If done properly, no one will know the difference and you will alleviate any unneeded stress.
Use rental plates and glasses
or hire serving staff in order to spend more time with your guests. For a flawless night, hire a chef or a catering company. The best way to pick a company is through personal experience at an event you attended that you enjoyed. Call the host of that party to see if everything was as good as it looked and if he/she would recommend the caterers. Do not cold call and hope for the best. Remember, basing a decision only on price can deliver poor results. One caterer's idea of fresh fish might be frozen fish that has been defrosted. While another's might be fish that was caught that morning and flown in.
Ask guests to RSVP with any allergies so you can plan accordingly.
Roasted Rack of Lamb
with Triple Crunch Mustard Crust
Ingredients:
1 rack of lamb frenched or trimmed (Ontario, Washington State or Australian lamb
is preferred)
2 tbsp Kozlick's Triple Crunch Mustard
1 tbsp Dijon mustard
1 tsp fresh rosemary, chopped
1 tsp Italian parsley, chopped
1 tbsp soy sauce
5 dashes Worcestershire sauce
1 tbsp olive oil
2 tbsp panko bread crumbs
Salt and pepper
Method:
1. Marinate the rack of lamb in half the herbs, half the Dijon and all of the Worcestershire and soy sauce.
Let it sit for 24 hours.
2. Mix the remainder of the Dijon with the Kozlick's Triple Crunch Mustard.
3. Mix the remainder of the herbs with the panko bread crumbs.
4. After 24 hours, take the lamb out of the marinade and season with salt and pepper. Sear until golden brown on all sides.
5. Transfer lamb to a baking tray and bake in oven at 190 C (375 F) to just before medium rare, or until the internal temperature reads 54 C (130 F).
6. Take the lamb out of the oven and cover it with the mustard mixture using a steel spoon. Then sprinkle panko mixture onto the mustard
glaze and lightly press the bread crumbs onto the lamb.

Tips:
You can let the lamb cool until guests arrive, then quickly reheat it. This is a very important time-saving trick that caterers often use. Or you can transfer the lamb back to the oven and, depending on your colour preference, finish the cooking in the oven.
Ideally you should have an internal temperature of 57 C (135 F) and the crust should be a light golden colour. In some cases, the broiler should be used to get this
desired effect.
For the best results, cover the meat slightly with aluminum foil and let it rest for 8 to 10 minutes before slicing. Cut the lamb according to your preferred style of presentation and serve.
Pusateri's has an outstanding catering and kitchen team ready to satisfy your every need. From fun to formal our Christmas 2013 menu will impress your most discerning guests. www.pusateris.com