Sunsets on Starry Nights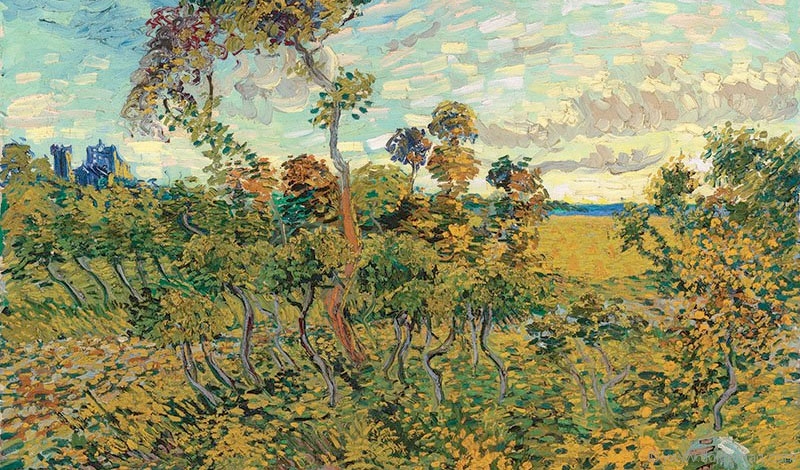 Spectacular discoveries are rarities, and Sunset at Montmajour can definitely be considered as one of them. Circa 1910, a young Norwegian collector bought the painting believing it was by Vincent van Gogh, but early on doubts were cast on its authenticity. And thus it quickly disappeared from sight. About two years ago the painting found its way to the Van Gogh Museum in Amsterdam, and we had the opportunity to study it in great detail. From our investigation, we could see that it was unquestionably a work by van Gogh, and even a painting from his most famous period, the summer of 1888 when he was working in Arles in the south of France. His artistic method, the type of canvas, the pigments used and even the discolorations correspond with his other paintings from this period. We noted that van Gogh mentioned the work twice in his letter, and by studying literature and records, we managed to recover the earliest history and provenance of the painting. Van Gogh painted it in July of 1888, and after his death in 1890, it became part of his brother Theo's collection. Theo's widow sold it in 1901.
The scene in the painting depicts a rocky area near Montmajour hill, not far from Arles. Van Gogh had great ambitions with this painting. He wanted to present himself with this work as a poet among the landscape painters, but he turned out to be greatly disappointed when he felt that he had not solved certain elements convincingly. He was often disappointed with his own work, yet the tension between a dream and reality that he captured makes this painting all the more attractive. We actually see van Gogh visibly working, struggling almost, which heightens its appeal. As such, the painting belongs to a special group of his experimental works, the value of which he occasionally assessed as less impressive than we tend to do nowadays. For instance, he did not consider masterpieces such as Starry Night (1889), in the Museum of Modern Art in New York, and The Sower (1888), in the Kröller-Müller Museum in Otterlo, as being fully accomplished works.
Sunset at Montmajour is a transitional work. Following this piece, we can see how van Gogh's need to apply more and more paint to his canvasses increased. Moreover, we have gained a more fully defined understanding of the origin of some of the best examples of his drawings, especially the series of pen-and-ink drawings that he made in the same area a week after having painted Sunset at Montmajour. The painting is inextricably linked with these drawings; they are a harmonious whole.
As a researcher with the Van Gogh Museum you can dream about such a discovery as this, but in general we harbour no such illusions. In the beginning, we could not help but work under a cloud of disbelief that gradually evaporated and left us with the only possible conclusion: we've got one.

Teio Meedendorp
Guest Art Editor
Teio Meedendorp is a researcher at the Van Gogh Museum in Amsterdam, home to the largest collection of Vincent van Gogh paintings in the world. Along with Louis van Tilborgh, Meedendorp traced the history and provenance of Sunset at Montmajour by way of art historical research into the style, depiction, use of materials and context to confirm the work to be of Dutch post-impressionist painter Vincent van Gogh. Meedendorp was educated at the University of Groningen in
the Netherlands. www.vangoghmuseum.nl