When Holiday Magic & Mystery Collide: Lithuania's Artistic Approach To Christmas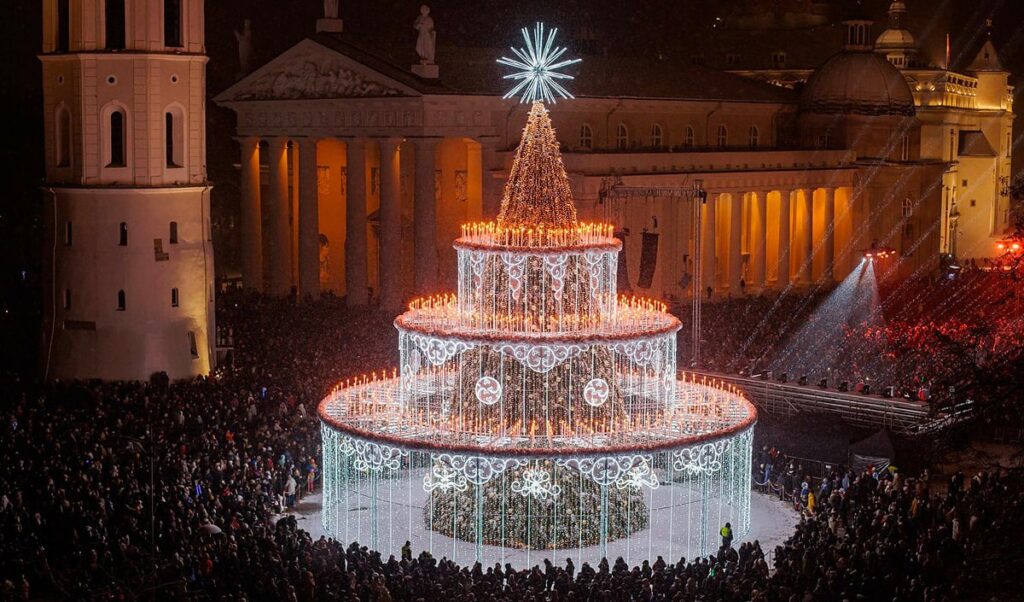 The holidays are quickly approaching, and with anticipation on the rise, Christmas traditions both new and old, have been put into motion. Vilnius, Lithuania's Capital city, has been a marvel in orchestrating just that with their latest holiday spectacle! For the past decade, people far and wide have gathered at — Cathedral Square — to witness a magical take on a timeless Christmas tradition.
Vilnius has made it their newfound tradition to mark the countdown of the holiday season by lighting a Christmas tree so mesmerizing that residents and visitors alike are left speechless. Each year, the city aims to bring a completely unique and creative theme to life. The tree lighting brings with it an immense rush of holiday spirit and community pride as residents bask in its glory, a kind of magic that only this time of year can bring.
Constructed by thousands of lights, the town installs a tree so large and glitzy that it has put Vilnius on the map and at the top of many holiday connoisseurs must-see destinations. With its tree being voted the most beautiful Christmas tree in Europe, Vilnius is continually inspired to push the boundaries each year and acknowledges the magnitude of what they have accomplished thus far. The ability to transport visitors to realms of magic and wonder is something that radiates far beyond the normal Christmas spectacle and is one to be proud of.
Since 2015, the world has seen tales of folklore and fiction come to life with extraordinary execution, from life-size chess pieces encased in a Queen tree, to a realm of enchantment and wonder with the town's fairy-tale tree. Previous designs have scaled higher than 88 feet and engulfing over 2,500 square meters of the plaza, some even incorporating massive replicas of snowflakes each completely lit up and decorated with intricate designs. With a spectacle of this magnitude, the world has become enchanted by the European-born tradition, inspiring design trends for holiday seasons to come.
Up until a few years ago, Vilnius observed the classic Christmas tradition, displaying a real tree in the heart of the city — the Cathedral square, plotted strategically next to the Bell Tower, a structure that is still standing and acting as a beacon of heritage being one of the oldest buildings from the 13th century.
The townsfolk and all accompanying members who contribute to the creation of this Christmas tradition have truly put Lithuania on the global spectrum and the anticipation for what's to come has only grown each and every year. The unveiling of this season's tree was held at the end of November, welcoming Christmas and its accompanying holiday season into fruition. The latest install pays homage to heritage and channels the celebration of a 700-year old country. Vilnius will mark its 700th birthday at the start of 2023, with an installation that fuses both elegance and winter magic into one. The tree stands 25 meters high decked out in a multilayered birthday cake shape surrounding it. Decorated with 700 candles, and its accompanying number of ornaments to honour the turn of another year, the installation represents not only a 700-years young celebration, but a glittering symbol of hope at Christmas time.
As for us here at Dolce, we wish all our readers a season that is Merry and Bright!