The Benefits of Seasonal Cooking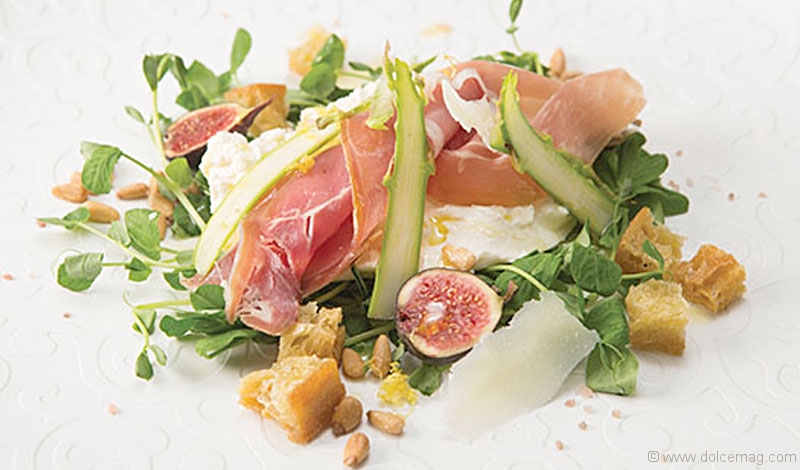 Local seasonal foods are the best tasting, freshest, most flavourful and healthiest food options. At Pusateri's Fine Foods, we are always looking to use the best in-season products available. We believe that, by buying foods that are grown and raised closer to where we live, we are actively helping to maintain the farmland and green spaces in our area, as well as nurturing our local economy and putting money back into the pockets of our local farmers, growers and culinary artisans.
When the food is harvested closer to home, it is less likely to be covered in preservatives, fungicides and waxes that are necessary for a product to make a long trip from farm to store. Seasonal foods are grown in a sustainable manner by farmers who care about protecting their product and their planet. Using sustainable methods of farming — such as rotating crops to increase soil fertility, utilizing organic compost methods when disposing of raw waste and using beneficial insects in integrated pest management instead of toxic pesticides — yields an overall superior product that offers better taste, higher quality and more nutrition over conventionally raised foods.

Seasonal foods are also easier on the average consumer's budget since they are not as heavily processed before they are sold, thus needing less intervention from pesticides and synthetic fertilizers necessary for growing foods out of season. Seasonal foods are more economically priced than out-of-season foods, which will save you money on your grocery bills.
Promoting seasonal food means cutting back on products with a long shelf life which, in turn, means reducing contamination, food allergies and intolerance's and replacing them  with bigger, bolder flavors, a greater range of nutrients and product variety, and fewer occurrences of "food fatigue." When you go shopping at most supermarkets, you will find fruit and vegetables available year-round even when they are not in season. These grocery stores provide a convenience to the average consumer by having exactly the same foods available every day for the entire year so that you can buy whatever you want, wherever you want, whether it's in season or not. Eating certain foods year-round can become tiresome and boring, not to mention that you are giving up all the wonderful benefits associated with seasonal foods. Looking forward to a specific season such as "tomato and peach season" or "pumpkin and squash season" will give you and your family something to get excited about, and will make the food taste even better after months of anticipation.
Looking ahead to the upcoming spring months, I cannot wait for such foods as asparagus, artichokes, beets, spring pears, parsnips, morel mushrooms and summer squash to come into season. Every month at Pusateri's we offer a "seasonal vegetable of the month" to highlight the nutritional benefits of a specific food and to create various dishes for our hot and cold counters using that vegetable as the star ingredient. This month, our Burrata with Asparagus salad embodies all that is spring. The light, flavorful asparagus paired with creamy burrata and salty prosciutto makes for a fantastic combination of tastes.
Eating local seasonal food is the best investment you can make in your health, your life, your community, and in Ontario's welfare. It is about making informed buying decisions, reducing your food miles and minimizing your carbon footprint on this great, abundant land of ours.
www.pusateris.com
Burrata with Asparagus
Ingredients:
1 pc burrata, drained and sliced
1 bunch asparagus,
washed and shaved
1 pc lemon, zested and juiced
30 grams pine nuts, toasted
1 tbsp Italian parsley,
washed and chopped
150 ml extra-virgin olive oil
45 grams Parmesan cheese, shaved on slicer
1/4 pc baguette, cubed
1/2 clove peeled garlic, chopped
8 slices prosciutto, thinly sliced
Salt and black pepper to taste
Fresh figs optional
Method:
1. Have all ingredients prepped and ready.
2. Toss 50 ml of olive oil with croutons, chopped garlic, some parsley, salt and pepper. Preheat oven to 350 F and bake croutons on baking sheet for approx. 5–7 minutes or until golden.
3. Mix remaining olive oil with lemon juice, zest, parsley, salt and pepper.
4. Arrange plate with burrata, croutons, prosciutto.
5. Toss asparagus with lemon, olive oil, salt and pepper, and garnish over burrata.
6. Garnish with Parmesan shavings, pine nuts and any extra olive oil dressing.
MAKES 4 SERVINGS
Produced by Pusateri's Fine Foods Corporate Chef Tony Cammalleri and Head Chef Bernard Attard (Head chef at Avenue Road)