Diamond Clarity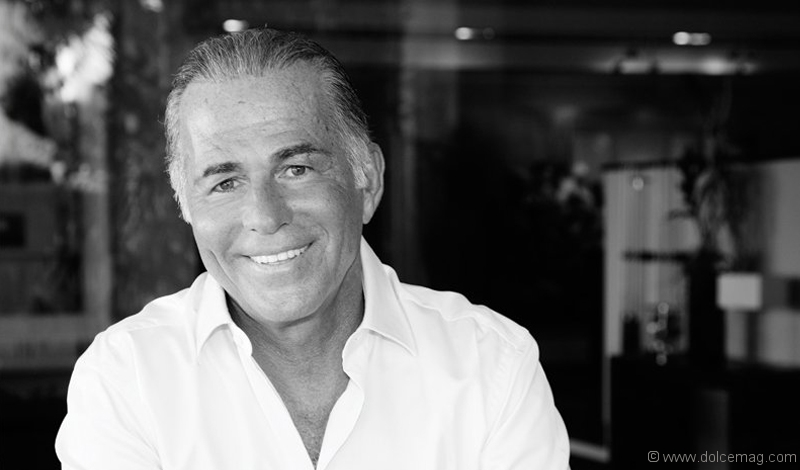 No one knows diamonds like Ehud Laniado does. The Monte Carlo resident has lived and breathed sparkling rocks since he was in his 20s, and now, as chairman of New York-based jewelling firm Cora International and a household name among diamond devotees, Laniado's mission is to bring some transparency to the industry that's so often veiled in mystery. Hot on the heels of his recent sale of the Unique Pink — the most expensive fancy vivid pink diamond ever to be sold at auction — Laniado shares his hard-earned wisdom
On what sparked his passion:
There is nothing quite like holding a rough diamond in your hand and knowing that it could become someone's most precious possession. My career in diamonds began in my 20s in the Central African Republic, where I bought rough diamonds for an Israeli company. I lived with my young family in the heart of the jungle and worked with local miners who dug using an artisanal process, buying their daily yield.
On transforming the world of diamonds:
When most people think of the price attached to a diamond, they consider what is traditionally known as the four Cs — cut, colour, clarity and carat. But this is just part of the story and I believe consumers deserve to know much more.
It is why I have used my expertise to develop the Mercury Diamond Price List to standardize the way the industry values diamonds and offer more transparency to buyers.
On building the Mercury Diamond Price List:
For over 40 years, I've meticulously documented and analyzed my findings on the prices of rough and polished diamonds. The sophisticated data I developed led me to create two computerized proprietary diamond valuation systems — one for rough diamonds and one for polished diamonds. These have formed the basis of the Mercury Diamond [Price List] and they are used to price diamonds worth approximately $2 billion annually in terms of polished value.
On equipping yourself to enter the market:
Knowledge is key. Understanding what makes each diamond special will help consumers have a better idea of its value. Even if today's consumers inherit diamonds from their family, I believe they will treat them differently if they have an exact understanding of what is in their possession. With so much knowledge at everyone's fingertips these days, consumers are settling for nothing less than full transparency.
On what to look for when buying diamonds:
Every diamond has its own individual story. A diamond is typically issued with its own certificate. This certificate lists a diamond's four Cs as well as other crucial information that influences its price. Very often, consumers overlook the additional information that is listed under a section called "Comments." But among traders it is of enormous importance.
Certificates highlight characteristics such as fluorescence and the precise position of minute flaws. Quite often, two diamonds with the same four Cs can differ up to 20 per cent in price thanks to these other factors.
Before purchasing a diamond, knowledgeable buyers would be wise to make themselves familiar with all of a diamond's characteristics, way beyond the four Cs. Often, they might do this with the help of an expert.
On the Unique Pink diamond sale:
We knew from the outset that this diamond was special. It took enormous skill and expertise to cut and polish the stone.
The auction itself was full of suspense. The room at Geneva's Beau-Rivage Hotel, the headquarters of Sotheby's in Geneva, was packed with 500 people, including 15 international journalists and over 35 Sotheby's staff handling live telephone bids from around the world. The Unique Pink was the highlight of the evening and the final lot in the sale, eventually fetching $31.5 million, the highest amount ever paid for a fancy pink diamond. The ultimate buyer was a private collector in Asia who bid over the phone.
The Unique Pink is the largest fancy vivid pink pear-shaped diamond ever offered and sold at auction.
On why diamonds are an important investment:
Diamonds are beautiful and a treasure of nature, but more than this, they are increasingly rare, making them attractive to investors.
Just as there is an established market for people who invest in vintage wines, classic cars and art, we are now seeing a growing global set of wealthy individuals who believe not only in strong prices for fancy coloured diamonds, but in the resale value of these stones. People buy these stones as an investment because they know that when they are ready to sell they will find willing buyers.
It's not only fancy coloured diamonds that investors are looking to as an investment for the future. In the coming years white diamonds will become increasingly appealing for this reason. Make no mistake — even a 1-carat D Flawless IS diamond is a rarity of nature.
www.ehudlaniado.com
www.mercurydiamond.com
Photos Courtesy of Ehud Laniado