GANSEVOORT PARK AVENUE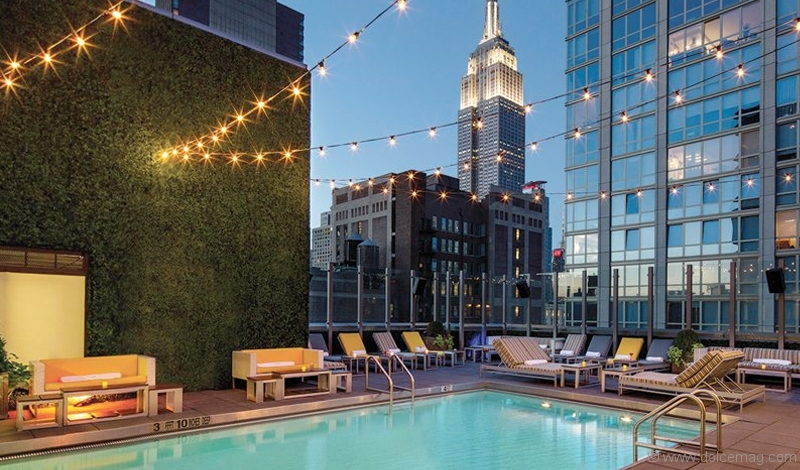 With a rooftop pool overlooking an iconic Manhattan boulevard, a 10,000-square-foot trattoria and an in-house spa and fitness centre, walking into Gansevoort Park Avenue might just mean adding your name to the hotel chain's long list of guests that never want to leave. The Park Avenue location, managed by esteemed hotel general manager Joel Freyberg, is Gansevoort's second venture in New York City after its flagship Meatpacking District location. The centralized location makes the Park Avenue hotel the trendier little sister of the latter, boasting a 20,000-sq.-ft., tri-level nightlife area. Freyberg describes Gansevoort Hotel Group's company culture as "luxury with a sense of fun and excitement," noticeable in every detail of the 249-room and suite hotel. Most of the guest rooms include Juliet balconies, lofty ceilings and five-fixture bathrooms. Stepping out of this hotel is no exception to the "fun and excitement" aim as the hotel is located minutes away from the Empire State Building and Madison Square Park, but far enough away from the hustle and bustle of Times Square to enjoy a relaxing getaway.
Q & A with Joel Freyberg
Q. What is your vision for Gansevoort Park Avenue? What does your team think of it? 
A. My goal is to deliver incredible service and experiences with a luxury element. My team supports my vision and they embrace doing the right thing for our clients.  
Q. What does an average day look like for you?  
A. Morning arrival meetings, some great laughs working with the team to exceed expectations, and taking the time to meet and greet my guests as they arrive. I feel you need to enjoy your time at work. My goal is to keep everyone motivated and happy and enjoying what they do each and every day. 
photos courtesy of gansevoort park avenue