The Great American Getaway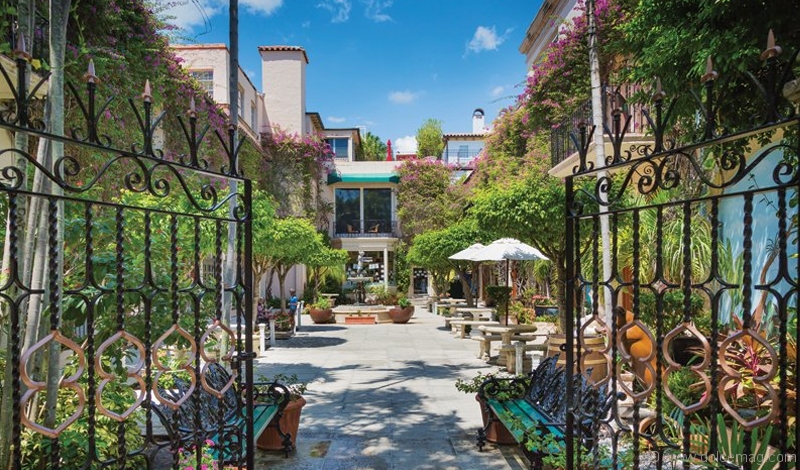 Palm Beach, Fla., is the origin story of the Great American Getaway. This sun-drenched corner of the States became the country's first-ever warm-weather tourist destination when the Second World War forced American elites out of their European summer homes, leaving them to source their sabbaticals in their own stomping grounds. But as I spend my four-day stay strolling the sunlit streets dotted with florals and lined with brightly coloured abodes with walls tangled up in oodles of ivy, it quickly dawns on me that although it was born to be a tourist destination — and has even been dubbed "America's Riviera" — there's nothing phony about Palm Beach. It's got a vibe all its own.
To experience all of Palm Beach's little (and big) luxuries in such a brief time frame seems an impossible feat, but I came pretty damn close. I began by making myself at home at the lush Brazilian Court Hotel. This sprawling, 90-year-old space complements the Palm Beach experience with a unique menu of amenities like the Frédéric Fekkai Salon and Spa, and the freshly revamped Café Boulud. And a word of caution: its boozy Pineapple Smash is delightfully dangerous. Lounging on the restaurant's starlit patio, it's no wonder this is the spot where Sofia Vergara chose to host her wedding rehearsal dinner in 2015, or that was, once upon a time, frequented by the Kennedys.
A quintessential part of the Palm Beach experience is a jaunt through the historic Flagler Museum, which was originally the glorious winter home of one of the country's most revered business tycoons. Henry Flagler not only co-founded Standard Oil, but also developed the city of Palm Beach itself — and, in 1902, built this massive manor as a wedding gift for his third wife. An exploration of its ornately decorated and flawlessly preserved rooms is a literal step back in time, to the luxury-steeped dawn of Palm Beach at the turn of the century.
We have to talk about Worth Avenue. Strutting down the cobbled streets of this Mediterranean-style shopping mecca, one can almost see the ghosts of Gilded Age millionaires poking in and out of Hermès, Chanel and Lilly Pulitzer. Its world-famous architecture and Garden of Eden vibe still somehow exude Palm Beach's signature chilled-out essence.
Another Palm Beach must-try: chartering a yacht and spending an afternoon lounging at the front of the boat, cocktails in hand (yes, "cocktails" — plural), while trying desperately to capture a non-shaky time-lapse video of the mansion-dotted shoreline. This is how I spent my final full day in Palm Beach, after cramming in mornings of breakfast in bed, afternoons of sightseeing and evenings of wining and dining at Palm Beach's plethora of five-star restaurants (among them being the very romantic Renato's, the posh Bice and the trendy Meat Market).
As the sun set over the Intracoastal Waterway and on the final stretch of my escape to Palm Beach, I experienced something of a revelation: as Canadians, all we really care about is seeking refuge in warmth during our bitter winter months. But as you'll discover the moment you step off that plane, Palm Beach isn't just a getaway; it's not some tropical fling. It's a full-on love affair.
Photos Courtesy of the Brazilian Court Hotel and the Flagler Museum