Lights, Camera, Cowan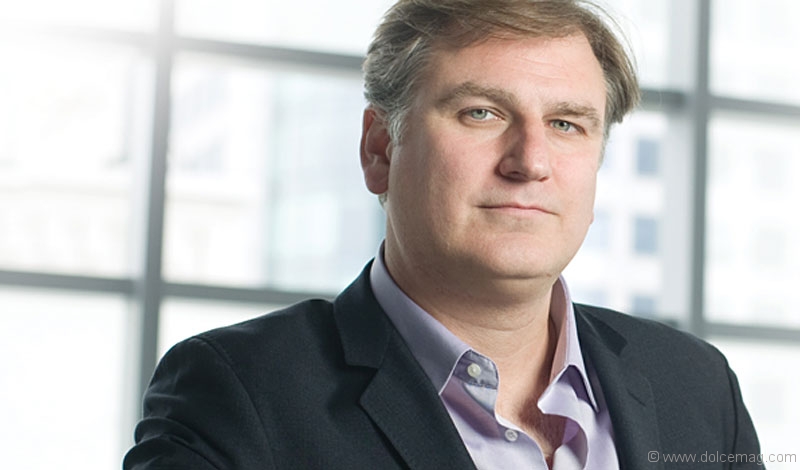 Calmly sitting in the corner of the TIFF Bell Lightbox's Bell Blue Room, a member's lounge tucked away on the building's third floor, it's hard to imagine interviewing Noah Cowan in a more ideal location. Overlooking the busy streets of King and John flanked by the bustling city milieu, Cowan, the Lightbox's artistic director, not only finds himself in the middle of Toronto's entertainment district, but at the heart of one of its cornerstones.
"I think TIFF Bell Lightbox was a really interesting watershed moment for the city," he says, describing the Toronto International Film Festival's headquarters, the premier hub for independent, international and rarely seen films and documentaries. The city's arts scene is thriving, and Cowan rolls through the details. From the experimental dance movement – which is "on fire here, and regarded so well around the world," – to the burgeoning visual arts community, music, dance, and fashion, TIFF taps into it all. "I think what the TIFF Bell Lightbox has shown is that Torontonians are hungry for culture every day," he says. And patrons lining the cultural table are eager to support those serving the meal.
To exemplify his point, Cowan illustrates the scene with Pina, a 3-D dance film that frolicked onto Lightbox screens last year. "You just got this rush of people coming into the building who had a passion for film, had a passion for dance, had a passion for the technology and what 3-D could offer," he says enthusiastically. It was a phenomenal time, especially once the credits rolled and the crowds mingled over drinks at Luma, the in house restaurant, discussing the amazing shared experience. "It was wonderful to see these audiences come together." a member's lounge tucked away on the building's third floor, it's hard to imagine interviewing Noah Cowan in a more ideal location.
His fervour for film unabashedly worn on his sleeve, Cowan's passion is both blatant and palpable. "I come from a culturally curious family," he says, describing how his father, an arts administrator, and mother, an actress, were both deeply involved with the arts community. By extension, Cowan was exposed to "interesting, cultural people" regularly, further fanning the flames for his love of the arts.
So it was a natural progression when he opted to get involved with the then- blossoming film festival. "I'm just a movie lover," he says, recounting his early days working as a TIFF volunteer. It was the mid-1980s; the festival was coming into its adolescence and beginning to gain acclaim on the global stage. It was "the hottest place to be," he says, "I just wanted to be a part of it." With a little luck and a lot of hard work, he eventually transitioned into a programmer role for the Midnight Madness portion of the event in '89. After taking a few years off in the '90s to start his own company, Cowboy Pictures, Cowan returned in 2003 to assume the TIFF co-director position, and eventually, the artistic director role in 2008.
Through his nearly 15 years working with TIFF, Cowan has helped to not just bring elusive pictures to Torontonian film buffs, but also exhibitions that underline their cultural impact. Last year's "Fellini: Spectacular Obsessions" showcase, for example, explored the history of the cerebral Italian filmmaker Federico Fellini and how he shaped the film industry, our ideologies and society as a whole.
The Grace Kelly exhibition was also a smash, attracting both cinema veterans craving a glimpse into the Hollywood starlet's world and fashionistas yearning for a taste of her celebrated sense of style. "We love that balance and we always try to find exhibitions that are going to attract multiple audiences," says Cowan. This year that includes
"Designing 007: 50 Years of Bond Style", which examines the influence of the British spy thrillers on fashion, cars, technology and art. It opens on October 26, 2012.
Cowan's time at TIFF has also brought his fare share of climactic moments. He recalls some of the more profound with a nostalgic glow: an onstage conversation with former U.S. president Jimmy Carter; a rendezvous with Sophia Loren, the Italian Hollywood starlet who "commanded the height of stardom for 50 years"; the wild night at Ryerson Theatre when the film reel for Borat exploded and Sacha Baron Cohen took the stage, in character, leaving the audience in stitches long before the first frame hit the screen. It's all evoked with fond sensibilities.
But all those monumental evenings play second fiddle to the smaller, more meaningful instances. "You bring the director up and people just stand up and cheer and just love the fact that this artist is here in Toronto and has shown them an incredible piece of work," Cowan says. He remembers a specific moment during his early days at the festival. Priest, a provocative drama about a gay cleric struggling with his devotion and sexuality, had just faded to black, and Cowan took the stage. Before he could announce the director's name, Antonia Bird, the crowd erupted. They cheered with unbridled support, some even rushing to the stage, embracing and thanking the overwhelmed director for creating such a powerful and poignant piece of work. "When you see moments like that," he says, "you actually believe that fi lm has the power to actually change the world."
He can't help but smile when asked what the good life means to him. Not even a year earlier he had helped orchestrate the Fellini exhibition, which included the director's masterpiece, La Dolce Vita; the passion it rekindled in local movie lovers still fresh in his mind. "I think the experience that really drove them to see that fi lm would probably define my idea of la dolce vita," he says, "which is that you actually make your own choices about the culture that's going to enrich your life. You go and then you have a wonderful glass of wine, maybe some beautiful food immediately after in the incredible surroundings of TIFF Bell Lightbox. I mean, I'm actually here several nights a week and incredibly happy to be here. It's kind of like my dream home."