Keeping Up with the Osmanns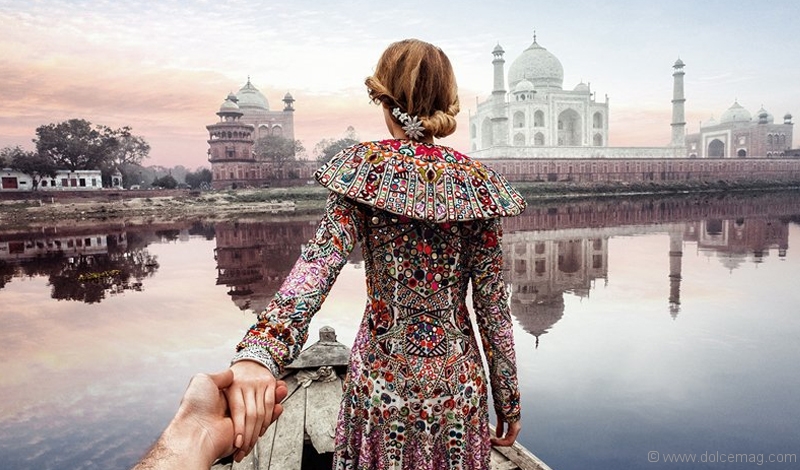 They're the couple the world has fallen for, and would follow anywhere — Murad and Nataly Osmann are showcasing love and culture through a whole new lens.
Triggering a social media movement isn't something that every couple can say they have done, but it's just one of the accolades that Russian photographer-model duo Murad and Nataly Osmann have tacked to their relationship résumé.
If you don't already recognize their names, chances are you have at least caught a glimpse of the Osmanns' ongoing photography project #FollowMeTo while scrolling through social media: it's that signature shot of Murad holding the hand of Nataly from behind the camera as she leads him into some scenic corner of the planet. From the Crystal Palace in Madrid to Times Square in New York City, Nataly has navigated her husband through spots both remote and well- known — always, of course, decked out in an enviable ensemble.
#FollowMeTo was first sparked almost accidentally in 2011, when Murad and Nataly vacationed together for the first time in Barcelona, and Murad did as any photographer would: he documented their journey with his beautiful girlfriend at the heart of each shot. Diving deep into Murad's Instagram account, @muradosmann — over 200 weeks deep, to be exact — one will unearth that first, very poignant snapshot: clad in a pink plaid shirt, a slightly out-of-focus Nataly guides her companion toward a colourful wall of graffiti on an undisclosed street in Barcelona. From the moment of its posting, the venture swiftly went viral, with Murad's account rising to its current 3.8 million followers.
Since its pilot post, #FollowMeTo has, quite literally, come a long way. As the couple gained super-fame, they upgraded their production and ventured to increasingly luxurious destinations. They published a book, Follow Me To: A Journey around the World through the Eyes of Two Ordinary Travelers, in January of 2015 — truly, a coffee table book to rule them all — and even said "I do" last June in a dreamy ceremony that lit up social media. They opened the online #FollowMeTo Shop, where fans can buy phone cases emblazoned with watercolour versions of their most-loved shots, and Nataly launched her own blog, begoody.ru, where she and her best friend Katerina Yak make excellent use of their skills in both journalism and good taste. Most recently, the Osmanns signed on as the faces of the #FollowINC campaign by Macy's sub-brand International Concepts Clothing (INC).
Today, the whole #FollowMeTo series is as lighthearted as it is visually exquisite, with each photo pulling the viewer into a unique adventure and offering a serious source of style inspiration. But the passion project has evolved into something much more substantial than a collection of beautiful photos or a "must-follow" Instagram account. Murad and Nataly Osmann have brought out the wanderlust in people, prompting folks all over the world to finally book the trips they've always kept on the back burner. They have helped reignite spontaneity and creativity in couples everywhere, as is evident in the amount of social media users attempting to recreate their stunning snapshots (and, on occasion, failing hilariously). What's most impressive about #FollowMeTo is that through it, two "ordinary travellers" have brought back something that most of us had almost forgotten about in our daily grind: the desire to explore, and to do it while holding the hand of someone we'd follow anywhere.
www.instagram.com/muradosmann