#DontChoke — Don't Drop the Ball on Climate Change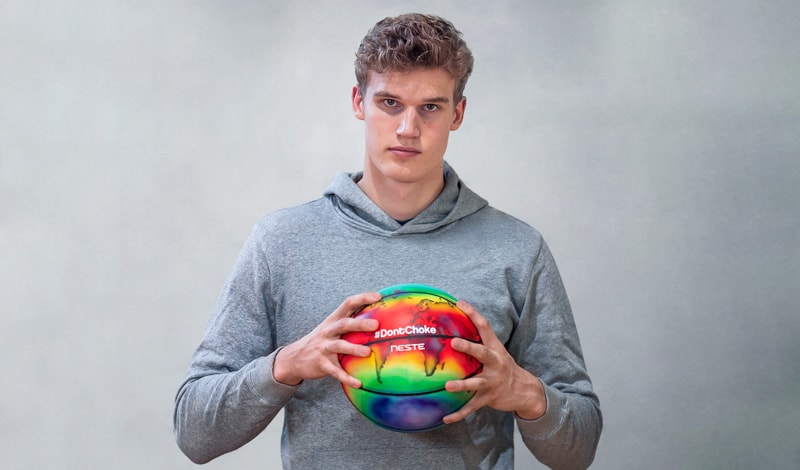 Customized sneaker collaborations, seen on celebrities like DJ Khaled, Rihanna and Kylie Jenner, have taken the Instagram world by storm. They've become a huge part of our culture, especially since bloggers, sneakerheads and self-declared "hype beasts" are always in competition to see who's the first with the latest and greatest pair of kicks.
The Intergovernmental Panel on Climate Change (IPCC) released a new report on the world's climate position for this year, and the results were not good. In response, well-known Instagram sneaker artist Kickstradomis teamed up with Chicago Bulls basketball player and environmental activist Lauri Markkanen to create a custom-painted basketball. The surface contains a hand-painted world heat map on it, displaying record-high temperatures from last summer that contributed to some of the worst heat waves ever recorded.
This collab plays a major role in Markkanen's call to action #DontChoke campaign with Neste — a Finnish renewable energy company. Our actions, no matter how small, all play a significant role in effectively protecting our climate. Markkanen wants us all to take notice immediately and make a change.
"I have been lucky to spend my childhood in Finland, where I was able to enjoy the four seasons of the year," says Markkanen. "After becoming a father, protecting our planet and combating climate change have become a priority to me. I want to do everything in my power so that my child will grow up in a clean environment, like I did. This is a call to all my fans to do their share."
"As the latest IPCC report shows, the time to act is now," states Neste's marketing director, Sirpa Tuomi. "Our collaboration is set out to challenge people to make responsible choices every day by transforming their mindset. #DontChoke communicates that we shouldn't choke in front of big challenges, whether they face us on the court or off it. Instead, we have to be courageous and goal-oriented to make better, sustainable choices."
Neste creates sustainable solutions involving transport, consumer needs and business so that we can do more with less, leaving our children with a healthier planet in the future.