Philanthropy 101 with Adam Braun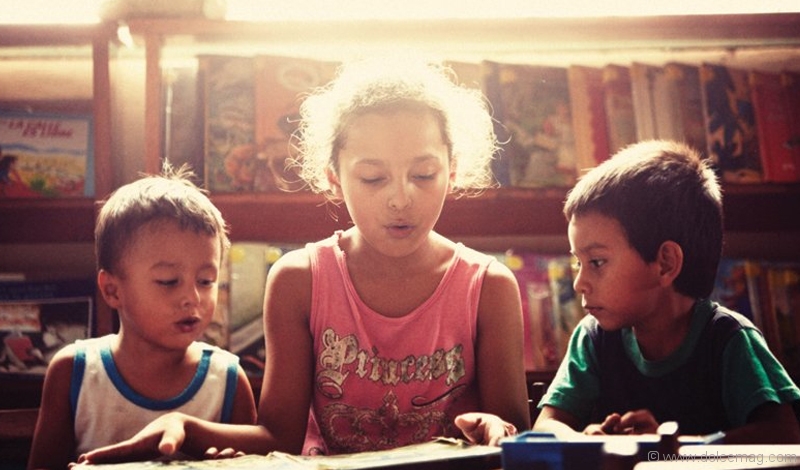 It's not everyday that you hear of someone in his mid-20s, affable and altruistic in a clear-cut kind of way, contemplating the dismal state of educational access in developing countries rather than a frenzied weekend in Las Vegas. The truth is, we're all hardwired to be egocentric, our psyche blinding us to the hard luck of others.
Founding the non-profit organization Pencils of Promise (PoP) in 2008 at the age of 24, Adam Braun, now 27, chooses to turn the world into a classroom over chasing stocks in a world-is-your-oyster era. "The world doesn't need more people like me, it just needs more people to realize that they're at their happiest when helping others," he says. The creator of an organization with a swift success story, Braun's early dream of building just one school was just too small for his spirit.
The power of a pencil sketches Braun's lifelong mission, which took hold while studying abroad with Semester at Sea. It was in northern India when he asked a begging boy what he wanted most from the world. His response made Braun's purpose in life as clear as the writing on a chalkboard: a pencil. As he reached into his backpack to give the boy an instrument replaced by keyboards and touch screens in the Western world, he was smacked with the reality that he was handing out a tool of hope to one of millions of children in the world that lives without learning. "I realized that that sense of education that I valued so deeply, everybody in the world values, and aspires to achieve and have access to education," says Braun.
Consumed by wanderlust, Braun handed out pencils and pens to children while backpacking through 50 countries over a span of five years. Inadequate learning environments filled his vision, where the closest thing to a classroom were kids crammed in coffee-storage rooms sitting in doorways on the floor in the heat. However dismal, some children had yet to step foot in a classroom. He was held at gunpoint in Guatemala and thought his end was near when crowded by a rioting mob in Nepal, but what he learned most from his travels was that education carried a priceless price tag. "I would ask parents, 'What could I help you with the most?' Ahead of reduced corruption or a second fishing net or more roads, the thing they valued most was education." The lack of edification gnawed at Braun's conscience.
Today, PoP has become a leader in the global education space, having successfully built 35 schools  – of which 12 will debut this summer – in remote villages across Nicaragua, Guatemala and Laos, one of East Asia's poorest countries. The organization is headquartered in Manhattan and represented internationally with on-the-ground directors that work with local leaders, ministries of education and communities. Factors such as impact, cost-efficiency and sustainability are assessed by PoP before choosing a village in which to build a school.
Braun stands naked in his assertion that business acumen is needed to run a non-profit properly, rightly so during a time when publicly traded and charitable institutions are under public scrutiny for their accounting and governance practices. "The perception of non-profit space for a very long time is that we're providing handouts. We work with communities and expect them to meet us half way, so we treat ourselves as an organization … and we treat ourselves as a business with the same levels of diligence, transparency and accountability," says Braun, who anticipates PoP to soon reach a $3 million threshold in donations.
PoP's presence is a long way gone from a time when everyone would tell Braun that his visions were unattainable. Braun now leads the way in PoP's goal of building 100 schools by the end of 2012. "You need somebody to become delusional to believe in the impossible. I tend to believe in things and kind of consume them with a lot more fervor and passion than most would undertake initially. I think that's why PoP has grown so quickly and created the movement that we have behind us." Braun first set fire to the organization with a $25 donation.
A philanthroholic by nurture and nature, Braun sleeps, eats, breathes and thinks PoP from 8 a.m. to 2 a.m., six days a week. You'd be hard-pressed to chew the fat with a graduated college kid hopscotching his way towards corporate comfort, only to give it all up to give to others. "I wake up every single morning feeling incredibly alive, and that's not something I can say that I felt previously," says the Brown University graduate, who left a high-paying job at the leading consulting firm Bain & Company. "You give up normalcy and you give up complacency when you take on something like this, but the rewards greatly outweigh the costs. Pencils of Promise is my life. There is very little separation for me, which means what I would consider my work is my life – it's become one in the same." As Bob Dylan once said: "A hero is someone who understands the responsibility that comes with his freedom."
Growing up in Connecticut, Braun learned his first lesson in philanthropy from his family. During Hanukkah, his parents would have he and his siblings alternate between receiving a gift one night, and selecting a charity to donate to the next. "There was always an underlying value system within our home. From the earliest age they really put an emphasis on giving back and caring for others," says Braun, whose brother is talent manager Scooter Braun. His grandparents, both Holocaust survivors, taught him how education and a will to survive can withstand any obstacle.
A devotee to Dylan and The Rolling Stones, Braun is an old soul as much as a social media butterfly. And if walls could talk, they'd tell you how Braun's web-driven campaigns inspire social conscience while attracting the youth generation. Pop phenom Justin Bieber is an advocate of PoP, and also the face of its Schools for All crusade, which asks kids, parents and schools to create fundraising web pages to raise support for the creation of more schools in developing countries. By spreading the message that everyone has the capability of fostering goodness – regardless of age or wallet girth – Braun comes with wisdom that children are the future. "Knowing that we've created this movement that is now over 200,000 people – that is an accomplishment I value more than anything else."
When it's all said and done, Adam Braun will have done more than said.
"I want Pencils of Promise to help create revolutions inside of people. For people to kind of reassess the way that they are living their lives and find a way to be more altruistic and more caring of others, in particular through education."  www.pencilsofpromise.org