The 7Sould Revolution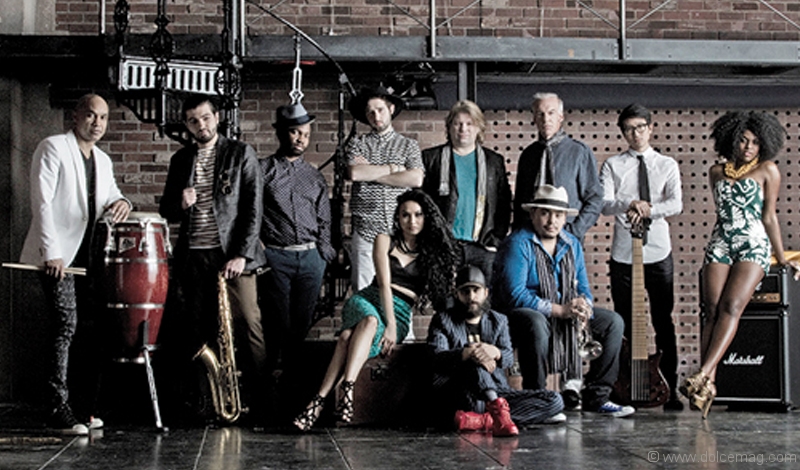 This is big: breakout Toronto band 7Sould is bringing something completely different to the international music scene
It's one of those frustratingly snowy mid-spring mornings as I drive to the recording studio to meet a Toronto band called 7Sould. As I drive, I turn on their music to get prepped for our chat — and by the end of the first song, "Found," something magical happens. The fusion of jazz, rock, funk, Latin and modern pop makes me feel like I've been on a round-the-world trip in four minutes and six seconds, and suddenly the blizzard I'm engulfed in doesn't really matter anymore.
7Sould is brand new, not only in the sense that they're preparing to debut this summer, but also in the way that they've come up with a completely novel concept. They're not just a band. Comprised of 12 musicians, a team of acrobats and an electrifying light show, 7Sould is a full-on production. And with its members hailing from different corners of the planet (think Cuba, Jamaica, Poland, India, the Philippines, Quebec and Armenia), the music is a unique collage of cultural sounds that bursts with colour, character and audio caffeine.
Founders Joaquin Nuñez Hidalgo, who plays drums-percussion and acts as musical director, and Mark Daniels, who plays congas and percussion, wanted to give their audiences an experience that goes beyond swaying to a set of songs — they wanted their shows to be a multi-sensory, storytelling experience. So with the help of veteran choreographers and directors Michael Challenger (Broadway's The Lion King, Chicago and The Producers) and Kafi Pierre (Cirque du Soleil and Broadway's The Phantom of the Opera), they created a plot out of their vibrant original songs: each 7Sould show follows the journey of a young musician seeking solace in his craft. Much like a play, the show unfolds in an adventure of sights, sounds and feelings all at the same time.
"It breaks some new ground," says Daniels. "We're taking the best of great musical theatre and we're mish-mashing it together. And what you end up with is a surprising hybrid, because the energy that comes off the stage is almost palpable. It's a visual and oral feast, all at once."
The show, titled "Underneath" — which, according to Challenger, speaks to the fact that music lies beneath all of life's obstacles — will be experienced for the first time this summer at the Beaches Jazz Festival in Toronto. And as Daniels reveals to me, the show has already been pre-booked for numerous international festivals for the following year. In the meantime, brace yourselves for the musical revolution of 7Sould, which promises to be one of the biggest acts to emerge from Canuck territory in 2016.
Photo By Christoph Strube