Mark Wahlberg and Aron Marquez Surprised Torontonians with Handcrafted Margaritas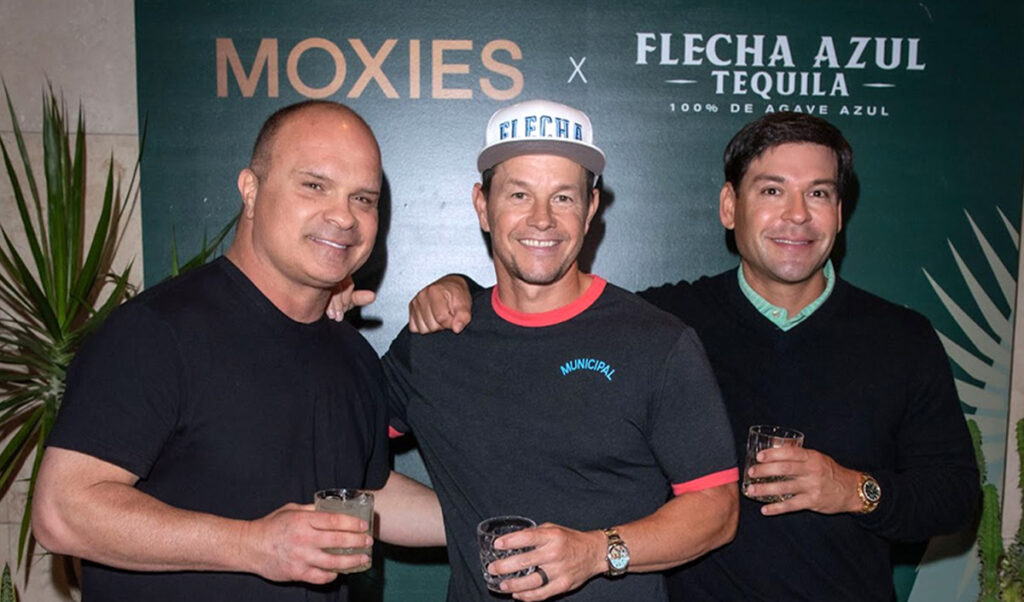 Flecha Azul Tequila Makes a Grand Debut with Moxies as the Official Canadian Restaurant Launch Partner
Guests in Attendance Included: Mark Wahlberg, Aron Marquez, Tie Domi, Tom Gaglardi and Many More
TORONTO, ON, August 30, 2023 – Last night, Flecha Azul Tequila known for its ultra-premium, additive-free craftsmanship and authentic Mexican roots, celebrated its highly anticipated Canadian launch at Moxies Downtown Toronto with an evening that dazzled attendees and left a "Mark" on the city's social scene.
Mark Wahlberg, the principal investor behind Flecha Azul Tequila, along with co-founder Aron Marquez, and notable Tie Domi, got behind the bar and served Flecha Azul Tequila shots and toasted to the launch amongst the crowd. "There's no better place to launch Flecha Azul Tequila in Canada than at Moxies," said Mark Wahlberg. The Moxies bar team also served up a new signature cocktail – The Marky Marg, a pineapple basil based margarita made with Flecha Azul Blanco Tequila.
The star-studded event took place at Moxies, offering an elevated menu with an assortment of items handcrafted with fresh, quality ingredients. Flecha Azul Tequila's launch was nothing short of spectacular, the event aimed to introduce Toronto's notables to Flecha Azul's unparalleled lineup of tequilas with carefully curated Moxies cocktails, characterized by their distinct flavours and commitment to traditional distillation methods.
"Celebrating the Canadian launch of Flecha Azul Tequila with friends, the community and the team at Moxies, was a great way for all to experience the finest ultra-premium tequila I am passionate about," said Aron Marquez. "Flecha Azul was made to be enjoyed around the world, and now Canadians can experience it with the new signature Marky Marg available at Moxies."
From existing menu favourites like Tiny Tuna Tacos to dishes not yet released, such as the Citrus Habanero Salmon, the night featured food handcrafted by Moxies' Executive Chef Brandon Thordason. The night emulated the same elevated dining experience that Moxies is known for. The team is proud to be the official restaurant launch partner of Flecha Azul Tequila in Canada and to provide guests the opportunity to try it through various crafted cocktails.
"We are passionate about partnering with like-minded brands, like Flecha Azul Tequila, as they share the Moxies' values of quality products guaranteed to always offer a premium experience," said Joanne Forrester, President, Moxies. "I speak for the entire team as I say we are thrilled for guests to try out this new premium spirit, amongst our signature cocktail experience."
Flecha Azul Tequila is currently available at Moxies Downtown Toronto and at all BC & Alberta Moxies locations. It will continue to roll out at Moxies locations across the country. Guests are encouraged to head to their local Moxies restaurant to experience the new signature margaritas made with Flecha Azul Tequila and menu offerings that pair perfectly with the drinks.
The event was produced by public relations agency Pomp & Circumstance.
About Moxies
Moxies, a premium casual Canadian concept owned by Northland Properties and Dallas Stars proprietor Tom Gaglardi, is well-known for delivering a uniquely stylish and relaxed guest experience through its blend of high-end design, uncompromising food and beverage items, and a friendly, energetic approach to hospitality. The menu at Moxies offers globally inspired flavours with fresh, high-quality ingredients made fresh in house. Moxies serves lunch, dinner, happy hour and a late-night menu seven days a week and weekend brunch at over 57 restaurant locations across Canada and in the United States, including Dallas, Houston, Scottsdale, Miami, Fort Lauderdale, and Toronto. For more information about Moxies, visit www.moxies.com.
About Flecha Azul Tequila
Flecha Azul Tequila is a single estate-grown, ultra-premium, additive-free tequila created to taste like tequila tastes in Mexico. One of the only new world tequila brands with authentic Mexican roots, Mexican-born Aron Marquez founded Flecha Azul along with first-generation Mexican-American, Abraham Ancer, to create an elegant brand that honours their Mexican heritage and tastes like the tequila back "home." Shared core passions, values and friendship brought Abraham Ancer and Aron Marquez together with Mark Wahlberg. He joined the team in 2022, building upon their efforts and desire to share Flecha Azul, an authentically crafted tequila, with friends around the world. The range includes five expressions – Blanco, Reposado, Añejo, Cristalino , and Extra Añejo, – made in Jalisco, Mexico from fully-matured, 100% single estate-grown Blue Weber Agave.