Revolutionizing Music Courtesy Of Apple Music And Universal Music Group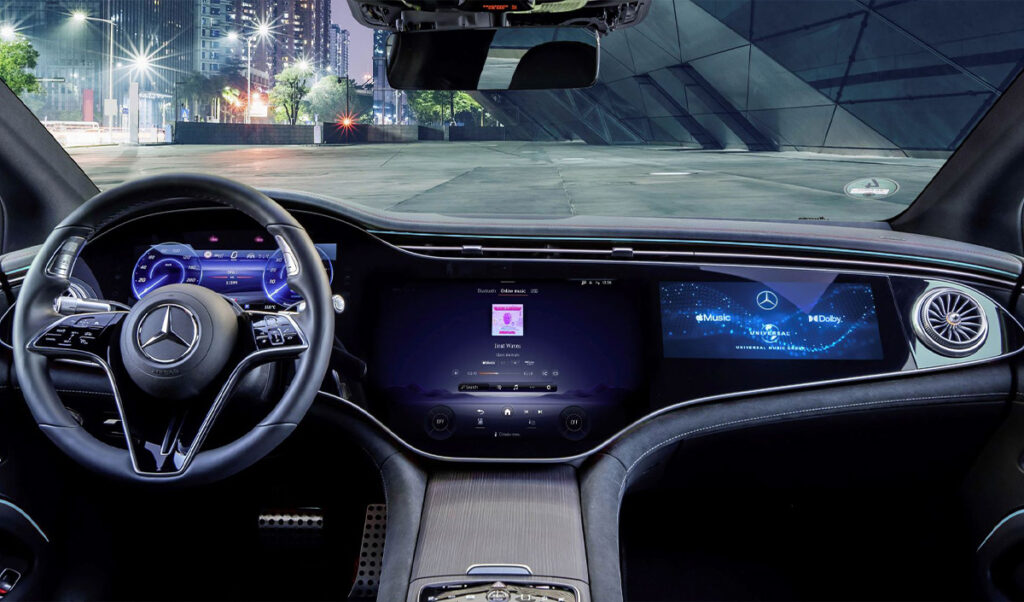 Mercedes-Benz has launched a new collaboration with Apple Music and Universal Music Group (UMG) that has revolutionized how music is created, played and enjoyed in the car – and beyond.
Dolce Magazine was invited to an exclusive Spatial Audio Technology experience hosted at UMG in Toronto that showcased the cutting-edge sound quality in a variety of listening environments, including in the new EQE 350 SUV from Mercedes-Benz.
The small group of guests journeyed together to experience first-hand how Spatial Audio Technology with Dolby Atmos from Apple Music allows artists to crescendo and bloom records differently, like never before. Guests quickly realized that music history was being made upon learning that artists have more space and the ability to put forth their musical vision by unlocking new levels of emotion in their music for their listeners.
Cars have, most recently, become one of the most frequently used music devices nowadays. While 90% of the world's population listens to music, an average person does so for 961 hours per year. Over 70% of music consumers state they listen to music mostly in a car, according to the IFPI Listening Music Study 2019. With that, the demand for the ultimate in-car music experience has been catered to.
The collaboration builds upon the integration of Dolby Atmos immersive audio in the optional Burmester® high-end 4D and 3D sound system offered in MercedesBenz vehicles making it the first non-Apple device to offer Spatial Audio with Dolby Atmos natively in a vehicle.
While the Burmester® Premium 3D sound system already offers a supreme listening experience, the unique Burmester® High-End 4D sound system uses speaker-like resonators featuring sound massage with surround speakers integrated into the seats.
The Burmester® high-end 4D sound system includes:
31 speakers, including six 3D speakers that emit their sound from above, 4 near-ear speakers in the front seats, and an 18.5-litre subwoofer.
8 sound transducers (two per seat)
2 amplifiers
1,750 watts power
"This important step in the history of recorded music is the culmination of years of working together with our partners at Dolby to develop the Dolby Atmos Music format so we can provide our artists with an even wider palette for their creative expression. With Mercedes, a company that shares our passion for quality and innovation, fans can now enjoy our artists' music in Mercedes cars in a way that virtually transports them to the recording studio or live stage," says Chairman and CEO of Universal Music Group Sir Lucian Grainge.
As the listener, you are lost in all the layers of instruments moving around you, catching the subtle breath a singer takes between lyrics or feeling melodies wash over you – whether it is in the EQE 350 Mercedes-Benz, Apple AirPods Pro (2nd Generation) or AirPods Max, nothing puts you inside the music like Dolby Atmos.
The music industry has continually evolved to meet the wants and needs of music fans globally. This innovative collaboration has unquestionably laid the foundation for revolutionizing music in this era with the promise of a holistic and more immersive sound experience.
Check out the links below to experience Spatial Audio-curated playlists for yourself!
Apple Music playlists
Hits in Spatial Audio
Made for Spatial Audio
Pop in Spatial Audio
R&B in Spatial Audio
Hip Hop in Spatial Audio
Jazz in Spatial Audio
Instagram
@applemusic
@umusic
@dolbylabs