Arteriors – Where Artisanship Meets Modern Design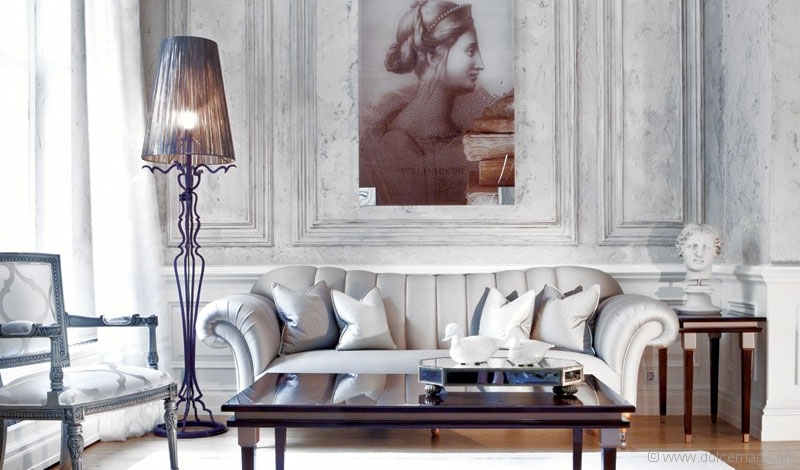 Toronto's latest design haven delivers exclusive luxury furnishings to discerning clientele with international design company Dorya.
When Toronto-based Vanessa Di Girolamo first peeked through the window of a showroom at North Carolina's High Point Market in 2012, she was immediately blown away by what she saw: a mahogany dining table and high-backed chairs studded with art deco details; a glossy, contemporary couch trimmed in stainless steel and finished in cool leather. The optimum quality and innovative design of the handcrafted and luxurious Dorya collection was like a breath of fresh air in an industry often deprived of originality and quality. "I've been attending trade shows twice a year for the past decade, so it does tend to get a little bit boring and repetitive," says Di Girolamo, whose family has a 35-year history in the furniture and luxury design sector in Canada. "So when I, along with my mother and father, Angela and Sav Caputo, walked in for a tour of this particular showroom and learned the history of Dorya and its luxury handmade goods, we were just in awe because we've never seen that in our industry for all these years. To have amazing craftsmanship and esthetics coexisting in this industry is rare." As they continued to admire the uniquely made furniture, drinking in its pure artisanship and ultra-luxe esthetic, a light bulb went off in Di Girolamo's head.
Three years later, Di Girolamo's revelation of bringing the internationally known Dorya brand to Toronto would give way to co-founding a luxury furniture showroom in the pre-eminent Castlefield Design District with Jacques Dinel, who shares the Caputo family's passion for timeless design. Exclusively offering the exquisite Dorya and Trump Home by Dorya collections, Arteriors Fine Furnishings and Accessories has sparked a new lease on design excellence and customizable luxury furniture in the city since its launch in April of this year.
Known for its impressive woodwork fused with metal and stone details, Dorya prides itself on handcraftsmanship and meticulous attention to detail that produces stunning results. Dorya's Contemporain Collection, which is currently available at Arteriors, exhibits fastidiously clean lines, touches of modern glamour and odes to eras past for a classic contemporary feel. It's in this art of combining traditional and contemporary elements in neutral, sleek palettes that Dorya speaks directly to the modern-day homeowner who values innovative furniture that can stand the test of time. "This line is for a very specific customer, a customer who appreciates good-quality furniture that you're going to keep forever and pass on to the next generation. This is for someone who appreciates the craftsmanship, the design — it's not something that's disposable," says Di Girolamo, adding that the typical time between the initiation and completion of Dorya furniture is four months from when the order is placed and a customized piece is created using state-of-the-art technology at Dorya's production facility.
Since 1979, Dorya's heirloom-quality furniture has transformed upscale residences, European embassies and commercial spaces across the globe. With a strong heritage in wood artisanship and a laser focus on modern elegance, it is no wonder the premium interior brand caught the attention of the Trump Home enterprise in 2013. The two global lifestyle marques came together to launch a 62-piece contemporary collection in 2014 that boasts architecturally inspired profiles and high-style couture elements. Trump Home by Dorya collection will be introducing 70 new pieces during the Fall 2015 High Point Market in North Carolina. Kicking up the wow factor are luxury materials, exclusive finishes and distinctive patterns: stainless steel and marble accents, and an intriguing colour palette of grey, cream, espresso, mahogany and satin black lacquer.
Suited for affluent residential and hospitality settings, the coveted Trump Home by Dorya collection exudes Dorya's signature quality and classic contemporary look with a slightly bolder touch inspired by the Trump Organization's award-winning luxury properties, says Di Girolamo. With the design world's eyes on the luxurious collaboration, the Trump Home by Dorya V.3000 Bar piece — designed by Dorya's creative director Megan Perry — was recently nominated for the Pinnacle Design Achievement Award from the American Society of Furniture Designers. "As you may know, Donald Trump has very high standards when it comes to buildings, [and it's] the same thing with furniture. It was a really good match. We are known for making it right and making it last," said Dorya president and CEO Doruk Yorgancioglu at the Arteriors showroom launch in Toronto this past spring.
Coming this fall, Arteriors is excited to carry Dorya's unique and timeless Heritage Collection, inspired by 17th- and 19th-century designs and fashioned in mahogany and gold-leaf finishing. From the collection's Queen Anne Wing Chair to the Floressa Sofa, the pieces from this stunning assembly are being hailed as the "antiques of tomorrow."
Apart from bringing high-end, quality furniture with amazing designs to the Canadian market, Arteriors' choice to introduce Dorya to Toronto was further bolstered by the company's ability to mix and match its luxe fabrics and finishes to produce custom pieces that precisely fit into a homeowner's space. This rare flexibility means there are endless possibilities with every single piece of furniture, from fabric selection to finishes and hardware — great news for high-end designers looking to make every space their own with bespoke furniture, says Di Girolamo. Today, Dorya is noticed in 70 countries and available at 30 locations globally.
As for what Dorya is about, the luxury interior brand that speaks to Di Girolamo and her partners the most all comes down to its legacy. "Dorya is a clear leader in the fine furniture industry, hands down."
arteriorsto.com / doryainteriors.com
photos courtesy of dorya