At Home with Stéphanie Coutas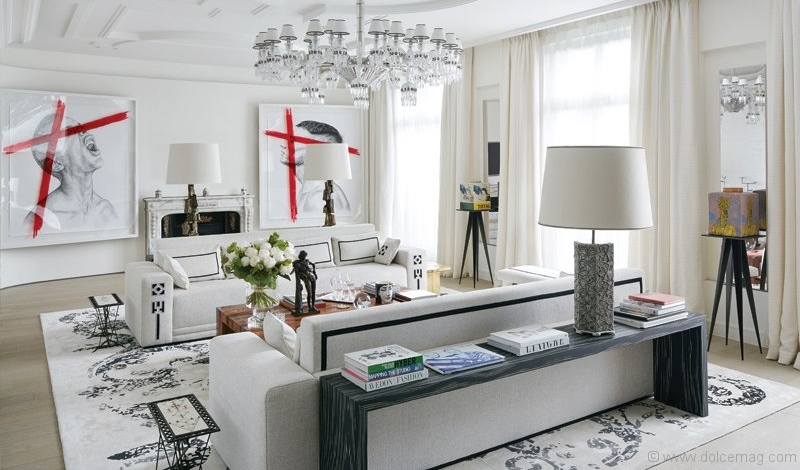 Parisian design darling Stéphanie Coutas welcomed Dolce into her freshly unveiled apartment, which doubles as her own personal art gallery.
Now, this is Paris when it sizzles.
Design darling Stéphanie Coutas already had our hearts with the long list of rooms she's romanced over the years, each one emanating her unique style that's classically Parisian but just a tad cosier. When she recently welcomed Dolce into her freshly unveiled apartment, which she just completed after a year and a half of dreaming and directing it into fruition, we fell for her work all over again.
The suite overlooks a prototypical French square that's a brief jaunt from the famous Avenue Montaigne and Champs-Élysées. It's 365 square metres of contemporary amour, with each room emanating the essence of a five-star hotel.
"I wanted to create a relaxing atmosphere," says Coutas, who's particularly affectionate about the solid oak floors and the bespoke rug by Tai Ping, plus the sofas she designed with B&B Italia and the statement chandelier she worked on with Baccarat. "I aimed for an elegant yet dressy interior, which would furthermore be cosy and warm for my family."
Every designer must be a master of the senses, and Coutas is known for her fluency in that talent — which was especially important when building a space for her own clan. So Coutas implemented her signature mishmash of patterns and textures, a bright yet classic display that dances rather than clashes, that sings without making too much noise.
The new home also became a long-overdue chance for Coutas to showcase her personal art collection. Every room is a gallery, with the pièce de résistance — two large-scale portraits by French prodigy The Kid — sitting pretty in the den. The installation, which the artist made for Coutas, became an inspiration for the designer in the beginning phase of the project, and the captivating depth of the portraits can be felt throughout the home.
Accented by Coutas' own collection, the suite comes together as a homey yet interest-piquing space that flawlessly complements the stylish city it's nestled in. And this is a milestone project for the world-renowned designer — she's crafted an abundance of masterpieces, but this is one she can call "home."
"One is never truly ready for a change, but it is an adventure for every family and we were very excited," says Coutas. "My concept was to keep the original framework of the property, yet make it chic, spectacular and comfortable."
www.stephaniecoutas.com
Photos Courtesy of Stéphanie Coutas