Bronte restaurant – Poetic Symmetry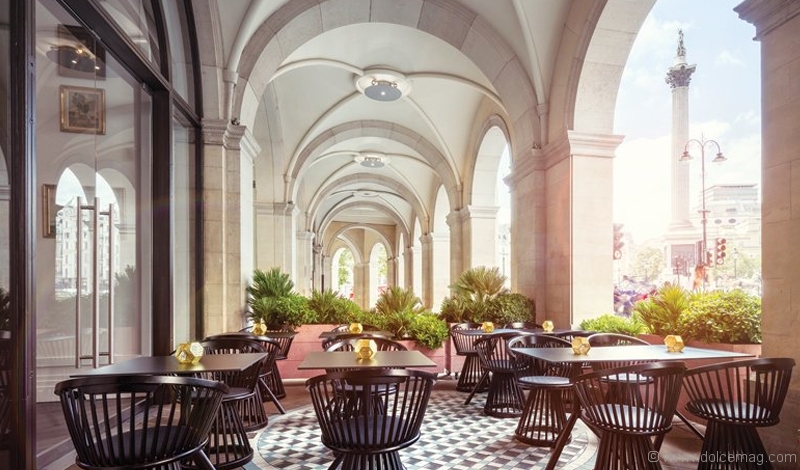 Trafalgar Square just got a bit more poetic with the launch of Tom Dixon's Bronte restaurant — a scrumptious sonnet composed of fine cuisine and innovative design.
While the freshly unveiled Bronte restaurant in London isn't technically inspired by the famous writer-sisters of the same name, it pens a love story using a language all its own with a design that's as riveting as its menu. This isn't much of a surprise, seeing as iconic Brit designer Tom Dixon and his Design Research Studio (DRS) are responsible for the space's rosy ambience.
Located in the Strand and overlooking Trafalgar Square, Bronte breathes an almost tropical playfulness in its peachy-keen pastel hues, notes of dark wood and wealth of natural light. But Dixon, creative director of the project, didn't stray too far from his signature contemporary sophistication for the vintage-getaway vibe; he balanced out the cheekiness of the space with crisp lines, metallic accents and other art deco elements that have become synonymous with his coveted creations.
Since founding the DRS in 2002, the self-taught, London-based designer has proved he's not all shimmering chandeliers and stylish swivel-back chairs, but also the imaginative force that the hospitality industry was in dire need of. His furniture finesse has translated into an ability to compose beautiful spaces, from eateries Tom Dixon Sandwich at Harrods, Craft London and Restaurant Eclectic in Paris to the Mondrian London at Sea Containers, a luxury hotel unveiled in 2014.
Inspired by the history of the Strand, Victorian explorers, collectors and cabinets of curiosities, Bronte is pieced together in a stylish way, coaxing an interest-piquing match of kitsch and luxury into existence. Visually, atmospherically, there's not a more fitting place to sip a Lust and Liquor (that's four roses, Cocchi rosso, Mozart dark chocolate liqueur and aphrodisiac bitters) or savour hot-smoked, soy-glazed salmon.
www.bronte.co.uk
Photos Courtesy of Tom Dixon