Britain's Great Tricia Guild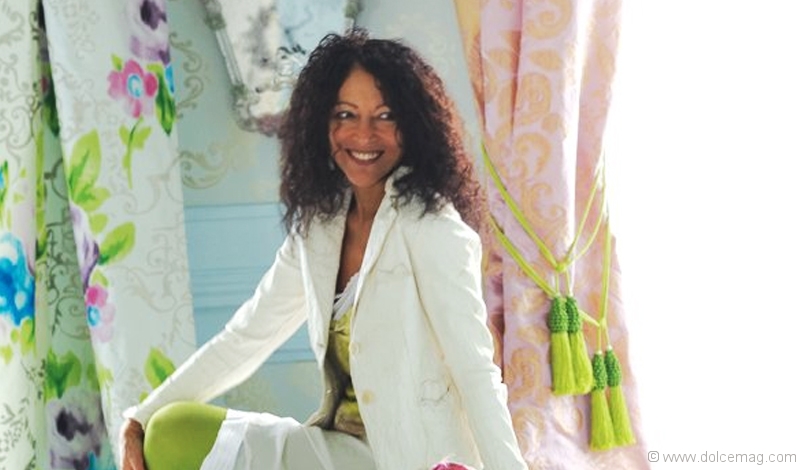 It was a right royal night in 2008 when Tricia Guild found out that the Queen was appointing her to design a collection of fabrics and wall coverings influenced by the dignified décor of Buckingham Palace and Windsor Castle. "I was pretty shocked and a little nervous, but delighted to have been chosen," says Guild, who is currently completing her fourth commissioned collection.
As humble as she is, Guild really didn't need a royal seal of approval to authenticate the fact that she has become a U.K. design icon. As heiress to her self-made empire Designers Guild, the high-fashion trailblazer with wild dark tresses has managed to fruitfully commoditize her craft, creating an international brand that could sweep Nicholas Kirkwood stilettos right off the elite's feet before even entering the room.
While Guild evokes childhood memories of gardening with her grandfather and joyfully dictating which perennial went where, her true passion for design bloomed later in life, leading to a career in interiors. Like most grandiose ideas, Guild's award-winning company, which designs and sells luxury fabrics, wall coverings, upholstery and accessories internationally, was initially conceived as a solution to a problem. "I was rather frustrated that there seemed to be nowhere that showed the total look of a home in a certain style … you went to fabric shops to buy fabric, furniture shops to buy furniture, lighting shops to buy lights. It was rather dull and uninspiring."
In 1970, Designers Guild's flagship walls went up in west London, bridging a noticeable gap in a market that trended towards isolating elements. "To be honest, I never imagined that we would be the size we are … I remember a bank manager telling me to call it a day as business wasn't very good and he was so rude and patronizing – nothing made me more determined," says Guild, whose brand is now represented globally and has an annual turnover of more than £50 million, or about $80 million Cdn.
Every word that Guild uses to express her passion and fervor for design is like a window slowly inching open on an efflorescent spring afternoon. "I find colour enlivening and energizing. Think of nature – the landscape, gardens, flowers – without colour." This season, Guild is especially wooed by strong blues paired with crisp white, chartreuse yellow with black, white with grey. "Modern yet timeless," she says.
As for Guild's ties to Her Majesty, The Royal Collection Fabrics and Wallpapers is set to release its fourth installment by August 2011. From Arundale silks to Augusta velvets and Cabochen weaves, "The Royal Collection of Fabrics and Wallpapers is so very different to anything that we produce for Designers Guild and it is thrilling to work with a different vocabulary and in a way exercise a different creative spirit."
With 15 books under her couture belt, a flourishing brand to stand behind, and the royal household as a reference, a designer as skilled as Guild is like gold dust these days.
Q&A with Tricia Guild, Founder and Creative Director of Designers Guild
Q: How can people use wallpaper and textiles to enhance a room in their home? What should they keep in mind when shopping around?
A: It's all about personal taste. Take the time to find the colours you love – do you prefer cooler colours or warmer ones? Are you a floral person or perhaps more geometric? Stripes or checks? Really consider the affect you want to achieve in your home and also how you use your home. Textiles and wall coverings add style, personality and a sense of place to your home. In my view, they are an essential part of decorating.
Q: How important is it to have passion for your craft?
A: Passion is vital. It is what keeps you going, keeps you creating, but you need to be determined and focused and business-minded, too.