Legendary Living at Les Rochers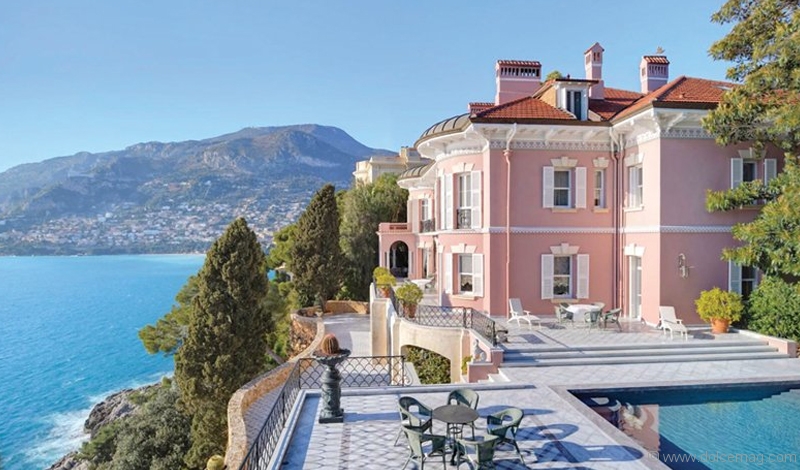 It's the jet-set way of life, where the Cote d'Azur's cerulean seas kiss sugared shores, and the hum of seclusion shines a spell on the well heeled. The halcyon days of glamour and prestige are everyday in the seaside community of Roquebrune-Cap-Martin, where Greta Garbo took a dip and Coco Chanel took residence in the sprawling La Pausa, a villa built for her by her lover, the Second Duke of Westminster. He purchased acres of land just outside the commune after they sailed across the French Riviera, a common playground for the rich and famous. La Pausa was a home of grand entertaining, with panoramas of Monte Carlo and the Mediterranean inspiring the vivid imaginations of guests Winston Churchill, Claude Monet, Jean Cocteau and Salvador Dali.
Since the early 19th century, southeastern France has provided a getaway for artists and aristocrats alike, which include Pablo Picasso, Henri Matisse, Queen Victoria and members of the Rothschild family. Princess Diana and Dodi Al-Fayed spent their last days journeying the Cote d'Azur. Celebrities often coalesce in the French Riviera, with some extending the luxurious vacation destination into a settled dig. Elton John has a home here, as well as Brigitte Bardot, who purchased in the area after revolutionizing St. Tropez in her heyday. The Monaco Grand Prix and Cannes Film Festival continue to draw crowds, heightening the region's palpable magnetism.
Today, Les Rochers is considered one of the most coveted properties in the French Riviera, curling its finger to those with a taste for the Belle Époque. Subtle hints of Egyptian architecture trickle the façade of this lavish villa, which overlooks bustling Monaco and is 20 minutes away from Italy. It was constructed a century after the historic communities of Roquebrune and Cap-Martin were connected by a road built by Napolean in 1804. The private estate was custom-built on the instruction of a representative of the famed whisky distillers Black & White. Actor Marcello Mastroianni certainly enjoyed the bourbon brand, having sipped a glass of the sweet life in Federico Fellini's film La Dolce Vita.
Included in the architectural grandeur of Les Rochers is 10 bedrooms, six bathrooms, three reception rooms, an expansive dining room, glorious kitchen and additional staff quarters. A rose exterior is surrounded by direct beach access, swimming pool and centuries-old trees and botanical gardens that include rare cactus plants. Spacious terraces and balconies further its quixotic aura, where a quality renovation by its current owners exceptionally blends modernity with the preservation of its original design.
0033.04.93.38.50.33
Price Available Upon Request
www.burger-sothebysrealty.fr