Forest Hill Private Residences: Luxury Lifestyle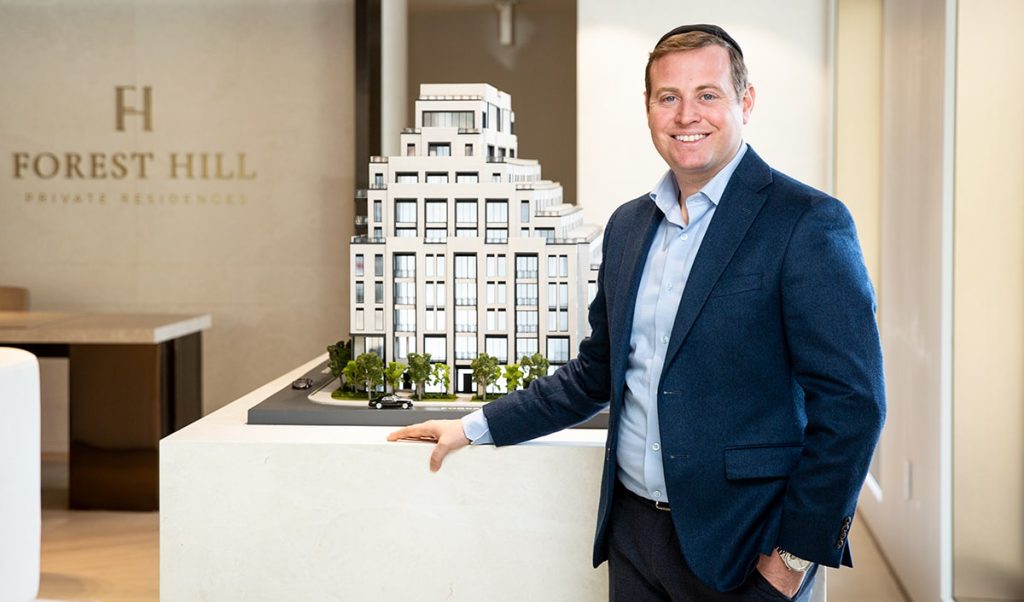 To complement this, interior design firm U31 has incorporated exceptional luxury design elements into all suites, such as custom-designed Cameo kitchens and modern engineered hardwood flooring. The firm has also integrated a host of high-end finishes that can be seen within the grand lobby and amenity rooms.
Part of the allure of major global cities is that, despite their explosive growth, they still retain revered residential neighbourhoods of old-world charm and character, seemingly untouched by modern mayhem while offering private enclaves of luxury living in the heart of a great metropolis. Toronto's Forest Hill is just such a neighbourhood, and Forest Hill Private Residences condominium will be a welcomed addition for those aspiring to move there, or for long-time residents seeking to remain in the area by downsizing into a maintenance-free luxury lifestyle.
"Amenities make the difference at Forest Hill Private Residences," says Zev Mandelbaum, founder and president of Altree Developments, the developer behind this nine-storey boutique condominium, whose family has been in the development business for 70 years. "Most luxury buildings have very few amenities, as they're selling the finishings or location, so I thought if I was living in an opulent hotel, I'd want those amenities near me and lots of them. So, we put more amenities in Forest Hill Private Residences than probably any other luxury building in Toronto."
Those amenities include a pool room with 15-foot ceilings, a steam room, both dry and wet saunas, a full fitness area with modern cardio and weight training equipment, an outdoor tranquility area, an outdoor barbecue, and a party room with a full catering kitchen and an exclusive collection of world-class wines. The residence also includes a fully furnished and landscaped outdoor terrace providing a retreat in which to enjoy a view of the treetop canopy of surrounding Forest Hill, with the impressive Toronto skyline in the distance and the stately turrets of nearby Casa Loma in the foreground. Careful thought and consideration by Altree were put into every aspect of this luxury living environment.
"We even have two entrances and two lobbies," says Mandelbaum. "We have a primary lobby with a double-height ceiling, which is actually a lounge with 24-hour coffee and tea services, and then we have a separate service lobby so all the 'noise' goes through the service lobby. Here, it's like living in a five-star hotel with the feeling of being home at the same time."
Residences are offered in one-, two- and three-bedrooms layouts (all with den options) featuring multiple floor-plans and priced from $1.8 million to $6 million-plus. The suites feature 10-foot-high ceilings, ample natural light, a full Miele appliance package and expansive terraces with gas lines. To complement this, interior designer U31 has incorporated exceptional luxury design, such as custom-designed Cameo kitchens and modern engineered hardwood flooring.
Forest Hill Private Residences were designed by Graziani + Corazza Architects, with interiors by U31, two of Toronto's most acclaimed architects and designers. With its elegant and modern exterior of limestone and granite, the building fits in completely with its historical surroundings. "It's a timeless and beautiful design with architectural symmetry in a tremendous location," says Mandelbaum. "I call it a beautiful rose within a beautiful bouquet. I've worked with Graziani + Corazza and U31 for years. When you're trying to paint your dream, what better way than to work with a team that really understands what that is. It's been a perfect collaboration."
The luxury at Forest Hill Private Residences does not stop at its appearance or finishings, but in its services offered for residents. Altree is working with The Forest Hill Group in providing the onsite delivery of a curated, luxury concierge, bespoke security, and upscale valet services. A market leader in providing luxury services, The Forest Hill Group can handle almost any personal request to ensure that from the moment they arrive at the private grand porte cochère, residents can focus on that most important commodity — personal time.
Forest Hill Private Residences is located at 2 Forest Hill Rd., at the corner of St. Clair Avenue West, just steps from Forest Hill Village, a treasured collection of boutiques, shops and galleries, with restaurant staff who remember your drink order and a barbershop that recently marked its 90th anniversary. It is this consistency in a changing world that makes the neighbourhood so beloved and cherished by its residents, many of whom have lived their entire lives in the area and sent their children to the many nearby prestigious private schools.
For this reason, the sales success of Forest Hill Private Residences to date has been driven by current Forest Hill homeowners who wish to stay in the area and are attracted by the luxury, amenities and carefree personal services the condominium offers when they make the decision to downsize.
"It's been a lot of people who are looking for that boutique, idyllic, quiet home in a beautifully landscaped and manicured setting," says Mandelbaum. "The majority of people who have purchased have been recommended by friends. I would estimate that 60 to 70 per cent of the residents know each other, and there will be a strong sense of community in the building."
The pandemic has been an unexpected time forced upon us all to re-evaluate how we live. For those choosing to stay, thrive and surround themselves with the many benefits of urban living, yet seeking the sanctuary of a luxury environment, Forest Hill Private Residences appears to strike the ideal balance and provide the ultimate residential solution.
www.foresthillresidences.com
@altreedev
Interview by Estelle Zentil