For Inna Braverman, Passion is the World's Greatest Renewable Energy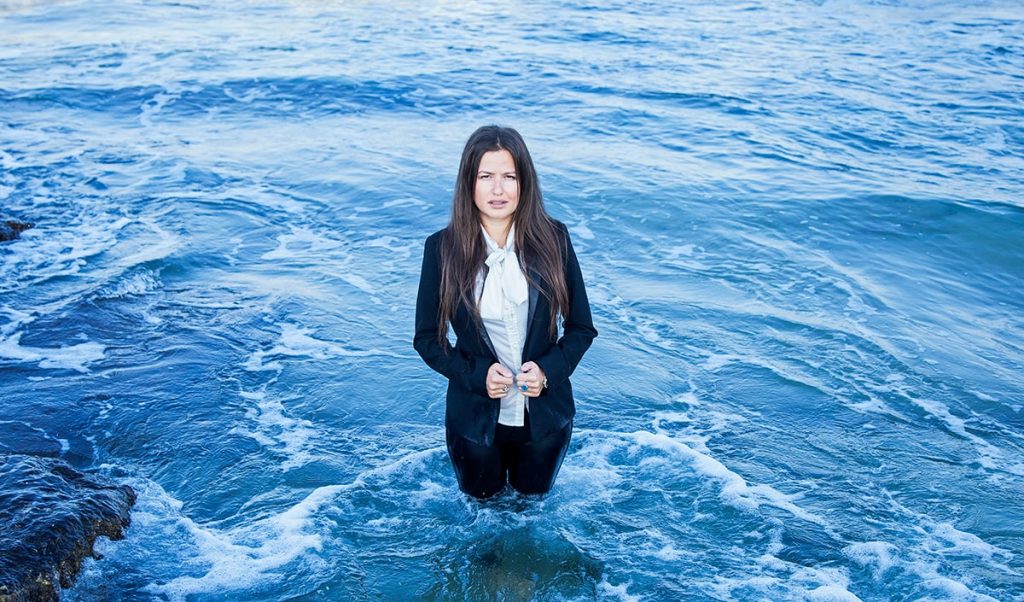 The co-founder and CEO of Eco Wave Power talks about renewable energy and how 1986's Chernobyl disaster led to her founding her company 24 years later.
Two weeks after Inna Braverman was born in the Ukraine, she had a respiratory arrest. It was a result of the Chernobyl nuclear reactor explosion and the severe pollution that filled the air in the following days.
While Braverman doesn't remember the experience first-hand — how her mother, a nurse, resuscitated her, or how the ambulance arrived to save her life — hearing the stories over the years and immigrating to a small town in Israel at the age of four set something in motion.
"I got a second chance at life, so grew up feeling like I had a sense of purpose," Braverman says. "I remember thinking, What could I do when I grow up that will really make a difference?"
She chose to study political science, thinking that a career as a political leader would enable her to find an answer. But, when she graduated and realized no one was waiting to hire someone with a major in political science, she fell into the world she's in now.
"I started working at a renewable energy firm as an English-Hebrew translator," she continues. "That's where I discovered the world of renewable energy: wind and solar, which were already commercialized, and wave energy, which everybody believed in, but no one was making happen. So I said, 'I can do it.'"
Founded in Tel Aviv, Israel, Eco Wave Power is what Braverman spends her days working on. It's a solution that works with floaters, attached to structures like piers, jetties or breakwaters, moving with the motion of the waves to produce clean, renewable energy.
Being attached to existing structures instead of placed out at sea means they don't disrupt any ecological balance. And, because they automatically rise and remain above water level when a storm hits, they're also cost-effective and more reliable than other solutions.
It's an impressive process, and one you might think would come from someone who has a background in something like engineering. For Braverman, however, lacking that experience was a plus. As she says, "When you're not too locked into something, you think more outside the box."
The company has a grid-connected power station in Gibraltar that's been operational since 2016 and is currently constructing its second power station in Israel. Braverman herself has also been named on Medium.com's "100 Makers and Mavericks" list alongside Mark Zuckerberg and Elon Musk, and she has delivered three TEDx Talks about her experience as a female entrepreneur.
"We're In An Era Where Everyone Cares About The Environment"
For her, it doesn't matter whether someone has studied in the field or what their background is. All Braverman wants to do with Eco Wave Power is bring passionate people together. "One of my favourite sayings is, 'Passion is the greatest renewable energy source.' That's really key in my company culture."
As well as being contacted by governments and ports, Braverman says Eco Wave Power has been approached by private owners of marinas, homes that have jetties next to their property and PhD students looking to write about the technology. "We're in an era where everyone cares about the environment," she says. "Ten years ago, it wasn't as high on the agenda."
It's not all been smooth sailing, though. Alongside coming up with a solution to fight the way the world approaches energy, Braverman has had to fight as a female entrepreneur. "Being an entrepreneur's hard, but being a female entrepreneur adds an additional layer of difficulty," she shares. She recounts a story when, aged 24, she entered a conference room excited to present the company's technology. Instead of presuming she was an entrepreneur, attendees started placing orders for water or espresso, thinking she was someone's assistant.
"Many people tell us women are too weak or unable to do something," Braverman continues. "We shouldn't listen to that. If we step down, our daughters will step down, and we'll have a negative chain of events."
Looking ahead, Braverman's hopes for the future are bright. She believes, in order to have a completely environmentally friendly, clean world, we need to bring all renewable energy sources together. "Sometimes the world gets stuck, and we implement one or two sources and stop because it's working. That's something I'd love to see a shift in — where we implement as much renewable energy as possible from all sources."
She also hopes the statistics will begin to tip more in the balance of renewable energy's favour. "Right now, only 18 per cent of the world's energy is generated by renewable energy, which isn't a lot," she continues. "According to the forecasts, we'll have about 30 per cent by the year 2023. According to other research, wave energy is expected to produce at least 10 per cent of Europe's electricity by 2050. So, the outlook is positive."
Above all, she urges everybody to do what they can. "If you can put plastic bottles in the right recycling bin, that's a help. If you're an innovator or investor, invent something to change the world. If you're an investor and can invest in something to make the world a better place, do that. Everybody should do their part."
Interview by Estelle Zentil