Wondrous Garfield Wilson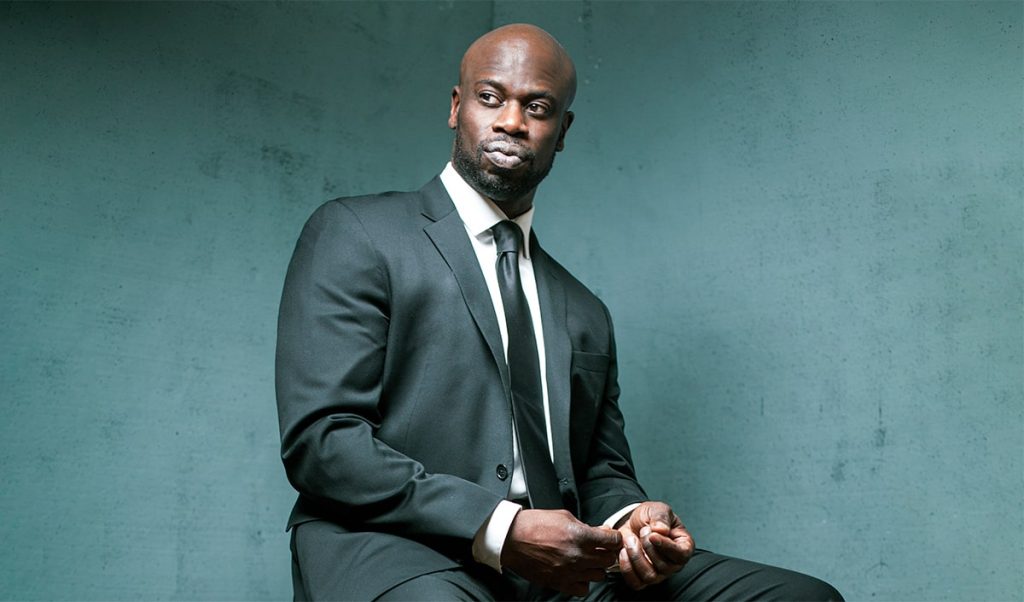 Vancouver native Garfield Wilson, who stars as Henry in the new musical comedy series, Schmigadoon!, shares the difference between performing onstage versus onscreen, starring in Netflix's movie series Ivy & Bean, and advocating for the BLM movement.
Although experts debate the science supporting graphology — the psychological analysis of handwriting — one thing is completely clear: A sixth-grader who practises his signature every day is destined for a career on the big screen. As Garfield Wilson explains, "I got in trouble so many times for practising my autograph, and now people say, 'That's a really cool signature,' and I say, 'Yeah, I've been doing it my whole life.'"
We recently sat down with Wilson to learn more about the man behind the cool signature, including life lessons, the importance of the BLM movement and his exciting new projects.
On success in the industry
There's success in failure. There's really invaluable life lessons that happen along the way, and, if you have the belief in yourself or evolution and growing confidence that you have the talent to do this, or the desire and the passion to do this, you get a little bit lucky and you have certain successes along the way, that actually begins to mould how you occupy space.
Denzel Washington says that he was a 20-year overnight sensation, but through that 20 years, 10 years, whatever it takes for you to get there, you are settled into who you want to be as an artist, as opposed to lightning striking. Boom. You have fame and fortune, and you have no idea how to deal with this. You have no growing pains; you're just thrust into this. It does happen, and then you think that, if you've been thrust into this exposure from nothing, when those artists do have that rocket-ship success story and they were met with failure afterward, those are some hard growing pains in the public eye.
On Black Lives Matter
North America was — and still is — founded on deep grooves of systemic racism, where people of colour are marginalized or not given the same opportunities or not viewed in the same ways. I'm still dealing with that on the roles that I book. Even on set, there are questions about my character because I'm a black actor or because I'm black: "Should he be wearing these clothes? Should he be saying these things and should he be in this environment?" Whereas my white counterparts, my white co-actors aren't asked those questions.
I think that how I approach things, and it's difficult to navigate because it's very emotional, and people have a visceral reaction to it, is education. A lot of what has happened in our history, people don't know. How people are brought up as children and what they are indoctrinated to is not the truth. So, if you know what has happened in Canada as far as First Nations people and residential schools and all the atrocities and evils that happened through the Government of Canada, then you're like, "Oh my God." If you know what has happened through Jim Crow, through slavery, systemic racism, in terms of housing and bank loans and what was available to African Americans, as far as opportunities and pay, and just looking at voting rights, and all those different things that are still prevalent today, you're like, "Oh My God." And then, on top of that, looking at what it means to have white privilege and understanding what that is.
During the George Floyd tragedy and everything that came after that, I really did a deep dive into how we came to be in this society and what it means to be Black, a person of colour, or, to that end, a person of colour who's in the LGBTQ2S+ community. In regard to that, what does that mean to you if you are white? What is your privilege? What is your life experience like, and what does it mean to be white in this society? And, if you're oblivious to that, or if you're ignorant to that, then you have no idea how to make change … Black people have been screaming at the top of their lungs, fists in the air — it's going to be white people who have the privilege to say, "Hey, that's not cool!" That's when change happens.
Upcoming projects
I'll be wrapping up a Netflix movie series called Ivy & Bean. It's based on a children's book by Annie Barrows. I play David, who is Bean's dad, and the little actress Jidya Jewett, she plays my daughter, Nancy, who's Bean's older sister. Marci T. House plays Charlotte, my wife. I've never had so much chemistry with an actress. Keslee Blalock who plays Ivy is just unbelievable, and I will just say that Madison Skye Validum plays Bean. It's her first movie series, and this little girl — she's seven years old, just turned eight — she's like a little Michael Jackson for actors. She is phenomenal. I've seen so much talent, so many raw talents, so much skill, so much professionalism from her that sometimes you struggle with adult actors. She's that unbelievable.
I just finished a really big-budget feature film for four months, and I wish I could tell you more, but I cannot. It's the biggest project I've ever been on. It's an iconic tale that everybody knows — adults and children, and everybody in between. It's a beloved story. The cast on this is believable, and that's just scratching the surface of what that cast is and what that production is.
Energy on stage
If you're three, four, five years old and you get put into ice hockey skates and you get thrown onto the ice, that's like walking for you. That goes the same with dancing. You look at these professional dancers. You look at what they do, and it looks so easy. For me, growing up, I'm watching Michael Jackson, James Brown and all these people dance, and the music is one, two, three, four. When I did Dream Girls, it was five, six, seven, eight. I'm like, "What? Can you do that one more time? Is it on the six or the seven?" Connecting your body to that language and then conveying the emotion through your body once you get it is really liberating, because you're connecting not only deep in your soul to what you're trying to convey to the audience, but you're also connected from the feet up, and everything is working in this artistic expression. It's the closest you'll get to flying … It's amazing when you can actually put aside everything and open your mind and let that energy flow. I've done performances with a band and been on stage and you just lose track of where you are, and there's an energy flow, and there's nothing else that compares to it, other than describing it as magical. Onstage singing, I've never been that close to flying in my life; it's been unbelievable. I always try to get back to that.
Onstage versus onscreen
If you go on stage in the theatre, nobody yells, "Cut." If you drop something on stage, you better learn how to pick it up or not drop it at all. The emotionality that you bring to every performance, every take, being with those all-star actors, the writer, Cinco Paul, Lorne Michaels, Barry Sonnenfeld and the entire cast. There are moments where I was on set [of Schmigadoon!], and we're doing a scene and we've got Alan Cumming, Fred Armisen, Kristin Chenoweth, Dove Cameron, Keegan-Michael Key and Cecily Strong, the list goes on and on. It was the first time in a very long time where I was like, "This is magic happening right before my eyes." And sometimes, you're so lost in the moment.
What does la dolce vita mean to you?
To have a beautiful home where my kids can come and go as they please with my soon-to-be wife. We have this beautiful synergy between us and our children, our family. And, by doing what I love the most, which is creating and being an artist.
This interview has been edited for length and clarity.