Hotel Californian – Design with Martyn Lawrence Bullard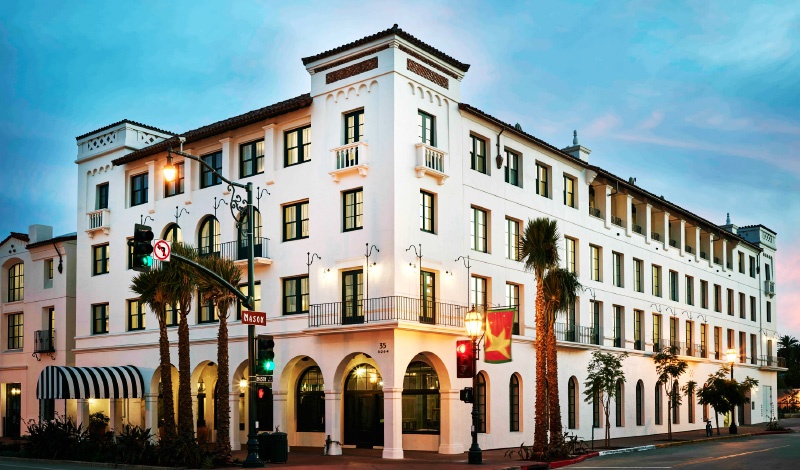 Designed by Martyn Lawrence Bullard, the Hotel Californian sets the new standard for the modern hotel experience, capturing the essence of California.
What makes this project special?
This project has been a special one, first because I love Santa Barbara, the history and culture of this special Californian beach resort, and also because it has been a wonderful restoration of a once-grand hotel that had fallen into disrepair and now is a sparkling jewel in the city. [That] has made this journey a rewarding one. It's also amazing because we have set a new standard in the city for a modern hotel experience that captures the essence of the place, yet brings in worldly experience, class and atmosphere.
What can guests expect from this hotel experience?
The hotel experience is one of modern luxury, with a true boutique edge and ambience. From the Moroccan-inspired spa to the internationally curated gift shops, the hotel has something for everyone. The roof terraces offer unparalleled views of the city, mountains and ocean, while the public spaces and restaurants ooze comfort and a welcoming ambience. Comfort is key to all the rooms and guest experiences: modern luxury with old-world charm, a bold palette and rich terrain. And the short walk to the beach and pier make this the perfect vacation destination.
Where did the inspiration for this project come from?
The inspiration started from the surroundings. Santa Barbara has a rich history of Spanish colonial architecture, which was influenced by Hispano-Moorish design in the 19th century. As such, I used this colourful history as a base for the interior architecture, yet to shake it up and modernize the vibe, I added mid-century furnishings inspired by Gio Ponti, and for the surprise factor, I mixed in quirky Portuguese antiques with edgy art we custom-designed for the space. The result is unexpected, yet sympathetic to the local vibe, raising the decorative standard and giving a fresh take on Santa Barbara's classic look.
What kind of interior finishes did you use in this project?
I used over one million tiles in the project (encaustic, glazed and marble), wainscotting the guest room walls in Moorish-designed tilework and graphic, monochromatic designs on floors and walls in the public spaces. Hand-printed textiles add colour and texture, from linens to velvets and leather, while custom wallpaper is used to great effect in the ballroom, where I mixed seven different designs to create a fantastical orientalist look inspired by the rooms of Renzo Mongiardino.
"We all work so hard in life, so our homes must be our sanctuaries"
Details can make or break a room. What are some important details that elevated the final result?
The mix of pattern has been described as fearless. For me, it's an understanding of mixing palettes carefully, using two-colour highlights with a good base colour, providing both drama and symmetry. The detailing of ceiling stencils around light fixtures and painted borders on the walls have defined the architecture and given a strong signature to the spaces. Carved and leather-upholstered doors add unexpected detailing to guest room doors.
Define luxury for us.
We all work so hard in life, so our homes must be our sanctuaries — places to relax, rejuvenate and re-centre ourselves. Modern luxury, to me, means comfort. It doesn't mean how big your home is, how many rooms you have or how much money you spend on your interiors, furnishings, art; it is all about how comfortable you make it.
Where do you get your inspiration?
My inspiration comes from all around me; every day, I see, smell and touch something that will inspire me. Travel, however, is my biggest form of inspiration. New countries, cultures, colours, tastes … they all become the threads I weave my decorative tapestry from. It is the most important thing, to me, to see the world and experience all the beauty that each new culture has to offer.
What are things you love to use in your design projects?
I love working with so many materials. Silks, linens and velvets are trademarks of my interiors. My big passion currently, however, has to be lacquer. Lacquered furniture, especially, and as a wall application is very dramatic and modern, yet timeless.
Are there any special design books you like to read or refer to?
I take inspiration from so many books. Historical books like The Sun King are so inspiring, [stories about] the passions of kings and queens who let their decorative desires run wild to create palaces of pure fantasy and majestic scale. David Hicks's wonderful books from the 1970s are also very inspiring to read and look through, as is Horst's wonderful photo journal of all the interiors he has shot of [homes belonging to] artists and aristocrats, movie stars and moguls over the decades.
Which fabrics do you like to incorporate?
I love working with fabrics, and they form an important part of the balance of an interior. I often use linen, as it's both elegant and casual, but I adore exotic skins, shagreen, fine wood veneers and natural woven textures for wall upholstery. Velvet, however, is my favourite material to create sumptuous classical environments. From silk velvet to a thick pile cotton velvet, they all capture the spirit and tactile component necessary [for] my rooms.
How do your clients describe you?
Passionate, creative, experimental and fearless. I take special care to get to know my clients first and understand both their needs and wants. Then I do my utmost to create for them their personal decorative dream. It is vitally important to me that my clients' homes reflect their personality. I am, after all, decorating for them, and each project is always both custom and very individualized.