Design Across Three Continents – Jonathan Rachman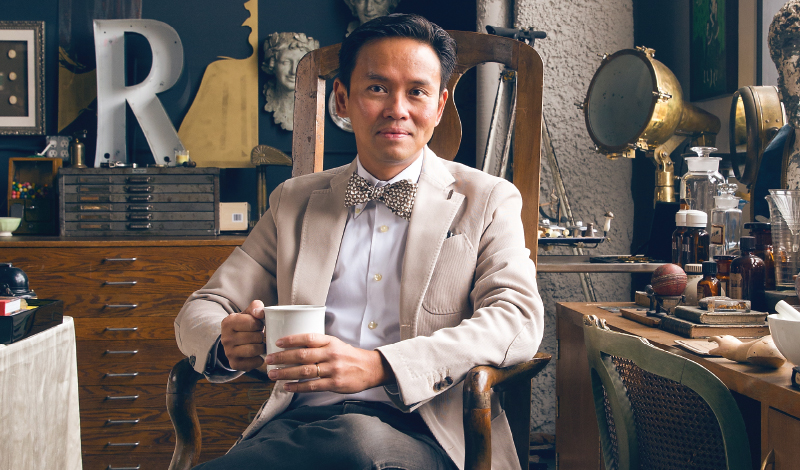 Jonathan Rachman is truly a student of the world. He's been a traveller ever since he was a child. Everything he's seen and experienced has unequivocally influenced his work, leading him to become one of the best interior and fashion designers in North America.
Jonathan Rachman is at a unique crossroads between design, style and fashion. Geographically, too, he's in more than one place: he gracefully combines elements of Asia, Europe and America. Based in San Francisco but born in Indonesia, in his work Rachman mixes a variety of influences: classic European chic rubs elbows with California Bohemian and a sparkling of Javanese exoticism. He was born in a rich family, then lost everything, then became successful again through his own work. He recently opened a flagship store in downtown San Francisco and launched a line of men's fashion bags. Oh, and did we tell you he publishes his own magazine? He is a true Renaissance man for our times, learning from the past to create an original body of work. We sat down with him in his San Francisco office to explore how his personal journey led to the creation of a unique style.
Can you tell us about your hometown in Indonesia?
I was born and raised in Sumatra. I grew up near the Krakatoa volcano, about 150 to 200 miles inland. My hometown didn't even exist 100 years ago because it was wiped out by a tsunami. My dad owned a coffee plantation; I grew up on a huge ranch, with between 15 and 20 dogs. I had maids, drivers and also a carpenter. It affected how I perceived things. The carpenter would fix furniture in front of me. Indonesia is a very crafty country. My first language is Javanese, and then Indonesian. I lived a very pampered life — I travelled a lot. My first childhood memory is being on a plane. That's why I'm highly addicted to travelling, anything from cars to boats and airplanes. I remember in the '70s, people still dressed up to travel. Then I moved to Jakarta briefly, after coming back from boarding school in Switzerland. I was there for only one year — I felt so out of place there! It's a congested city; the traffic was horrible and so hot. Culturally I felt like a fish out of water.
How was your upbringing? Did your parents have an influence on the way you developed?
I was a minority. As a family, we were Chinese, Javanese, Dutch. We're a mix and we were Christians (I'm not anymore). During my youth, I loved spending time at the Alliance Française.
I heard you went abroad to study. How was that experience?
I lived in Lausanne, in the canton of Valais in Switzerland, for seven or eight years. I think because I had travelled a lot, I couldn't wait to leave Indonesia. I felt I was born in the wrong place. Also, because of what I read. I read a lot about the world. I travelled a lot to Europe and Australia. I was attracted to classic Western culture. I wanted to be in places like Holland, or Italy, or France.
My formal education was in hospitality management. I went to Les Roches. In the late '80s/early '90s, there were very few schools offering this type of education.
I graduated in 1993 and until the time I opened my first business in 2002, I had between 20 and 30 jobs. I didn't have a problem finding a job — I had the biggest problem keeping a job! I was always in some kind of hospitality management position, but you could only have a week of vacation. I was used to the Swiss way and having four weeks of vacation. I wasn't happy working for big corporations.
I went to fashion school and studied under Gladys Perint Palmer, she's on the same level as David Downton [famed Vogue illustrator]. She does stuff for Harper's Bazaar and Dior. I never planned to be an interior designer. I actually love fashion just as much, and the two cross over.
How did you decide to move to San Francisco?
I came to the U.S. as a foreign exchange student, in San Jose. I fell in love with San Francisco. Being gay, I felt even more welcomed here. I tried to leave San Francisco three times in my life, but I finally gave up. I can't. I tried to move to France, to Portland, Oregon. But I always came back to San Francisco.
You then started a flower business.
In Oregon, people wanted to pray for me to become straight! Outside of Portland, it's redneck country. I took a piece of paper and thought that I would become a flower boy and open a stand on the side of the street. I wrote on the list what I wanted: a bucket, a pair of scissors, ribbons …
We rented the space from a hair salon. It was 100 square feet. I didn't know what to do. I'd been doing flower arrangements with my mom for the church as a kid, so I did the same. I had to work a lot, I had to work from 2 or 3 a.m. until 8 p.m.; it was so hard. From then on, I hired employees and it developed. Marc Jacobs's help was so important — they hired us for the flagship store launch in San Francisco. I had clients like Madonna and Sarah Jessica Parker. I was the VIP florist for the Four Seasons — I [worked for] a lot of government officials, ambassadors, etc. Oprah. Then came the United Nations' 60th anniversary in San Francisco, a little bit by luck. Of course, also weddings and private events. Some events for MTV. Sometimes people would spend $100,000 to $200,000 on flowers, just for a one-night party!
By 2005 I'd moved to a bigger space. Besides being a florist, I also collected vintage stuff and antiques. People could see my esthetic. They'd ask me if I could come and help them decorate their apartment or their house. I had no idea what to do. It started with one room, and then they'd ask me to decorate the whole house. Then they told their friends! Then they asked me to decorate their summer home.
I hate the word "organically" — but it truly happened organically! People saw my passion. In design, you can only learn so much theoretically. It's not rocket science. It's something beautiful. In 2009, I sold my flower company. I took my interior design skills and my clientele with me. That's when I opened my interior design firm. The showcase gives me a lot of leverage. At the beginning, it was only me and an assistant. Now we have 10 staff, and with the publishing staff, it's up to 15.
We saw the work you did on the Rincon apartment in downtown San Francisco. Can you tell us where you sourced the material?
I've done about 15 of them [apartments]. I think the one you're talking about, the penthouse, it's the tallest residence in San Francisco. For the furniture, some is the existing furniture from the client. Some is sourced from Kravet, some from Osborne & Little. The art is from my client's private collection, but I chose what to use, for example Janus et Cie. We also work with Holly Hunt.
I custom-made my client's desk from found objects. I didn't want to distract from the space's great view. This client is very wealthy, he's very humble and he travels a lot. He's very trusting. He just told me, "Here's the budget, make it colourful." This was already my second project for him. Now I've done four projects for him.
"In design, you can only learn so much theoretically. It's not rocket science. It's something beautiful"
What do you miss most about Indonesia?
I rediscovered Asia in my late 20s. I started going back to Indonesia. I was absolutely in love. Especially Bali and Java. Looking at it from my adult life, I have a completely different perspective. I reconnected with my family in a different way. It's such a rich culture, with very talented people.
I put aside the politics. I have a few clients now from Asia. When I was 13 or 14, that was the first time I went to mainland China. It was a completely different planet than now. I spent many months with my parents there, travelling to maybe 13 or 15 provinces. Now, going back to China, I love going there! Shanghai is one of my favourite cities in the world. Guangzhou and Suzhou, too.
I heard you're launching a handbag line. Can you tell us about it?
I like to travel and I like luxury goods. I love leather, what can I say! For me it's about being able to have a design that esthetically and practically serves my purpose. Having spent time in England, France and Italy, I want something that's durable, handcrafted and well made. I love everything equestrian. That's why I'm attracted to Hermès and Ralph Lauren. My dad said, "If you own something, own the best you can afford. Don't own 20 things; own one good-quality thing." It's not cheap and not expensive. My dad always told me a story: "if you're a billionaire and something cost $100 million, that's cheap. But if you own $1, then $1.50 is expensive."
I'm the most unhip person. I like old things, I go to old places. My line is a bit like that, and for me luxury is defined that way: well made, the old-school way, from Italy. We will have travel bags, messenger bags, clutches, tote bags, office and home accessories. We use shagreen from stingrays.
And I couldn't do it without my associate. I met my friend Massimo in Italy. He's worked for Bottega Veneta and Cartier. He deals with manufacturing. He's fantastic.
You also launched your own store in San Francisco last year.
It's at 1632 C Market St. in Hayes Valley in San Francisco. It's directly across from Zuni Café, a very well-known, iconic SF restaurant. It's called J.Rachman. It's like something you'd stumble upon in Mayfair in London, or in Le Marais in Paris. It has an old-school feel to it.
It has vintage [items] and antiques I've collected throughout my travels and all my leather bags and trays — bespoke luxury trays. We also have hand-painted wine and cocktail glasses. It's done for my company by Margaux Larkin. She's from the East Coast. She's a friend of mine. This year we're adding petrified wood accessories and furniture. And of course we carry Bolt Textiles — I designed their fabrics. We also offer floral design. I'm very excited about my store!
Can you tell us about the charity projects you're involved in?
I owe my life to so many strangers. I give scholarships to schools in Bali as well as here in San Francisco. My father lost everything at some point in his life. After growing up rich, I had nothing at the time I was at the University of San Francisco. I was homeless; I couch-surfed on friends' couches. I would just microwave potatoes — that's all I could afford. But I got a scholarship from USF. I even got anonymous donations. I wouldn't be where I am without them. When you're poor, you really know who your real friends are. Because of that, I want to give back. I donate to poor schools in Bali. We buy sports equipment or furniture for schools there. For many years, I have given money to the hospitality program. I had to work on campus to support myself.
What would your dream project be?
My dream project would be to design a resort or a complete boutique hotel. Ideally in Bali or Java, going back to my roots. Or to do projects in my favourite places: Bali, Singapore, London, Paris, Carmel, Hawaii, Jackson Hole. It would be a dream project to renovate an old establishment. It would also be amazing to redo the interior of an airline. I'm obsessed with flying and airlines, like SilkAir or Garuda, the airline of Indonesia. I would love to redo the Beau-Rivage Palace Hotel in Lausanne, Switzerland. But each designer has their own language or esthetic, so I have a certain esthetic; it has to work mutually.
Photos by David Robinson