Michael Shvo: A Big Believer In Fifth Avenue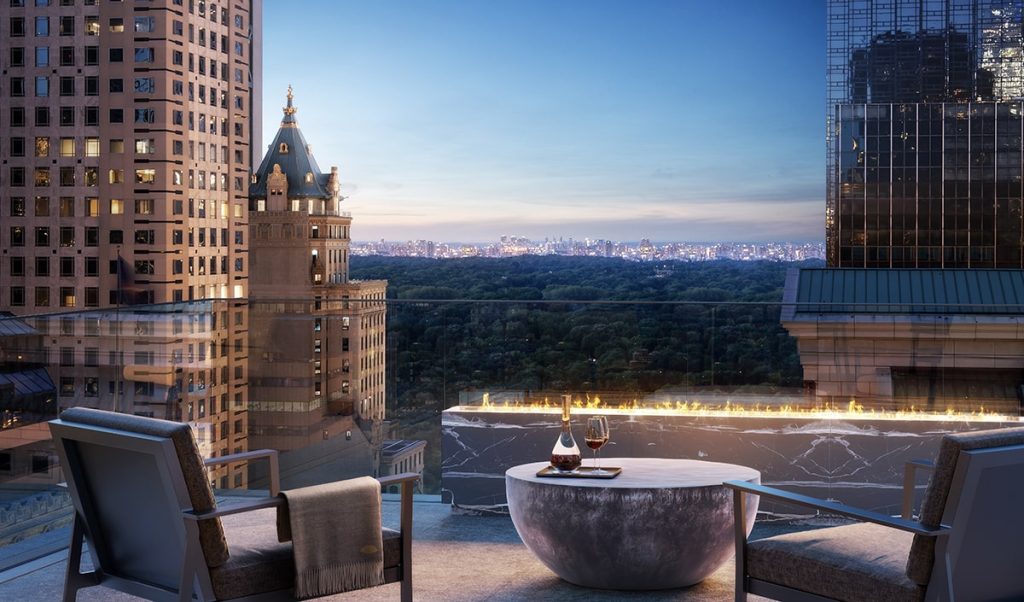 The real estate developer discusses his new project on Fifth Avenue, luxury travel after a pandemic and the importance of focusing on what you do better than anybody else.
When we spoke with Michael Shvo, he'd just finished developing New York City's first turnkey residential property. Situated at 685 Fifth Ave., the Mandarin Oriental Residences Fifth Avenue have been designed to present buyers with an opportunity to own a five-star hotel serviced space on one of the world's most famous streets.
The 20-storey address is also one with history. Originally built in 1928, when it was known as the Dorothy Gray Building, it has a reputation for being the previous headquarters of fashion house Gucci.
"The property itself is geared towards pied - terre buyers," Shvo says. "People who want to have a hotel suite in New York. People who want the hotel amenities and all the luxuries of the Mandarin Oriental services without the hotel guests, which I believe is the next evolution of travel. In the luxury world, people will want to own their own hotel room, instead of staying in somebody else's."
For Shvo, who has been leading the development process with a team of world-renowned design experts, the success of a project comes down to the strength of four things: real estate, location, partners and ideas. When you see what 685 Fifth Ave. has to offer, you'll see it ticks every box.
"I'm a big believer in Fifth Avenue," Shvo says. "One of the greatest amenities New York City has to offer is Central Park. When you walk out of your apartment and can be in the park in three minutes, it's a priceless experience."
With sales for the properties about to start, Shvo shares that the wait-list is already long and gives a sense of those looking for the city's appeal, whether they're local or international travellers. "If you come to New York City and buy a pied - terre, you want to buy it where you can walk out and be in front of Chanel, Louis Vuitton, Dior, the MoMA, and five minutes away from Broadway shows," he continues.
"The city has so many great things to offer. Having all of that at your fingertips, as well as the Mandarin Oriental concierge service to facilitate it all, is the experience people are buying here for," he says.
Whether it's the Molteni kitchens, Miele appliances, chevron oak floors and custom upholstery, or the fact it comes with amenities like housekeeping, personal training, pet walking and personal shopping, every detail has been considered.
Shvo talks of how all his development projects start with months of strategizing what the best product will be for that specific customer. With the Mandarin Oriental Residences Fifth Avenue being turnkey, that's emphasized even further. "We care about the details, design and creating an experience that doesn't exist anywhere else. When we can develop something that nobody else does, that's true success."
He also says it's a concept propelled by the pandemic. "It solidified the idea and my vision for this project," he shares. "After the pandemic, it's even more noticeable that luxury travellers want privacy and their own space. These are things we might not have thought about two years ago, but now the idea of having your own hotel suite is more attractive."
"In The Luxury World, People Will Want To Own Their Own Hotel Room, Instead Of Staying In Somebody Else's"
The project comes on the back of a continuous stream of Shvo success stories that combine to form a portfolio that spans 4.5 million square feet with a value of US$8 billion. In 2019, his company acquired 711 Fifth Ave. and continues to operate the 354,000 square feet of office and retail space.
Farther afield, he worked on the South Seas in Miami, a hotel known as a staple in the Miami jazz age. In Beverly Hills, he's currently working on Mandarin Oriental Residences, set to open in 2022.
Through it all, Shvo says the thread that ties it together is care. "We care about our partners, customers and people who live in our buildings. That's why we create these environments," he says.
It's not always about the work, though, and Shvo knows what he likes to do to unwind. He says he's a "sun and beach person" and that his favourite restaurants are DANIEL in New York and Plénitude in Paris. He's also a family man. When asked how he would define la dolce vita, he says that "it's an evolution. It depends on the phase of my life. Today, it's 6:30 in the morning with my kids." And his advice to other property developers? "I've said the same thing for 20 years: focus on what you know how to do better than anybody else, where you have a true competitive advantage. Don't try to be everything for everybody. Try to be the right thing for the right person in the right place at the right time."
Interview by Estelle Zentil