No. 7 Dale: The First And Last Of Its Kind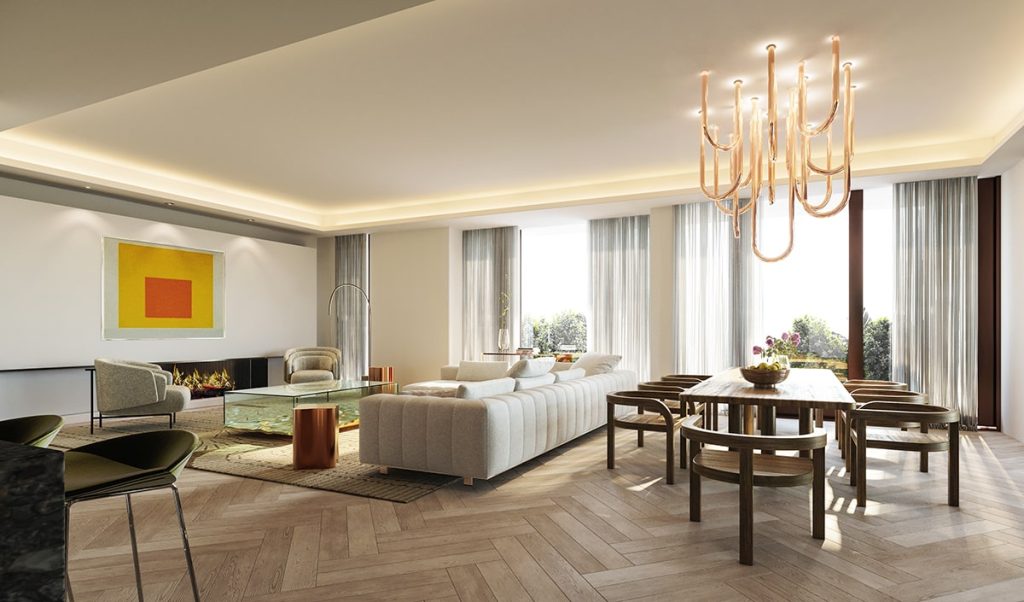 After speaking with four creatives and visionaries behind No. 7 Dale residences, a united thought emerged: The city's never seen a project like this before.
Nestled in Rosedale, one of Toronto's oldest heritage neighbourhoods, No. 7 Dale is a landmark building bringing ultra-luxury boutique residences to the market. Its founding is a collaborative one, brought to life by a team including architect Siamak Hariri, landscape architect Janet Rosenberg, interior designer Alessandro Munge and VP of development operations, Josh Shteiman.
Where Hariri's career has seen him gain international acclaim designing projects for institutions including the Art Gallery of Ontario and the Royal Ontario Museum, Rosenberg is one of Canada's most distinguished landscape architects, working on everything from public to private gardens. Munge has won a number of awards for his interior and architectural design work around the world and Shteiman has spent over a decade in the real estate development sector, working on residential and commercial projects. It's an impressive roster, and one that's pushed No. 7 Dale to what it is today.
They collectively describe the work process as seamless, lending their expertise and different disciplines to ensure the overarching vision was met. Where Shteiman calls it "a natural fit," like "passing on the baton from one discipline to another," Munge says their partnership was founded on trust. "What we presented was always respectfully accepted because it was right," he says. "It wasn't about us as individuals but us united as a team. There was a mutual respect for one another and the disciplines we know best."
From early conversations, No. 7 Dale was planned to be something different. "The concept was to create a landmark residential project that exudes care, luxury, refinement, craft and presence," explains Hariri. "Something that fits into the extraordinary historic landscape of Rosedale while acknowledging we're living in a contemporary world."
The result, touted as "the first and last development of its kind," brings together the natural surroundings of the neighbourhood with design details that have been both curated and crafted to exude elegance and a refined sense of care. It includes 26 private suites overlooking the Rosedale Ravine, with interiors defined by a soft colour palette, stone accents and high ceilings.
Every suite in the building has been finished with Dada's modern kitchen cabinetry, bespoke suite furnishings and features including glass fireplaces and oak flooring. The building comes complete with a 24-hour concierge service, private trainer room, chef 's catering kitchen, fitness studio and spa, and a historic tea house, restored and overlooking the ravine. It will be ready for move in by fall 2021.
Because of the way the project is situated, Munge describes it as having a "positive contradiction" between the building's north and south sides. "The north side has a more neighborhood aspect to it, and the south side has ravines and city views," he says. "It's a quiet place for buyers and they can choose, unless you get a penthouse where you get both. The south is more tranquil, lifting up the blinds in the morning to see nothing but trees and beautiful landscapes that have been there historically. On the north side, you're instantly part of the neighbourhood's fabric in a very understated way."
After speaking with all four members of the team, you understand the word "understated" is integral to the thought process. It's clear they wanted the property to be quiet in its presence and unassuming in its wealth. "It's not flashy or in your face," Munge continues. "There's an understatedness to it, and I think our interiors of the public spaces and residences play off of that. It wasn't about wealth to be shown off."
Hariri agrees. "It doesn't need a graphic approach to architecture but rather a crafted one. The homes in Rosedale sit quietly, with that combination of sandstone, brick, detail and refinement. We wanted to speak to that context and almost disappear into the landscape as quiet excellence."
Because of the heritage of the neighborhood and the different rating system it has architecturally, the building came with its challenges, and a process of the developers proving they wanted to give back to the neighborhood and do it justice. "I think there's beauty when a project starts with a good story based on authenticity and has emotion behind it," says Munge.
"We've discovered How important Beauty, delight, Wonder and Magic are in our Lives, and how Much of that is Delivered by our Interiors and Personal space"
Though technically a condominium building, part of its success comes with it feeling residential. "One of the big things we hear from clients is that they don't like moving into condominiums after they've had a house," says Rosenberg. "They want to keep all the qualities a house offers, which is what this property does. It gives you the incredible attributes of condominium life without you having to give up anything you had in a private house."
The regional benefits play a big part in this. Set back from the street on almost three acres of land, much of the greenery surrounding the property has been both preserved and rejuvenated with heritage trees conserved and over 1,000 new trees planted. "Good landscape design doesn't hit you over the head," Rosenberg continues. "It isn't contrived. It has a series of successions of height, textures and palettes. We don't want it to look like we were there. It's also about creating spaces that allow you to be who you want to be in them, whether you're walking, sitting, listening, meeting or eating."
This sense of residential living doesn't just come from the overall design of the project, it comes from the way the smallest details have been thought through. Whether it's the brickwork, chosen to mimic the feeling of walking into Rosedale homes, or the approach to greenery, No. 7 Dale slips into the landscape.
"This project seemed to come at the right time with what was going on in the world with the pandemic," says Shteiman. "The desire shifted towards having homes that don't compromise on luxuries if they're looking to downsize. We don't call these condos because they're residences and proper homes. They're huge, expansive, open-concept, with lots of outdoor space for entertaining and all the first-class luxuries you'd put in your home if you had one of that size."
The fact this project was realized at a time when the world was going through a pandemic is telling. The project speaks to a shift in desire, as Shteiman says, but also to how much time we've spent in our own homes over the last year. "Our personal spaces have never been more important," Hariri adds. "We've discovered how important beauty, delight, wonder and magic are in our lives, and how much of that is delivered by our interiors and personal space."
Another key component of No. 7 Dale is its potential to push boundaries. It is, as mentioned, promised to be the first and last of its kind, and the team shares that sentiment. For Hariri in particular, it comes down to how everything was brought together as one. It's something he refers to as Gesamtkunstwerk, a German term that translates to "a total work of art," used to describe works that are a complete, cohesive product. "That's great architecture," he says. "Where everything is working entirely together as one, so it gives you a totalized experience and atmosphere."
Interview by Estelle Zentil