Designed for Design – Sarah Richardson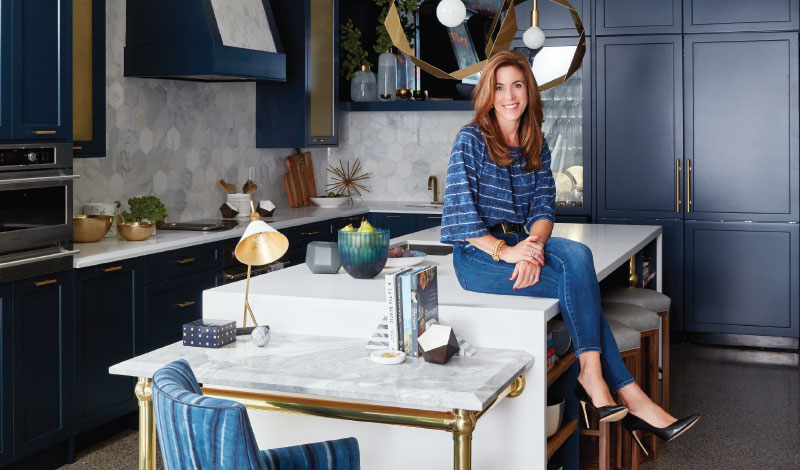 Successful interior designer and TV personality Sarah Richardson has utilized her passion for decorating and made her dreams come true. With more than 20 years of experience, Richardson is tackling new challenges, putting her family on TV and being a brand champion for Monogram.
Interview by Sarah Kanbar
Famed interior designer and TV personality Sarah Richardson discovered her passion at a young age. "I was a really creative kid growing up, and if I ever got sent to my room … I would rearrange my furniture," Richardson laughs. Pairing a love of design with an admiration for fashion, Richardson was a creative soul from birth. And what started off as venting frustrations in her room led to a passion for interior design.
Richardson says she "came by [interior design] honestly." Her mother, who was a great cook and loved to experiment with design, would involve Richardson in all of her projects. Richardson moved on to create her own projects as well, such as sewing prom dresses and other items and redecorating for fun. Through this time with her mother, Richardson's care and consideration for house and home amplified.
"When I was at university," Richardson recalls, "I probably spent more time redecorating my apartment or planning a dinner party than thinking about my next term paper." For some people, this could have been a problem, but for Richardson, it worked out perfectly. "I was fearless about trying things, and that set me on a path of creativity — and here I am," Richardson says.
The reputation that Richardson built for herself — she quickly came to be known for "having a lot of home, and entertaining and fashion [expertise]" — led her to her first job in TV. Richardson received a call from an acquaintance from university who asked if she would be interested in working as a prop stylist, which she describes as "being [like] Publishers Clearing House calling." After jobs from painting and a decorative art business, she finally had the chance to do what she truly adored. This was her first foot in the door.
Now, 20 years later, Richardson is a successful, well-known designer and TV personality. With a total of eight TV shows under her belt, Richardson has been at the forefront of creating groundbreaking television about design. Her newest TV venture, Sarah Off the Grid, is a new direction for Richardson, and one that is "most personal," as she exposes not only her house, but also her family to the public eye. Richardson describes the show as "unlacquered, unvarnished [and an] authentic portrayal of my life as a designer and at home."
"There's a saying: 'do what you love and the money will follow.' It took a long time to follow, but eventually I found it" — Sarah Richardson
Sarah Richardson Design has been a burgeoning design business since 1998, with Richardson's designs featured in her TV shows and numerous design publications on both sides of the border. She has also had two bestselling books, the second of which she wrote entirely on her own. She even cooked and styled all the food for the recipes. So what inspires Richardson and fuels this zeal for design?
Her three main sources of inspiration are the architecture (the structural design), the building's interior (the type of building it is that she is working in), and the client. Richardson says, "You put those three things together and it yields a different result." The variation of these three aspects and their combination will always result in a different, distinctive end product. This is what makes Richardson's work fresh, unique and different every time, enabling her to bring a new perspective to every project she takes on. This may sound exhausting, but for Richardson, "the bigger the challenge, the better the adventure."
Although each of Richardson's designs is exclusive and inimitable from the others, there is one component present in all of her designs: Monogram. The brand is Richardson's appliance-maker of choice for all of her kitchens, especially her own. What stands out for Richardson is Monogram's "craftsmanship, quality [and] design" of their appliances, especially the design details of the range and the vent hood. Since she discovered Monogram, Richardson has been a champion for the luxury appliance company. She describes its products as exactly "what [she] wants."
Monogram, upon learning of Richardson's infatuation with its work, has formalized the partnership to make her an official brand champion for the company. The partnership is seamless, which Richardson believes comes from a shared belief in "craftsmanship, quality and design. And quality, design and value in equal measures."
As part of a special project, Monogram partnered with Richardson to design a contemporary kitchen to inspire homeowners at the Monogram Design Centre in Toronto. Richardson sees a kitchen not only as a place to cook, but a place where people gather, lounge and hang out. This learning kitchen has been designed to reflect that lifestyle. Richardson calls it a "kitchen with personality" containing artisanal references and handcrafted elements. The navy-blue palette and a wall of antique mirrors that "almost look like a cloudy night sky" prompt Richardson to call it her "night-sky kitchen."
Richardson never stops working and trying to improve. She is currently tackling several design projects, working on new partnerships, launching a wallpaper collection and thinking about meal ideas for her TV show. "There's always something cooking in my kitchen," Richardson says, both literally and figuratively.
Richardson achieved success by finding her passion and pursuing it through years of hard work and dedication. To young aspiring designers and entrepreneurs, Richardson offers some solid advice. "There's a saying: 'Do what you love and the money will follow.' It took a long time to follow, but eventually I found it…. The best thing you can do is have a sense of self. Trust your gut. Don't be afraid to express your creative personality, but also never lose sight of the importance of integrity and authenticity."
www.sarahrichardsondesign.com
www.monogram.ca
photos courtesy of monogram