The New Kid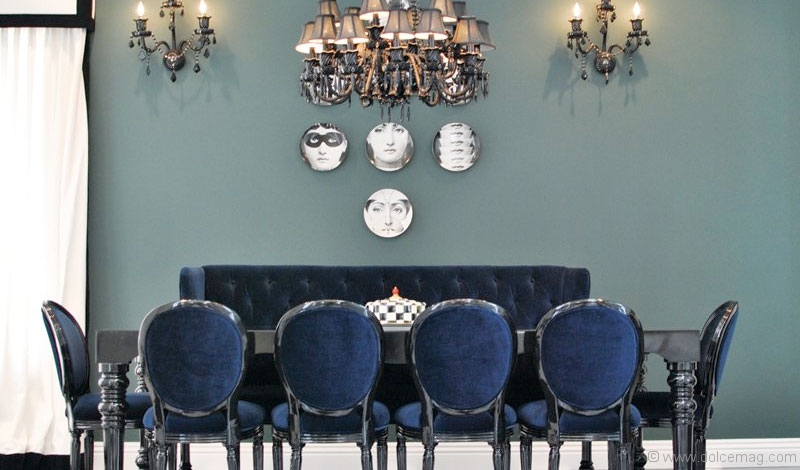 The millennial generation: an age of incomprehensible tech toys and shock factor, of cracking into new frontiers — and of Ryan Saghian, whose fresh formula for flawless interior design contains all of these elements. He may be 23 years young, but this West Hollywood native is in the
midst of conquering the interior design world. Armed with his iPhone, coffee and some tricks up his sleeve, Saghian is rejuvenating the industry
Dolce Magazine: Cliché opening question: What inspired you to get into design?
Ryan Saghian: To be completely honest, nothing in particular inspired me. It was always what I wanted to do.
DM: Give us a quick pitch of your design style.
RS: I have a distinctive flair that is very obvious in my work. I like to juxtapose classicism with modernism, raw with refined, and take risks where I'm most scared. I live for a challenge and I love working with all kinds of styles, but somehow, when all done and complete, they all have the same ring to them.
DM: You're based in L.A., but do you work outside of California as well?
RS: I consider projects all over the globe. Most recently, I was commissioned to work on a project in New York City.
DM: Dream client?
RS: I would kill to work for John Legend!
DM: You're known for your interesting design process — can you break it down, from start to finish?
RS: I ask all my clients to show me what their dream room or house would be like, whether it's out of a décor book, magazine or Pinterest board. I then put together a layout in AutoCAD with precise measurements. I then take an acrylic tray and toss in everything that I love: paint chips, metals, swatches, printouts, stones — anything necessary to complete the space. When I finish collecting all my options, I narrow them down and begin the fabrication of my project boards.
DM: Three things you absolutely need while working?
RS: Coffee, my iPhone and my planner.
DM: Eye-catching accent pieces are a constant throughout your work — a metallic hand chair, glistening silver walls, a driftwood coffee table … Why are these so important?
RS: It's not hard to walk into a showroom and purchase a gorgeously curated vignette. But chances are, if you've seen it, other people you know have seen it too. I like the "Oh! Where did you find that?" remark, and that's why I mix in eye-catching pieces that are unique and special. I like to give a space drama and an ultimate "wow" factor, and I think that is why people hire me.
DM: What project would you say has been the most integral to your career so far? Or are you still waiting for that project to come?
RS: About a year and a half ago I began a project in Santa Monica for a celebrated ophthalmologist and his family. I worked on the house from the ground up and it is one of my most astounding projects. When I complete it this December, I will not only have an exquisite piece of work to add to my portfolio, but a friendship that I will cherish forever.
DM: Although you're quite young, you're already recognized as a rising star in the industry, having worked on a collection of notable projects and appeared in an array of big-name publications. How do you plan on evolving from here?
RS: The sky is the limit! I want to have an international luxury brand, a global tastemaker that will leave an incredible legacy.
DM: When you're not designing, how do you like to spend your time?
RS: I love to dine out and try new restaurants. L.A. has so many different neighbourhoods with new and great places that I love to explore.
DM: What do you love about L.A.'s design scene?
RS: As one of America's leading design cities, it's ever-evolving and growing. Like myself, I see a lot of fresh, young talent emerging, and I love how the community embraces new faces.
DM: What is la dolce vita to you?
RS: Surrounding oneself with beauty, indulging in luxury, travelling indefinitely.
Photos By Jenna Lee