Briony Douglas is Making Art Larger Than Life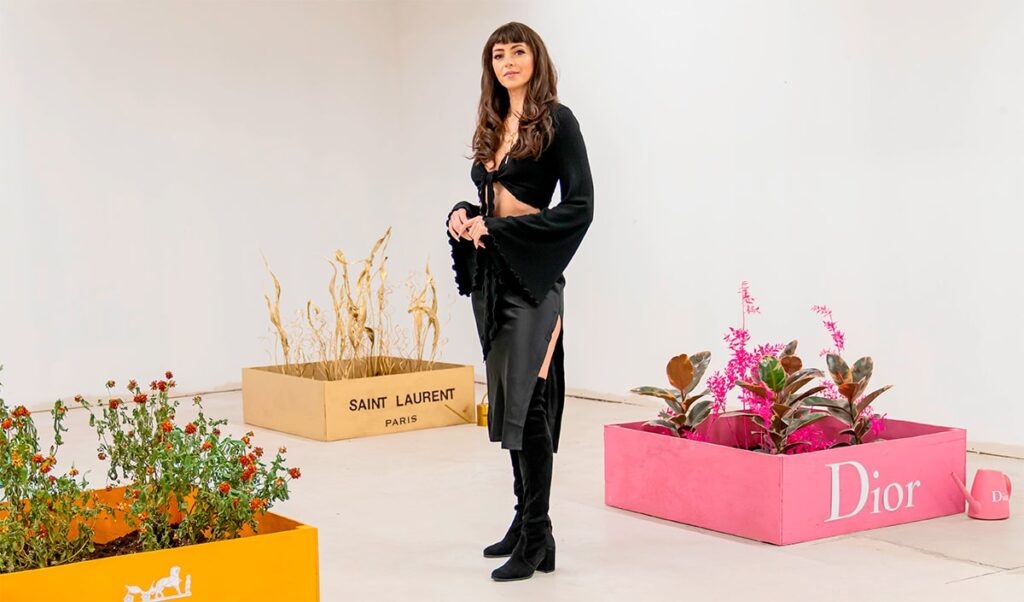 Calling Briony Douglas's art larger than life is an understatement. Just take a look at some of her work: a 20-foot teddy bear, a life-sized Porsche installation, and Pantone art made with 15,000 tiny pieces to make one large picture. Welcome to A Show With No Theme, a show full of nostalgia and bright colours.
When asked if her art is over the top, Douglas shares, "Absolutely. I made a seven-foot piece with pasta all over the top and a giant-sized car just because I wanted to."
Having grown up in Woodstock, Ont., the dairy capital of Canada, Douglas takes inspiration from her upbringing and channels it into her art. "We were pretty poor growing up, but you can see that through my art now as an adult, which is why I play with a lot of designer things to speak to that."
One of the installations in her art show includes an arm-candy room that was inspired by a Bottega bag Douglas had seen that looked like candy. "I said, well, it looks like it's made out of licorice. Why don't I just make it out of licorice?"
Blending surrealism and pop culture elements, Douglas uses her art as a platform to start dialogue. "It's the most amazing thing you can do with art, right, because it's such an unbiased way to start this conversation." One piece from the show, in particular, speaks to online trolls. "I did my last art show and someone insulted me by trying to say that my art was not good. They called it 'macaroni art for adults.' So, what I did was actually make an entire piece out of pasta as kind of a clapback. You can turn a bad situation into something good." We visited the show to learn more about Douglas and her larger-than-life imagination.
"There's something so amazing about standing in front of art as opposed to watching it through a screen."
Q: How would you describe your art?
A: It took a while to develop who I am as an artist, and everything is very eclectic. That's why it is a "show with no theme." There are so many different mediums. But when I was younger I thought that I had to create my art through sadness, I thought that I needed to be dark. And as I grew as a human and became happier, I created my art through happiness. I think and I hope what people take away is a feeling of happiness. There's a lot of colour in my work. And a lot of nostalgia.
Q: If you had to explain your process, what does that look like for you, your creative process?
A: My process is very chaotic. I have endless creativity and I know that's a nice thing to have as a creative, but my body can't keep up with all the ideas and thoughts that I have in my head. I have a list of things that I still want to do. This art show was an opportunity to make overdue stuff that I had really wanted to create for a long time. It was also an opportunity for people to see my art in real life, because it's been so long. There's something so amazing about standing in front of art as opposed to watching it through a screen.
Q: Have you found that there was a common thread among the individuals purchasing your art?
A: The first two pieces have sold to two women here in Toronto that I respect. They're both powerhouses, CEOs of their own companies, so I guess that is a common thread. I was very flattered that those two humans, specifically, would want my art in their house.
Q: You're a voice for the mental-health community. Can you share why you're so passionate about that?
A: For a few reasons. I struggle with anxiety myself. I think I have high-functioning anxiety. I grew up with some members of my family who struggled with a lot of mental health issues, so it was something that I navigated a large majority of my life. That's why, you know, in any instance, I'm always trying to think of everyone's perspective. If someone is getting mad, maybe someone passed away earlier that day. You never know.
Q: Tell me about your sneakers — you're a sneakerhead?
A: I have a lot of sneakers. Like, an unhealthy amount. I have a second bedroom in my house that is just all sneakers now, which is pretty cool. I hope this never changes, because as a child I never thought that I would have even one cool bedroom, let alone a second bedroom that has neat stuff in it. I do think that sneakers in themselves are pieces of artwork. There's usually a story behind it when they do collaborations.
Q: Do you have a favourite pair?
A: I have a few favourite pairs. I think my favourite would be the Fear of God sneakers that I got from Jerry Lorenzo. We made him a Barbie a few years ago and we brought it down to L.A., and then he gave us that. He gave me the Friends and Family pair. It's in a box and I don't wear those. But everything else I do wear because I think, Why spend a lot of money on something if you're not gonna wear it out?
Q: How would you describe your style?
A: I definitely think that my fashion is different. I do like statement pieces. You know, when you walk into a room like, Oh, my gosh. What is she wearing? Sometimes it's a little too over the top, but I like that.
Q: Where do you see the next, like, three years headed for you?
A: I'm just very much a day-by-day person. For me, I just kind of do things a day at a time and then just keep being grateful for all the opportunities I do have.
Q: What does la dolce vita — the sweet life — mean to you?
A: There's three things. Enough money that you're able to live comfortably, time and health. So, for me, I'm doing OK now, so I do have that. Do I have a lot of time? No. My health is okay. I'm pushing it a lot. So having those three things would be that perfect ideal to me. I need to find that balance.
This interview has been edited for length and clarity.