Toronto's Fashion & Food Power Couple: Giuseppina Policaro Mele & Salvatore Mele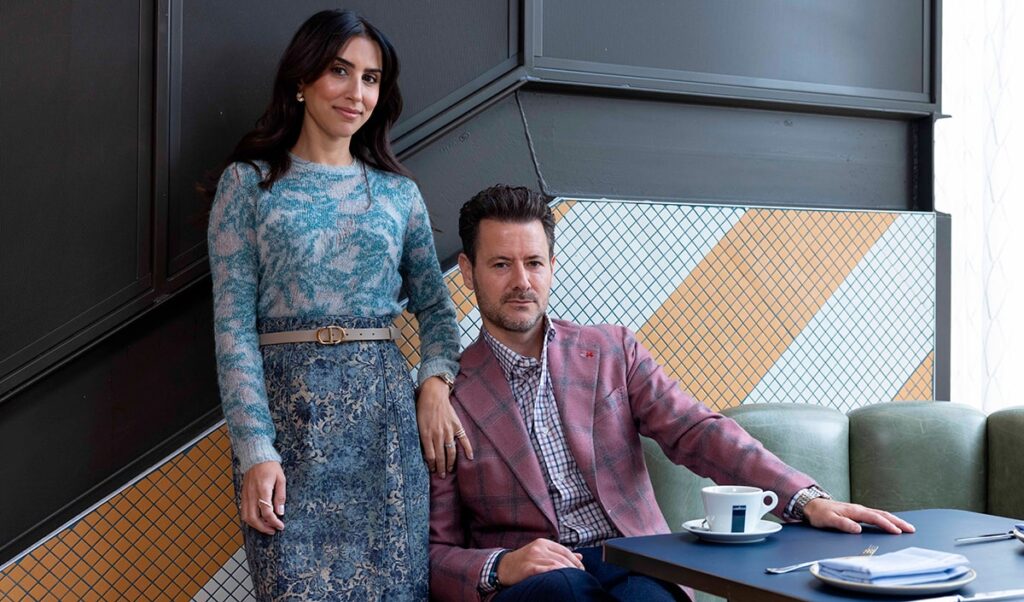 Meet the woman behind Toronto's best-dressed women and the man behind the city's chicest Italian restaurant establishments.
Wearing an oversized grey flannel sport jacket and a silver-cream cloth-and-mesh midi-skirt — all Prada, of course — Giuseppina Policaro Mele is runway-ready. In fact, she is always runway-ready. Call it a hazard of the job. As the stylist of choice for many of Toronto's most fashionable, high-profile clients, Pina (as she's affectionately known by friends and family) is on speed-dial for a discerning clientele who have called on Policaro Mele to fix more than one last-minute fashion emergency. And, as you scroll through Policaro Mele's Instagram feed, you can see why. Her beautiful esthetic is informed by classic Italian notes (think Prada, Fendi, Miu Miu, Valentino) accented by unique pieces that infuse each outfit with just the right amount of flair and individuality. As she explains, "I think my specialty is that I really like to mix and match and find different ways to wear something, as opposed to the conventional way of wearing something. I really push colour because I love colour, and so I always try to help people get away from black and find a little bit of happiness in dressing."
Freshly home in Toronto from Italy's iconic Milan Fashion Week (where, it goes without saying, Policaro Mele's mesh midi-skirt was considered the "it" item of the season), Policaro Mele and her husband, Salvatore Mele, the principal of the acclaimed Oretta restaurant in Toronto, joined the Dolce team to discuss fashion, food and family — and, naturally, get in front of the camera for a photo shoot at Oretta's brand-new midtown location.
In many ways, Oretta Midtown is the perfect location to be meeting Toronto's fashion and food power couple. It is a chic Italian oasis — classic olive-green leather booths anchor the bright roomy space, all of which is accented by flashes of pink sprinkled judiciously throughout. The bespoke pink-and-burgundy zigzag to-go coffee cups and designeresque Instagrammable pizza boxes — fatta con amore! — firmly plant Oretta's flag as Toronto's home to outside-the-box thinkers who nonetheless value classic recipes and hearty ingredients. Every bite of food or sip of drink at Oretta is equal parts substance and style.
And so, too, are Policaro Mele and Mele. If Oretta stands at the intersection of food, style and design, it's because Policaro Mele and Mele have uncovered the common strand fundamental to their respective lines of work. As Mele puts it, "I think hospitality or any service-based business is all about how you make people feel, and so when people come into the restaurant, I want people to feel important." Equally so, Policaro Mele adds, for fashion. It's no coincidence, then, that the Dolce team was made to feel at home at Oretta despite an 8 a.m. call time on a grey October morning, with coffees (Lavazza, of course) for everyone. Oretta didn't skip a beat, despite our presence, as the restaurant prepared diligently for the upcoming lunchtime rush. Especially nowadays, a thriving hospitality business takes care, energy and devotion.
Given Policaro Mele's prominent reputation in Toronto's fashion industry, Mele and Policaro Mele can't help but laugh at the common assumption that Policaro Mele must have been responsible for Oretta's stunningly chic design. "I had nothing to do with it!" confesses Policaro Mele. They credit Commute Design Studio for the interior of the restaurant, who expertly embellished the space with Italian-made furniture, marble tables, and tones of coral, indigo, olive-green and faint rose. As Mele points out, "When you come into a restaurant, you don't realize that everything has been carefully curated for your experience, from the cutlery to the plates to the uniforms. I think all those little details come together and it becomes seamless. It's all so thought out but it all works. It's like fashion, too. It's the little details, but it comes together and it works." But that's not to say that Policaro Mele hasn't lent her expertise to the restaurant. As Mele notes, "I always ask her about certain things at the restaurant and she gives me her honest opinion."
Importantly, Policaro Mele's opinions are always informed by her perspectives on the role of fashion in today's world, which dovetail with Mele's views on hospitality: "Most of my clients are all very fun and able to allow me to help them and show them new things — they're very adventurous in that regard. They trust me, and so with the trust that I've gained with them, it allows me to show them things that they would never even look at in a store themselves. As a whole, they're excited about fashion, their appearance, having fun with it, and not taking it too seriously. It's not a chore, it's just feeling great about yourself."
"I really push colour because I love colour, and so I always try to help people get away from black and find a little bit of happiness in dressing."
-Giuseppina Policaro Mele
Both Policaro Mele and Mele are avid travellers, and even came up with the restaurant's name together on an impromptu trip they took to New York City together. "My wife and I travel a lot and we were in New York at a restaurant that had a girl's name. We thought how nice it was to name a restaurant a girl's name — a pretty, fashionable urban, Italian woman, and so we researched names and we came up with Oretta," says Mele.
Oretta's origin story could just as easily apply to Policaro Mele, who embodies these chic, fashionable attributes with an added inch of European je ne sais quoi. She traces her passion for fashion to her parents, who, as Policaro Mele explains, "are very stylish, both Italian and really into fashion. My mom, when she was younger, used to go down to Spadina and find outfits to create herself. And then when I was about five, I started making sketches and creating my own little cut-outs and mixing and matching outfits together."
Between Policaro Mele's thriving styling business and Mele's hands-on management of multiple restaurants under Capocaccia Trattoria and Oretta Hospitality Inc., it's hard to believe that these loving parents are raising three beautiful children together. "It's not the easiest thing. Our kids are so little, and they have their own busy schedules. We're fortunate that we can sometimes work on opposite schedules … If I didn't have Sal's support, I wouldn't be able to do it … We're just trying to instil in our kids to be together for dinner, spending time together, and then we pull ourselves away from work to do little things with the kids," says Policaro Mele.
As we wrap up at Oretta Midtown, in the spirit of true hospitality Mele crafted a few pizzas to go for the Dolce team. As I took my first bite of the Cardinale — fittingly named after Mele's father's hometown in Calabria — only three words were able to come out of my mouth: Che bella Oretta!
gpmstylistinc.com
@giuseppinapolicaromele
oretta.to
@orettamidtown