Acqualina Resort & Residences: One of a Kind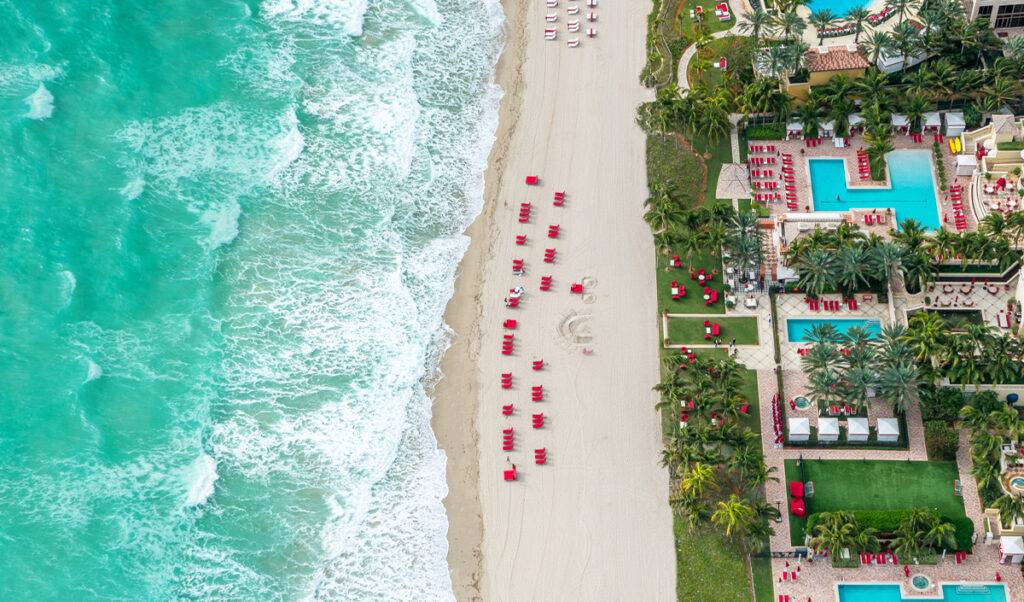 With no barrier between the property and the Atlantic Ocean, Acqualina is the only hotel in Florida built open to the sea.
Set across five acres, Acqualina Resort & Residences is a 98-room retreat situated between Miami and Fort Lauderdale. With distinctive architectural features that include baroque fountains and decorative archways, breathtaking views and careful consideration that touches everything from the beaches to the bath products, it's a true escape from the modern world's stresses.
The space has several pools that promise an outdoor sanctuary. Where the Beach Club Pool is fitted with lounge chairs and private cabanas, the Tranquillity Pool is for adults only. Guests also have the Recreation Pool, which hosts the resort's aquafitness classes.
When asked what word she would use to describe the resort, Deborah Yager Fleming, CEO of Acqualina Resort & Residences, uses "exceptional."
"Our success is largely built on extending a personalized service to all of our guests," she says. "We have guest experience managers that are assigned to arriving guests and a dream- maker culture that empowers team members to customize services based on each person we meet. No two parties are the same, and we encourage our team to identify what would make someone's experience special."
Dining is an important part of the resort's experience, and there are several menus and taste profiles to immerse yourself in. Acclaimed Italian restaurant Il Mulino New York is waiting to offer authentic Italian food, Ke-uH introduces Japanese fusion, and Costa Grill allows guests to dine outdoors next to the beach. Avra Miami is the fourth, bringing a taste of Greece to the selection. It overlooks the beach at The Estates at Acqualina and can be accessed via a skybridge.
The resort also offers several spa services that are focused on relaxation and rejuvenation and can be customized to fit a guest's preferred experience. More specifically, the spa offers relaxation lounges with Himalayan salt walls, crystal steam rooms, arctic ice fountains, showers and Finnish dry-heat saunas.
Rather than staying in place, Acqualina is constantly looking at how it can introduce improvements or better its amenities.
Speaking about the people she has brought together to keep Acqualina going, Fleming says, "One of the things we're constantly having conversations about is the fact we have to surround ourselves with curiosity. When you have a team that questions things, it will lead to greater efficiency and success because they won't accept the way things are done. It's important to be curious and ask questions."
"ONE OF THE THINGS WE'RE CONSTANTLY HAVING CONVERSATIONS ABOUT IS THE FACT WE HAVE TO SURROUND OURSELVES WITH CURIOSITY."
As part of that thinking, Acqualina underwent a number of renovations earlier this year. Its gallery lobby was refreshed to introduce a colour palette inspired by the emerald-green waters of the Atlantic Ocean, complete with new furniture and bespoke handcrafted rugs. Bathrooms in guest rooms and suites were also remodelled with Italian marble floors, glass-enclosed showers and wall-to-wall Molten vanities.
"Our DNA is classic traditional with modern elements, and we wanted to keep that because we want all of our spaces to feel like they're meant to be lived in," Fleming says. "It's not a space where you go to shower, change and sleep. We want you to feel super-comfortable, like you're staying in the home of good friends."
Thanks to its location, Acqualina provides easy access to Miami's key destinations, shopping and nightlife while making the most of the surrounding sunny shores.
While Acqualina invests so much to ensure that guests are satisfied on-site, it also gives back to communities beyond its walls. In 1995, it founded the Miami chapter of the I Have A Dream Foundation, which empowers children in low-income communities to reach higher education and fulfill their leadership potential. Every year, Acqualina's owners host a gala to support the foundation.
Whether it's the food, furnishings or design of the swimming pools, something that runs through everything is attention to detail. "You're going to feel this caring approach not just from the valet and front desk when you arrive but throughout the property, as you're interacting with concierges, welcome attendants at the pool and beach desk or a server," Fleming continues. "It is a common thread that we have here throughout the property."
www.acqualinaresort.com
@acqualinaresort
INTERVIEW BY MARC CASTALDO