Sensuous, Unstoppable, Magnetic, Phenomenal: The Wattage That Defined Tina Turner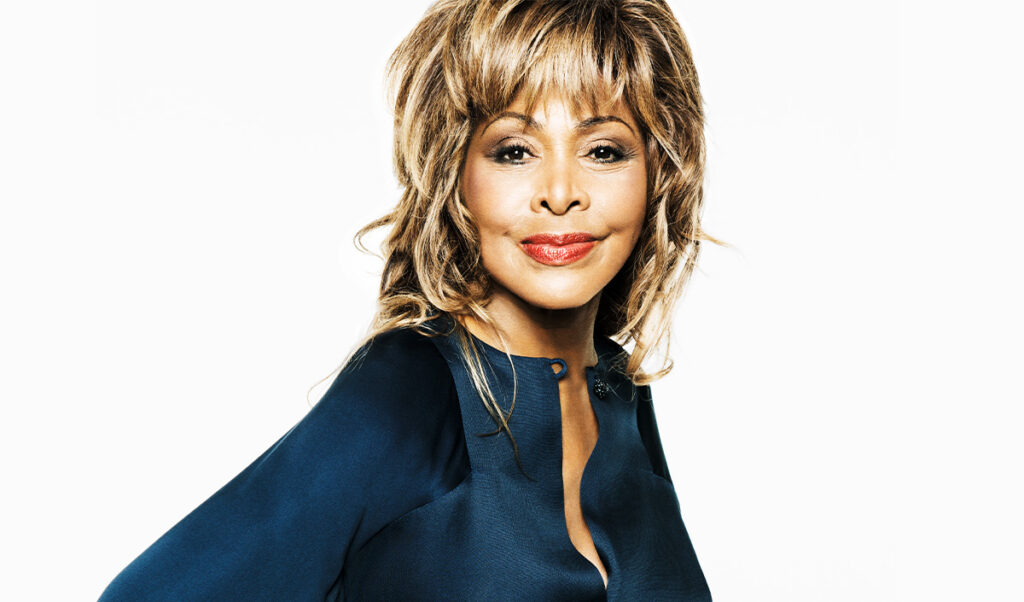 The universal outpouring of admiration and respect across all generations is a testament to the love and deep joy Tina instilled in us all.
A temptress. A trailblazer. A tornado. A 2.0 version of an electric human being rolled and power-packed into a mere 5 foot 4 inch frame.
And oh, those legs! Rumour has it they were insured in the neighbourhood of US$ 3.2 million at the peak of her career — they were undeniably a show on their own. Never mind the leather miniskirts, feathers and sequins, and the startling blond wig that looked like it'd just been unplugged from a high-voltage socket.
Of course, there was also that "Ooh la la!" smile that was a permanent performance fixture, a smile that highlighted Tina's wondrous cheekbones and was as wide as her legs were long. All of these attributes were important parts of her image, no doubt about that, but they were mere foils to the voice that pretty much everyone on the planet knew and loved, the one that was encapsulated in her one-word name: Tina.
In fact, Tina, who passed away after a long illness on May 24, 2023, at her home in Küsnacht, Switzerland, was one of only a handful of performers whose first name is not only widely recognized, but which also immediately conjures images of fire, thunder and outsized, unstoppable energy.
Born Anna Mae Bullock on November 26, 1939, in the then-segregated southern town of Brownsville, Tennessee, she attended the one- room Flagg Grove School and as a young girl sang regularly at the Woodlawn Baptist Church. She also helped her sharecropper dad pick cotton. After her parents separated in the early 1950s, Turner went to stay with her maternal grandmother in Nutbush, Tennessee, a town she immortalized in 1973 in a song she wrote for the album of the same name,
Nutbush City Limits:
You go to the fields on week days
And have a picnic on Labor Day
You go to town on Saturday
But go to church ev'ry Sunday
As a teenager, Anna Mae hung out at nightclubs in St. Louis, Missouri, which is where she met Ike, who was playing with his band, the Kings of Rhythm. Recognizing the possibilities of her powerfully raw voice, Ike invited Tina to record with his band as a backup singer in 1958. By 1960, Ike was in full control, reimagining the then-20-year-old singer as "Tina," a supposed nod to the comic-book heroine Sheena, Queen of the Jungle. He added his last name, Turner, as well, so that if Tina ever decided to leave him and his band he could quickly replace her because he'd trademarked the name. Ike also retooled his band, calling it The Ike & Tina Turner Review, a name the couple performed under from 1960 to 1978.
"IT NOT WHAT HAPPENS TO US, IT'S HOW WE DEAL WITH IT."
Ike married Tina in a quickie Tijuana, Mexico, ceremony in 1962, which he celebrated, outrageously, by taking her to a "live pornographic sex show right after the marriage ceremony," as Tina recalled in her 2018 memoir, Tina Turner: My Love Story. Their stage presence was one of wild and raw magnetism, but behind the scenes Ike was a brutal man who heavily abused cocaine and cruelly paraded a series of women through the couple's marital home.
With singing and dancing her overriding passions and feeling she had nowhere else to go, Tina did her damnedest to stick it out as she and Ike started to gain traction on the world stage. In 1966 on their U.K. tour, the Rolling Stones invited Ike and Tina to open for them, and again in 1969 for the band's American tour, which gave the couple a major fan following and a much younger audience base.
On the 1981 promotional tour for the album Tattoo You, Tina, who was now performing on her own, once again joined the Rolling Stones as their opening act, performing "Honky Tonk Women" with Mick Jagger, a song she also performed with the band during their 1989 Rock & Roll Hall of Fame induction performance.
"I'm so saddened by the passing of my wonderful friend Tina Turner," Mick Jagger tweeted the day she died. She was "inspiring, warm, funny and generous. She helped me so much when I was young and I will never forget her."
Not only was Tina a friend of Mick's, she was often credited with teaching him to move in the sexually provocative way for which he soon became famous.
As has often been chronicled, Ike and Tina's marriage became increasingly toxic, with Ike's eruptions becoming ever more violent. In her 2018 memoir, the singer recounts her abuse and 1968 suicide attempt: "For starters, there were three women at the house at the time, and Ike was having sex with all of them. Three of us were named Ann — which meant he only had to remember one name. One of the Anns, Ann Thomas, was pregnant with his child — another insult to me. Everything was diminishing — my status, my confidence, my world. One night, just before a gig, I simply couldn't take anymore and swallowed 50 sleeping pills."
Tina was rushed to the hospital and had her stomach pumped. The next day an unsympathetic Ike came to the hospital, verbally abused his wife, and then ordered her back to work.
The couple's relationship came to an explosive head in 1976 in Dallas when a battered and beaten Tina — with one eye swollen shut and several broken ribs — ran across a busy highway into the lobby of a Ramada Inn with only 36 cents and a Mobil gas card to her name.
"A country girl knows how to run through fields and do all that daredevil stuff," Tina recounted in her 2018 memoir. The singer told the manager that she was Tina Turner and that she had had a fight with her husband, had no money, and needed some help — if he'd put her up for a few nights at the hotel, she'd pay him back. She filed for divorce that same year.
In an August 1996 article in Entertainment Weekly, reporter Cheo Tyehimba writes that after Tina left Ike, "Several promoters lost money and sued to recoup their losses. For almost two years she received food stamps, lived with friends, and played small clubs to pay off debts. In 1979, she persuaded record promoter Roger Davies to manage her comeback. 'We sat down and shared some ideas,' [Davies said], 'and we've been together ever since.' In 1984, Tina released 'Private Dancer,' and 'What's Love Got to Do with It' became her first No. 1 single (and the title of her 1993 biopic)."
A look into Tina's background, an important backdrop to her story, gives fans and admirers an understanding of her mettle — how her courage and resilience defined who she was, enabling her to rise out of the depths of despair and onto the world stage as a singer, songwriter and lover of dance — but also of a remarkable woman who deserved both our respect and love. Indeed, love has had everything to do with the public's admiration and respect for Tina.
"It's not about what you've gone through but what you're going to do next and how you're going to get there," says Deric Dyer, who toured with Tina as her saxophone player on her 1987 Break Every Rule World Tour, playing 230 shows with her all over the world. "Tina approached every day with a positive attitude — she just wanted to make great music. She didn't carry the luggage from the past, and I have great respect for that."
Dr. Lenore E. Walker, director of the U.S.-based Domestic Violence Institute, identifies Tina as an influencer:
"When Tina Turner spoke out about her life, it brought home the fact that this type of violence was everywhere. Women were not believed when they talked about domestic violence, so when Tina Turner, a famous and highly respected singer, spoke up, [it gave] other women the courage to do it, too."
Oprah Winfrey, also a big fan and admirer of Tina's, stated, "Her life became a clarion call for triumph."
And while it is no secret that many great performers have egos that are hard to deal with, Dyer says that Tina did not carry herself that way.
"There was no question about who was top dog in the room — it didn't matter who was there — Mick Jagger, Eric Clapton, whoever — they all bowed to Tina. She was undoubtedly 'The Queen of Rock and Roll.' Everybody knew and Tina knew, but she didn't act that way," Dyer says.
Former Tina impersonator, Pat Dumont, who decades ago performed at private parties in the Orillia area, began to impersonate the rough-and- ready singer after Tina returned to stage with her massive hit, "What's Love Got to Do with It," a comeback that many in the music industry have deemed among the greatest returns of the 20th century. Tina was 44 at the time.
"My friends thought that I looked a lot like Tina and encouraged me to impersonate her," Dumont says. "One friend bought me fishnets, another a leather miniskirt and denim jacket and yet another a blond spiked wig. I'd seen a video of Tina a year or two before — I took note of how Tina strutted with Mick and the signature moves that she did with her hands, her head, and of course, her spins. I had been taking jazz dancing and so I was confident that I could pull off her moves, especially the spins, which I practiced in front of a mirror. What inspired me about Tina was her overall aura. I had never seen a woman who was so entertaining perform on stage and I especially liked the way that she worked the audience. Tina was a woman who came from nothing, like myself, and made it big. I've always admired her willpower, determination and tenacity."
Crediting her Buddhist faith for the courage to leave Ike, Tina said that chanting helped her to see her life as it really was. She said that with chanting, "you can find the hum inside of you that can give you peace when you are really down."
Inducted twice into the Rock & Roll Hall of Fame — in 1991 with Ike Turner and again as a solo artist in 2021 — in 2005 Tina was the recipient of both the Kennedy Center Honors and a Woman of the Year award from a U.K.-based not-for-profit that honoured her as "an exceptional woman whose conduct in both her personal and her public life has been both brave and bold; building her life on her own terms and motivating women throughout the world to survive and to succeed with style and character."
In her lifetime Tina was also honoured with a star on the Hollywood Walk of Fame and on the St. Louis Walk of Fame. Known universally as the "Queen of Rock and Roll," the singer won eight Grammy Awards (she was nominated 25 times), 3 Grammy Hall of Fame inductions and a Grammy Lifetime Achievement Award, not to mention the many other awards and nominations she received.
With a career spanning five decades, Tina Turner also holds the Guinness World Record for selling more concert tickets than any other solo performer in history. Tina is one of the biggest- selling female artists in music history, selling more than 150 million albums and singles worldwide. Her millions of fans know most of the words to her easily recognizable songs, including such classics as "River Deep, Mountain High" (1966), "Proud Mary" (1971), "Nutbush City Limits" (1973), "Acid Queen" (1976), "Let's Stay Together" (1983), "Private Dancer" (1984), "We Don't Need Another Hero (Thunderdome)" (1985), "The Best" (1989), and of course, the wildly popular "What's Love Got to Do with It," which was released in 1984.
Dyer describes Tina's energy thusly: "Have you ever seen anybody weld anything? That's what Tina's energy was like — it was on fire. She was a live wire; her energy level was completely maxed out — when she was performing she was always on point and ready to go. Tina gave it her all every night."
But while Tina's story is one of outsized fame and success, award-winning recognition and widespread love and admiration, it was also a journey of great tragedy, sorrow, loss and grief. "It's not what happens to us, it's how we deal with it," Tina is famously quoted as saying, and she often appeared to be fearless, turning great challenges into self- affirming adventures, often on the world stage. In 2018, her eldest son, Craig Turner, whose father was saxophonist Raymond Hill, died by suicide. Ronnie Turner, who she had with Ike, died of complications due to late-stage cancer and cardiovascular disease in 2022.
Since Tina's recent passing, jaw-dropping images are appearing all over social media, such as photographer Peter Lindbergh's black-and-white shot of her hanging off Paris's Eiffel Tower in high heels and a minidress for the cover art of her 1990 single "Foreign Affair." Tina was 50 years old at the time but she declined to take off her heels to walk up the tower's entire staircase.
"We told her she could put the heels on after she had climbed the tower," Lindbergh recalled decades later. "But she just replied, 'You must be kidding!'"
After over five decades and thousands and thousands of hours performing in her trademark style, Tina finally retired in 2009 at the age of 69.
Tina met the then-30-year-old German music executive Erwin Bach in 1986 and in 2013, after 27 years of dating, Tina and Erwin finally got married. There was a 16-year age gap between them — but once again, love had everything to do with their relationship: in 2017 Erwin made a life-saving donation of one of his kidneys to Tina.
In her 2020 book, Happiness Becomes You: A Guide to Changing Your Life for Good (Atria Books/ Simon & Schuster Inc.), Tina wrote:
"We grant each other freedom and space to be individuals at the same time we are a couple. Erwin, who is a force of nature in his own right, has never been the least bit intimidated by my career, my talents or my fame. He shows me that true love doesn't require the dimming of my light so that he can shine. On the contrary, we are the light of each other's lives, and we want to shine as bright as we can, together."
Well, Tina, on top of the love, respect, admiration and deep devotion you have nurtured and inspired in your worldwide fan base, we were and will continue to be encouraged and motivated by your belief in yourself, your courage, determination, resilience and grace under fire. Not to forget, of course, your immutable talent. Greater than the sum of your parts, with each one of those parts being simply the best — love has everything to do with the legacy you've left us.
In fact, the universal outpouring of love, respect and deep gratitude for both your talent and the celebration of your qualities as an influencer and human being is both astonishing and well-deserved. It's true, Tina, that we didn't need another hero — we already had you in our midst. You were the definition of heaven-sent.
And what exactly does that mean for adoring Tina fans?
Well, in Tina terms, heaven is a cross between those legs that appeared to rise up to the very stars, the dance routines that seemed almost impossible to execute in those magnificent sky-high stilettos and the voice that was a marriage between angel and devil, all attributes that truly define for generations to come the legacy that is Tina Turner.
"The takeaway of Tina's life with Ike is that she won. She courageously threw caution to the wind and look where it took her," Dyer says. "The most important thing to know is that Tina was a really nice person. She played tough but she was always fair. If you are going to follow someone, and maybe even put them on a pedestal, Tina isn't a bad person to emulate."
TINA-The Tina Turner Musical will be presented onstage by Mirvish Productions in 2024.
www.tinaturnerofficial.com
@tinaturner